Love
Hey guys! One week left for Valentine's Day, so it's the moment of thinking about de DIY and easy gifts that we can male, as this String Ar made by Sofia Loayza. Let's take a look to this tutorial so we can learn how to make it!
You will need these materials:
 Wooden board
 Tracing paper
 Pencil
 Patterns
 Acrylic paint
 Brush
 Cotton Thread or Wool
 Sandpaper
 Hammer
 Nail
1. The first step is to sand down the wooden board and, then, paint it in white using acrylic paint.1
2. The second step is to trace the shape on the board using tracing paper. As you can see, you have to put the tracing paper between the board and the template and dreaw again the line using a pencil. In this case it's an elephand and the word "LOVE"
3. The third step it's to nail the nails ord pins using a hammer all around the elephant or "Love" letters shape.
4. The fouth step is to pass the thread over the edges or borders making a little loop in each one, as you can see on the video. Remember that you can use different colours.
And that's all! It look really nice and it's a perfect handmade gift to give to your beloved on Valentine's Day.
Andrea Vlogger Gt show us in this video 2 ways to make a String Art DIY, the "inverse way", filling with thread all the space left outside the main figure, in this case, a heart and, on the other side, the classic way, filling the figure, in this case, the word "love", written whith a lovely handwritting typo.
As you can see, she paints the board in blue and in pink. The thing I like the most is that she uses jute or sacking thread to make this project and it looks really great. Don't you think so?
It's a really lovely handmade gift to your boyfriend or girlfriend, no matter if it is because of your love, your anniversary or Valentine's Day.
Well, as always, we engourage you to send your String Art project to us via Twitter @stringartdiy and Facebook String Art DIY!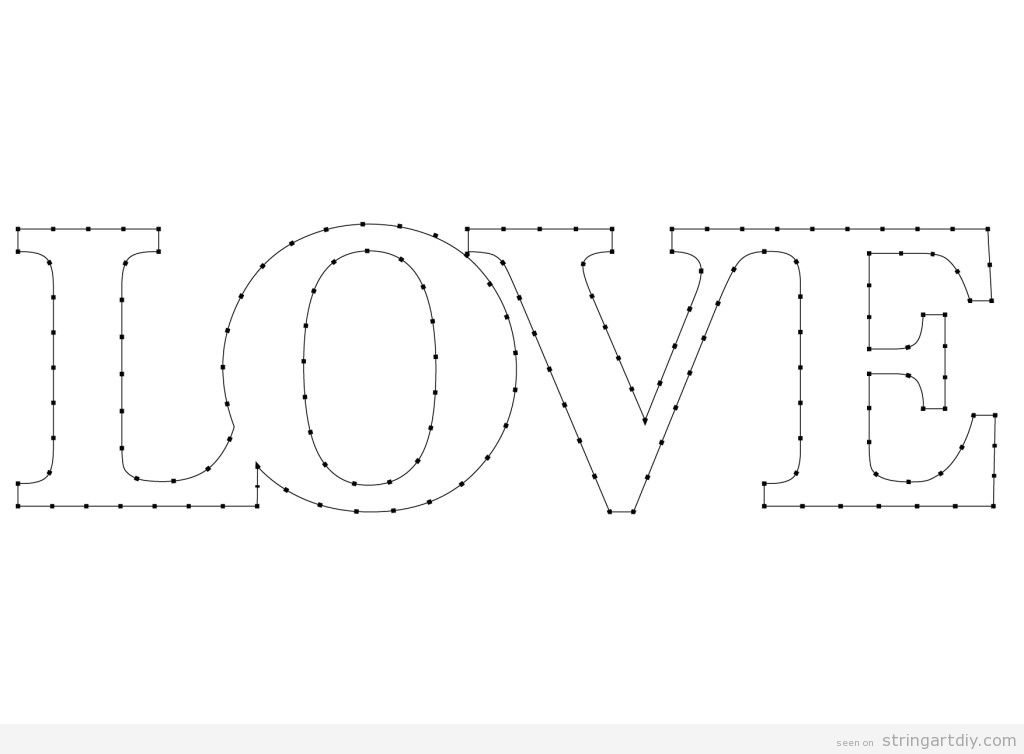 Here you have a free template to downlad with the word "LOVE" to make an adorable DIY String Art.
We have to say that the most important points are in the corners (except in the "O"). You can space the other points in the way or distance you prefer the most.
You can download de full resolution image (1754 px × 1240 px) in this link: Download LOVE String Art template
Thanks to I am a mess to share this and other patterns with us in her blog.
As always, enjoy the handmade craft and share it with us in our social networks! Twitter: @stringartdiy and Facebook String Art DIY.
See you soon!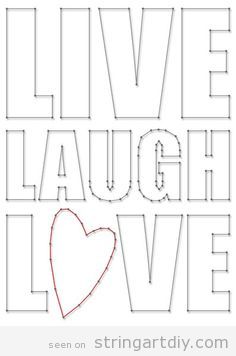 I really love these three verbs, they combine perfectly: "Live, laugh and love". It's a good message to write on a board, also if it is written with nails and threads, and a good idea to decorate a living room and to rembember all the family members to to these 3 things everyday.
Source: Spijker Patroon
So, so lovely this birdie love string art! That's a cute, easy and nice craft to make with kids. Once it is finished, they can decorate their rooms with this piece.
Come on!
Source: The String Art Co
Valentine's Day has just happened but it doesn't matter, here we have a beautiful idea to gave as a present for wedding anniversary or just to celebrate your love and decorate your place. This penguin love String Art is cute and lovely.
Via Briana Lamet Originals on Pinterest