Word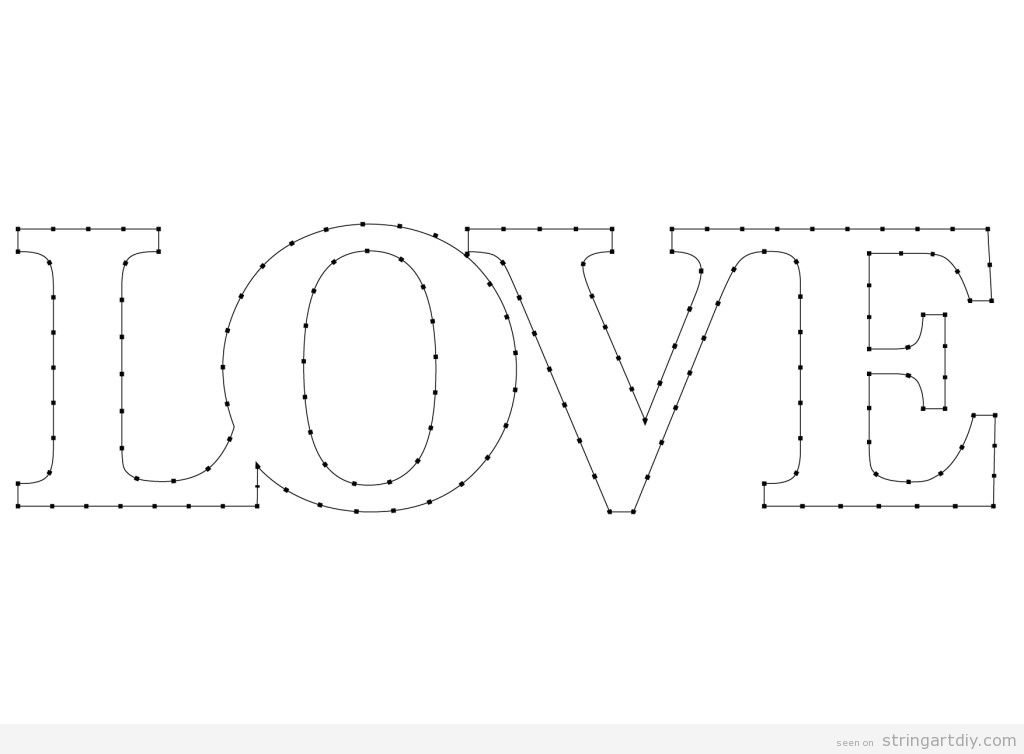 Here you have a free template to downlad with the word "LOVE" to make an adorable DIY String Art.
We have to say that the most important points are in the corners (except in the "O"). You can space the other points in the way or distance you prefer the most.
You can download de full resolution image (1754 px × 1240 px) in this link: Download LOVE String Art template
Thanks to I am a mess to share this and other patterns with us in her blog.
As always, enjoy the handmade craft and share it with us in our social networks! Twitter: @stringartdiy and Facebook String Art DIY.
See you soon!
Loo has made this great video to show us how to make a "origami" word gradient String Art. However, you can change "origami" for another word that you love the most.
As usual, you need these materials:
Letterns pattern printed on paper
Scissors
Pencil
Eraser
Tape
Board (1 cm or more, 0,39 inches)
Newspaper pages
Nails 1- 1.5 cm / 0,39 – 0,59 inches (the smaller, the better)
Hammer
Coloured threads
Tow or brush (it depends on the paint you have chosen)
OPTIONAL:
Acrylic paint
Spray
Alcohol ink
The steps are easy, we recommend you to watch the video to see all the process.
Enjoy it!
Here you have and easy DIY project to decorate your place. As you can see, it's a "Joy" word String Art in gradient colours, from yellow to red.
You can follow the steps in this tutorial to lean how to do it in an easy way.
Source: Dear Mckenzie
Here you have an easy way to make a "love" word String Art DIY. A really nice craft to decorate a bedroom or a hall. A tutorial by
Bri_diqulous
You could nail nails on the wall, did you know it? You have to ve brave… After that, spread the thread all over the nails! Look at this nice wall decoration! I think it says "Explore", very inspiring.
Via Decoideas
Here you have a nice, simple and fun DIY tutorial that will teach you how to make that cool string art you've been seeing all over the place with "lady" word. Love it!
via craftlikealady
Here you have a nice tutorial by
iamlikehearted
who show us how to make a string Art or a yarn craft on a trunk step by step with a Hello shape. Great! YOu can put it in your front door!
You can learn how to make this wonderful "OK" ombre String ART following the steps by visiting this site:
Crafts Tutplus
String Art is always a good idea to give on Valentine's. Love, love is the word.
You can learn how to make it step by step visiting 
Savvy Sugar
Hey, guys! Here you ahve just another video tutorial to learn how to make a String Art on wood board. Tis time, the word chosen is "Dream". I hope you enjoy it. Via
Lully Mel
on Youtube.