Download
Today we bring us 4 patterns inspired in islamic geometry that we can see in islamic art, specially in tiles and wooden lattices. You can download it for free, as usual.
You can use these free pattern to make a wonderful geo String Art DIY too, even if your are not muslim, but you really love their artwork or culture.
There are not very easy to make because the figures are complex, but the amazing result deserves the hard work. We hope you enjoy it.
You can show us your piece of arte once finished via our Twitter @stringartdiy or facebook String Art DIY
Source: Geometría Dinámica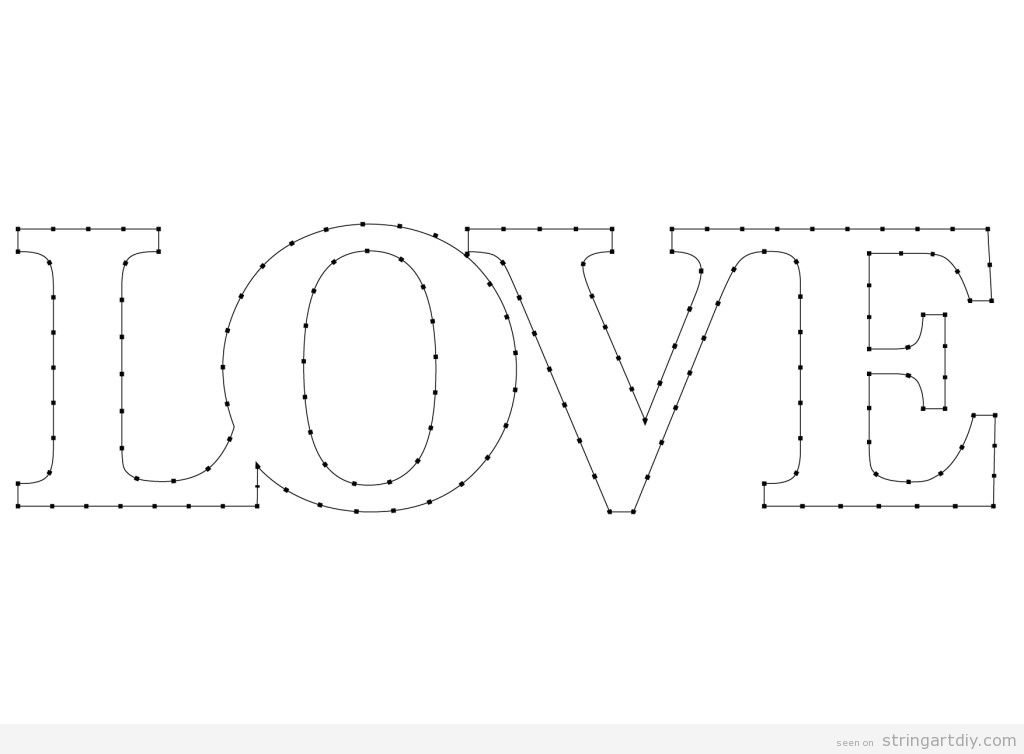 Here you have a free template to downlad with the word "LOVE" to make an adorable DIY String Art.
We have to say that the most important points are in the corners (except in the "O"). You can space the other points in the way or distance you prefer the most.
You can download de full resolution image (1754 px × 1240 px) in this link: Download LOVE String Art template
Thanks to I am a mess to share this and other patterns with us in her blog.
As always, enjoy the handmade craft and share it with us in our social networks! Twitter: @stringartdiy and Facebook String Art DIY.
See you soon!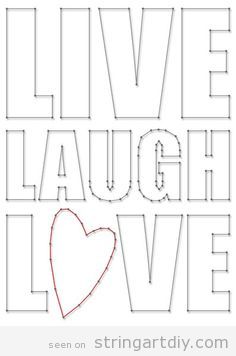 I really love these three verbs, they combine perfectly: "Live, laugh and love". It's a good message to write on a board, also if it is written with nails and threads, and a good idea to decorate a living room and to rembember all the family members to to these 3 things everyday.
Source: Spijker Patroon
Here you have a free pattern to free download. As you can see, it's a grape bunch, and you can make this String Art using dark purple or green, as you like the most.
This pattern it's kind of vintage DIY. We thinkg that is a good handmade craft to decorate an ecologic shop, a veggie restaurant, a winery or a wine cellar that maybe you have at your kitchen or garage.
Do you like it? We hope yes!
Hi everyone! Here you have a flower pattern to make a complex String Art, advanced level and kind of 70's style.
As always, you can download it for free.
We hope that this pattern could help you in order yo make easier the craft.
Source: Profilib
What could we do these cold days that our kids don't have to go to school and it's a better idea stay at home? Well, make easy String Art with them is a good idea. Here you have a nice tutorial to learn how to make birdie String Art step by step.
Bird Patterns
Here you have the patterns, free download!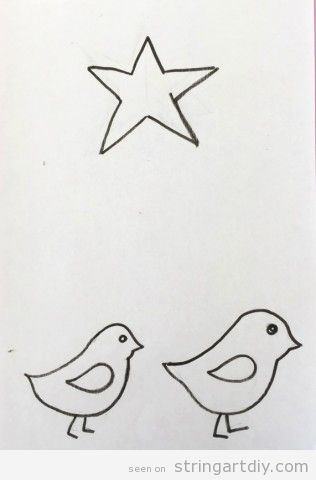 Source: ¡Hoy no hay cole!
Geometry and String Art patterns are extremly related and connected. We've fond this pattern in a geometry site: Claudio Rocchini
We have made a quick Wikipedia research to learn what is a demihepteract and it says: "In geometry, a demihepteract or 7-demicube is a uniform 7-polytope, constructed from the 7-hypercube (hepteract) with alternated vertices truncated. It is part of a dimensionally infinite family of uniform polytopes called demihypercubes". Nothing else!
Well, we hope that this patterns help you to make a complex String Art cfrat in a easier way. Enjoy it!
Basically, String Art are geometric figures and the patterns are geometrical drawings. Here you have these stars that you can use as a pattern to make an String Art creaft. Download it for free!