Decoration
Hi, guys! How are you? In our previuos posts, Mandala String Art, step by step, we have already seen how to make a Mandala String Art on a video tutorial. Today we are going to show us more impressive mandala String Art designs that can inspire you to create new shapes and crafts.
First of all, we want to talk a little about the mandalas. In case you do not know, the mandalas are spiritual symbolic representations of the macrocosm and the microcosm, used in Buddhism and Hinduism. They are usually circular shapes that have a center from which perfect geometric shapes emerge.
These pieces can be great to decorate a teashop, a religious articles store or a meditation room, due to the fact that mandalas help to relax and meditate, as we can see in the previous image. Then, we will see some stunning designs because of their shapes and the color of their threads.
We start with this wonderful and complex mandala in orange and yellow tones. We can appreciate many geometric shapes within the circle. You can buy it on Etsy.
This other mandala String Art has no circular shape, although it seems. Actually it is a geometric shape with 22 points or vertexes. We really love the mix of colours used.
Notice that a mandala String Art can be ever better if we make it on a round wooden base. This is made by Crafty Starling with cherry wood and is amazing.
For this, byHANDstringart has used a thicker type of yarn or thread. This is mandala String Art easier to make, their shapes and figures are simpler, but still looks great.
We really like this gradient color from blue to green for a String Arty mandala. Absolutely gorgeous, made by the hand of RaesCraftyCreations.
You can also make Mandala String Art with some blank spaces inside, like this design with rainbow colours threads created by @entrehilosuy.
This mandala String Art, also forming a 22 vertex polygon is great because of the striking colors he has used. The shape departs from the central yellow point and comes out with several radius and a gradient is made at the same time. This work is by Mandalas Olho de Deus.
This mandala String Art is special because it is made with blue threads that glow in the dark. In addition, its figures are wonderful and seems like a lotus. A work made by MagicLineStore.
Form concentric circles in the middle that look like an eye is a good start for a mandala String Art, as we can see in this piece made by ESTREDAYENU.
This design is similar to the previous one, follows the idea of concentric circles and is something appreciated in a mandala.
The swirl is not a very common figure in the mandalas, but, nevertheless, it has a central point and is circular, so it can enter this category.
We hope you have enjoyed these mandala String Art designs and we hope that now you are feeling like making a DIY mandala String Art like one of them to decorate your room and that it helps you to concentrate and meditate.
Hi, guys! How are you doing? Spring is coming, the sun is coming, so… what if we make some sunglasses String Art to decorate our home or store to add this new sunny taste to the atmosphere? If the lenses of your sunglasses are broken, you can buy a new pair of replacement lenses in this website: Sunglasses Restorer or you can use the frame (or the broken lenses) to make the following String Art workpieces. You can use the frame as template for a small piece or add them to the composition to create a new volume effect.
What is clear is that to create this String Art, the crafter has used a real sunglasses frame to create the negative effect where the sunglasses shape are blank (well, we can see the dark wooden base behind) and all around them is filled with white threads using the String Art technique. This design is very nice, simple and elegant.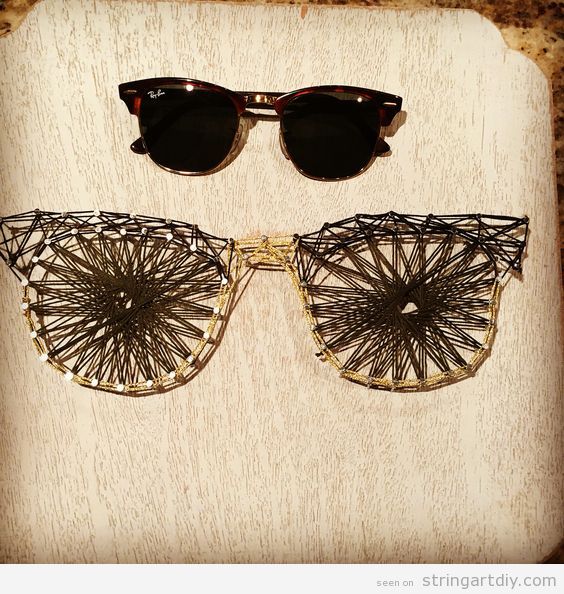 In case you love your Rayban sunglasses so so much, you can add or glue them to the String Art copy to create a volume effect or just use the sunglasses as a model to copy. Notice that the crafter has used a special wood base that add a traditional and fancy look to the work, following the Rayban style.
Let's move to the color that make us feel that the sun is above us and making us feel alive and happy. Evidently, the yellow! We really love this yellow sunglasses String Art made by The Honaker Home maker. This design is lovely for a room, a coffe shop or a clothes and accessories store decorating, don't you think so? Pay also attention to the wooden base painted in gray (but still letting the woodgrain show through), because is the color that fits the most with the yellow.
If we are looking for funny sunglasses String Art, what is better than this sunglasses emoji String Art? You will need a round wood base to make it, that you can cut or you can buy already cut, paint it in yellow and, then, make the emoji shape. Don't forget the smile and, obviously, the black sunglasses.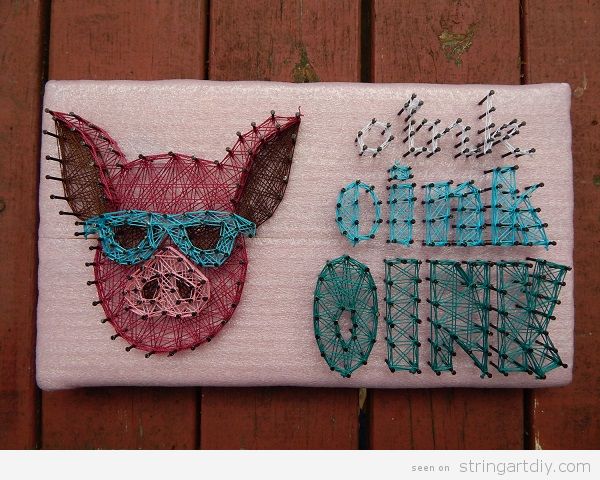 Let us allow our minds to be free and creative. If we are able to reach this point, we can produce String Art pieces as original as this one. Once you have the idea of the sunglasses String Art you can try to put them over other figures, like a person or an animal. For example, put the sunglasses on a pig face. He seems so cute, good-looking, a bit cocky but happy! That's just an idea. We suggest you to choose a cat or a dog if you don't like pigs, even your pet, and put on them some cool sunglasses.
As always, we hope that you have enjoyed these String Art ideas and we encourage you to go to the DIY superstore, get some wood bases, nails and threads and make some of these pieces to decorate your place. Thank you for reading and see you soon!
Hot Air Balloon is one of the most beautiful figures to make a String Art. Their shape it's simple and lovely, but it also it's good base to create volume effects, geometric figures or even replace the outline and fill it with another figures or animals.
Hot Air Balloon String Art templates
Fist of all, we want to bring you some Hot Air Ballon free templates in case you want to print it and use it to make easier the process. Here you have some of them:
Source: Get Coloring Pages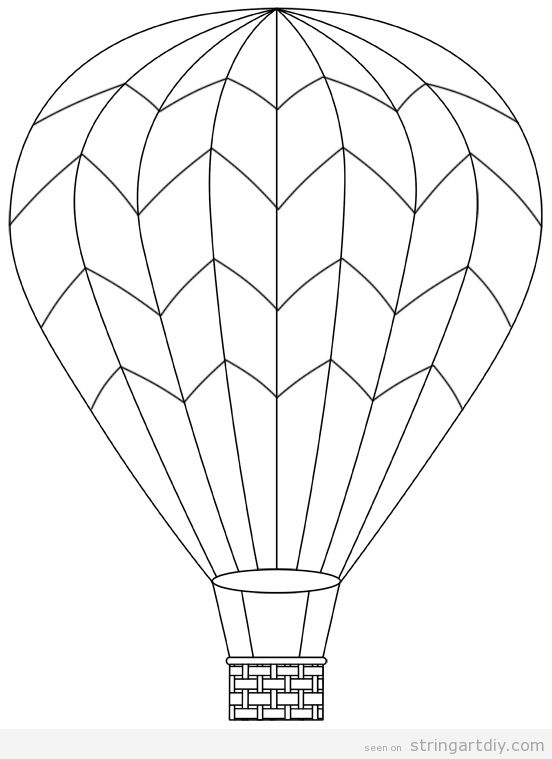 Source: Bird's Cards
Source: Hello Kids
Simple Hot Air Balloon String Art
Let's start with some simple Hot Air Balloon String Art that you can made it easly. They are a beutiful idea to decorate a nursery or a baby clothes shop.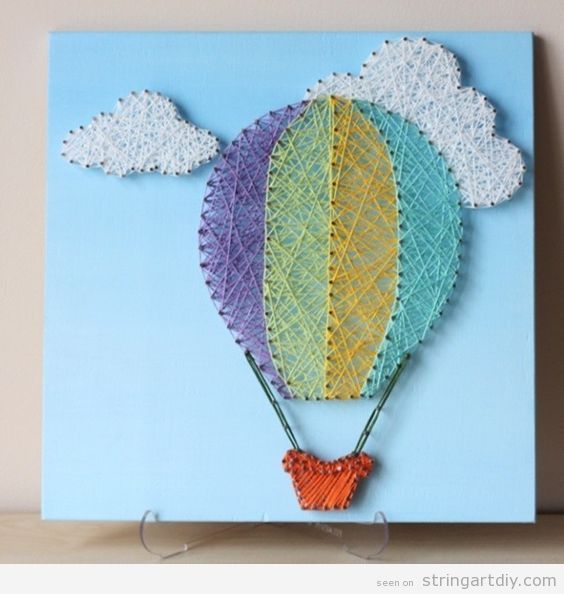 Oow, this air balloon surronded by clouds and made by mintiwall it's just perfect.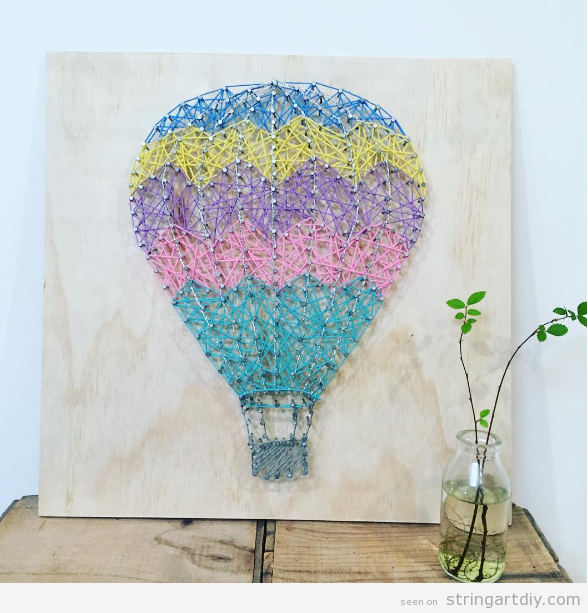 We really find this String Art nice because with a colorful zig-zag print creates a volume effect. This is a handmade project made by @simply_stringart.
Hot Air Balloon Butterflies String Art

As we can see, Beachmade has replaced the classical hot air balloon outline for butterflies and the result it's absolutely amazing.
We hope that you find this resources and ideas useful in order to Do it Yourself. Maybe, after finished the String Art, you can gave it to a child as a present or event sell it on flea markets and online shops. Have a nice week!
Some people are literally attached to their glasses, maybe because they need it or maybe because it's trendy and it's an important key of their look. It it's also possible that they are optometrist or own a Eyeglases Store.
If you want to offer them a great handmade present to decorate their room, office or their shop, take a look to these glasses String Art because they are amazing!
POP STRING ART GLASSES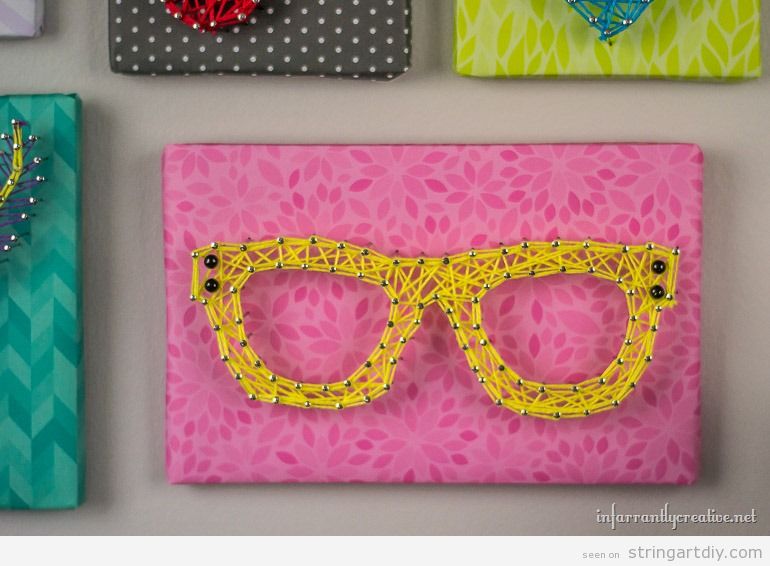 I really love this String Art made by Infarrantly creative because it's kind of a Pop Art style and the way it mixes the pink pattern background and the yellow of the glasses.
RED GLASSES STRING ART
These red glasses are so adorable! It has been created by TheHonakerHomeMaker and you can buy it on Etsy Shop.
These ones with a dark wooden background are even more beautiful! I really like red glasses. Actually, I wear them 🙂 This String Art is made by 1000Strings and you also can buy it on Etsy.
BLUE STRING ART GLASSES
Blue background with white threads it's a nice design too. Notice that these glasses are portrayed from the back and we can see the arms. This one is by StringArtTemplates and it's avaliable on Etsy.
This simpler and minimal blue design by HeartStringsByJoyce it's algs a nice option. Notice that the light wooden combines great this the blue.
HARRY POTTER STRING ART GLASSES
Maybe you or your friend are a Harry Potter Fans and really would love a Harry Potter famous glasses String Art. You can make it or you can buy it at: thehappytaco
RAY-BAN STING ART GLASSES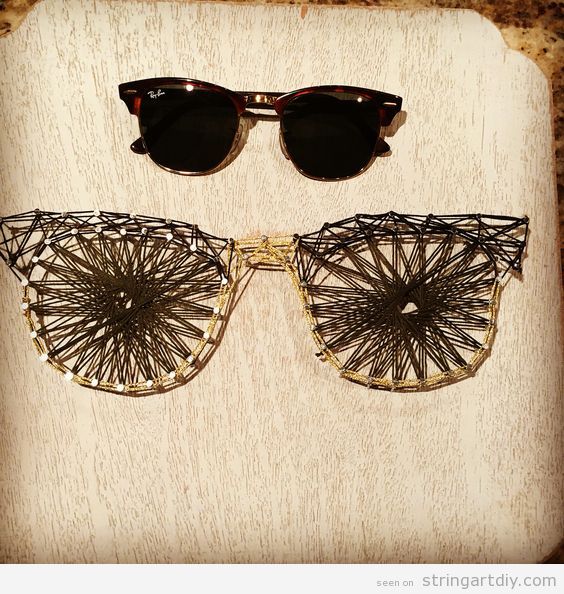 If you are a Ray-ban store owner, maybe you can make a String Art like this one to decorate your shop. Just lovely!

Have you enjoyed this post? If so, please, leave a comment and share it. Thanks!
Yeeeey! The Chistmas countdown has started! Just one month left! So, oficially, we can finally start to think about Christmas decorations, Christmas gifts and Christmas projects! We want to start with this wonderful snowflake String Art.
We have found this tutorial on Decoración Ideas. As it is explained in Spanish, we let's try to translate it to English.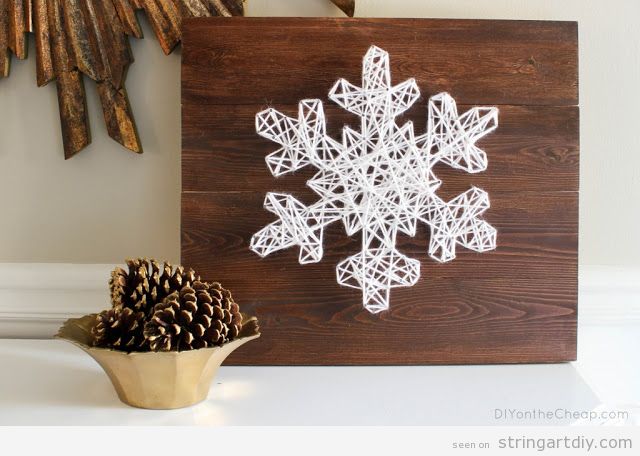 To make this String Art, will need these materials:
Wooden board
Hammer
Wood glue
Printer
Projector (optional)
Pencil or chalk
Nails
Threads
Drill, dowels, tenterhooks and rings or shackles (to fix it to the wall)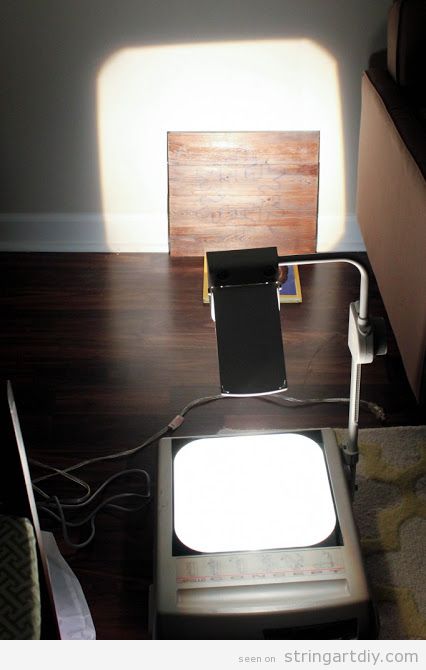 As you can see, the first step is to print the snowflake pattern or, if you have a projector, it could be perfect use it to project the image directly on the board.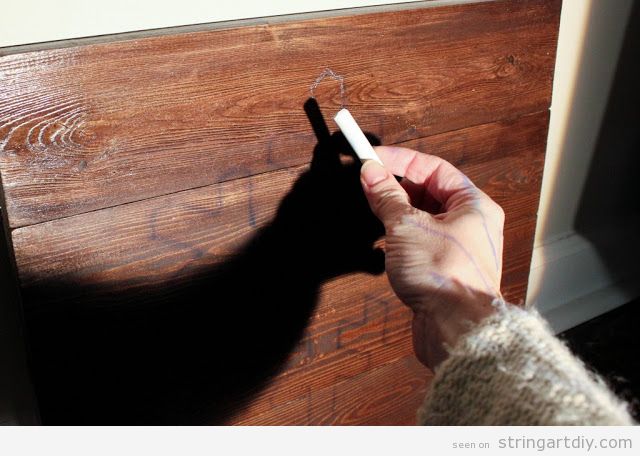 Then, you have to draw the snowflake shape on the board using a pencil or a chalk and following the projected shadow lines.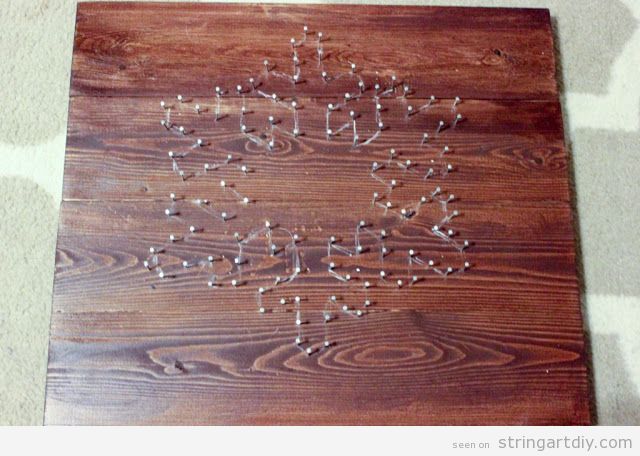 The next step is to clue the nails along the drawing. You can leave a 2 or 3 centimeters between them, but make sure that they are pinned in the most important vertexs, angles or corners.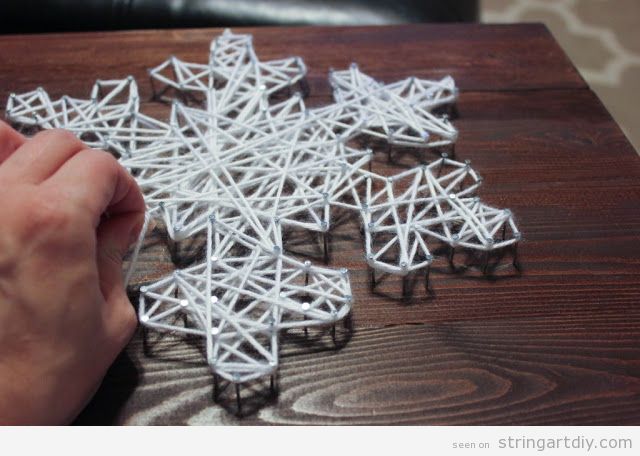 The last step is to pass the thread through the nails or across them and make some knots in order to fix it well.
And that's it! You have this gorgeous snowflake shaped String Art to decorte yout home at Christmas or even to offer as a handmade gift. Have a nice weekend!
We really love this colourful String Art, the birds on the wire are just a simple and beautiful image to make a String Art. Pay attention: the wire is real and the board in a light wood board makes a perfect background. Maybe you can paint it on blue, either.
That's a nice craft to make with kids and you can use it yo decorate their bedrooms.
Source: Pinterest (Sorry, we haven't found the original source, if it is your artwork, please, drop us a line and we will give you the credits!)
Wow, the Arrows String Art made by ThreadTherapy1 is really awesone. A nice piece of craft decorate hipster house or cafe and it listed on Etsy!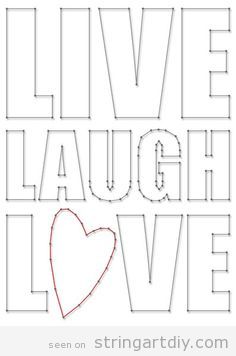 I really love these three verbs, they combine perfectly: "Live, laugh and love". It's a good message to write on a board, also if it is written with nails and threads, and a good idea to decorate a living room and to rembember all the family members to to these 3 things everyday.
Source: Spijker Patroon
Hi everyone! Here you have a flower pattern to make a complex String Art, advanced level and kind of 70's style.
As always, you can download it for free.
We hope that this pattern could help you in order yo make easier the craft.
Source: Profilib