Free pattern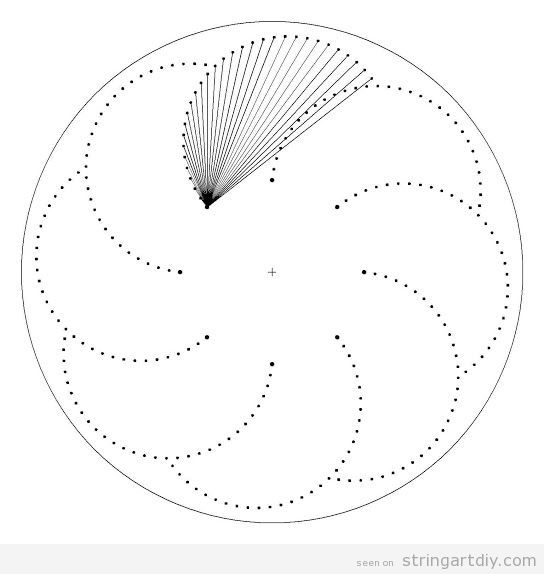 Hi everyone! Although we are in summer, we don't stop, even on holidays! You can use your free time to spend quality time with your kids or with yourself by making this kind of handmade project that you can use to decorate the libing room.
As you can see in the pattern, it's a kind of spiral shape repeated, and it results a klind os cloudly circle or a kind of windmall, but with rounded blades. Pay attention, you have to start to throw the threads by each point marked.
As a result, you have a klind os 70's String Art, old school but cool.
Credits: Vero B – broderie sur cartes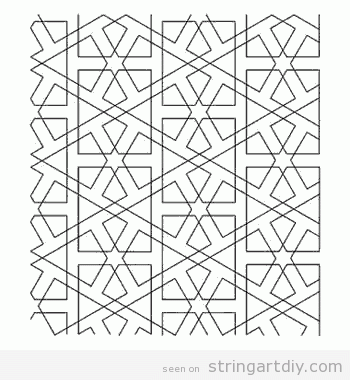 First of all, Happy Ramadan (Ramadan karim!) to all our islamic or muslim users and visitors.
Today we show us a pattern inspired in islamic geometry that we can see in mosques, wooden lattices at home, tiles in "hamam", etc. You can use this free pattern to make a beautiful String Art too.
We hope you like it and try some different geometric patterns 🙂
Source: Geometría Dinámica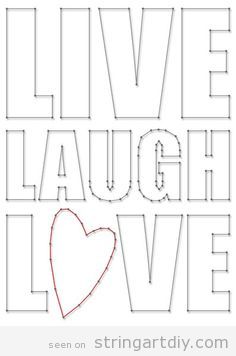 I really love these three verbs, they combine perfectly: "Live, laugh and love". It's a good message to write on a board, also if it is written with nails and threads, and a good idea to decorate a living room and to rembember all the family members to to these 3 things everyday.
Source: Spijker Patroon
Here you have a free pattern to free download. As you can see, it's a grape bunch, and you can make this String Art using dark purple or green, as you like the most.
This pattern it's kind of vintage DIY. We thinkg that is a good handmade craft to decorate an ecologic shop, a veggie restaurant, a winery or a wine cellar that maybe you have at your kitchen or garage.
Do you like it? We hope yes!
To make this amazing Skull String Art to decorate your place for Halloween, you will need:- Canvas (anysize)
– Paint (your choice)
– Paint Brush
– String (your choice)
– Scissors
You can download the pattern for free in this link: Skull Pencil Drawing
Source: suzaxne
This is an awesome work by Israel Narváez Romero – Artísta Exponline. Two really awesome mom-son portrait made with strings and nails. Lovely…
That's a great optical illusion String Art, very fun to make! Here you have the free pattern to download.
The point that makes this String Art really special are the wooden tacks because the impression is really beautiful. Follow this tutorial (by
scraparizate
) step by step to make this lovely and simple String Art. You only need a piece of wood or cork, a bounch of tacks and crochet treds. Here you have the free pattern to download.
By Koko90 (Own work) [GFDL (http://www.gnu.org/copyleft/fdl.html) or CC-BY-SA-3.0-2.5-2.0-1.0 (http://creativecommons.org/licenses/by-sa/3.0)], via Wikimedia Commons