Home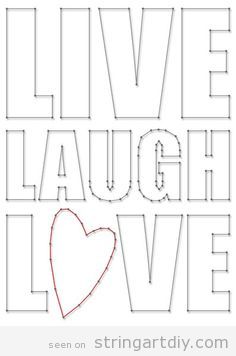 I really love these three verbs, they combine perfectly: "Live, laugh and love". It's a good message to write on a board, also if it is written with nails and threads, and a good idea to decorate a living room and to rembember all the family members to to these 3 things everyday.
Source: Spijker Patroon
Wow, how nice will be decorate your hall with this String Art remebering you the famous quote: "Home, sweet home". Well, you can learn how to make it step by step.
You can see the full tutorial by clicking here:
Infarrantly Creative
It seems that these kids from 5th grade at EPI 1138 Florencia (in Santa Fe, República Argentina) are having so much fun while are making these Strign Art projects, aren't they?
Here you can find more designs and ideas to make with kids at school or at home: http://cole1138florencia.blogspot.com.es/2012/08/hilorama.html
Hi! here we have just another great tutorial to learn how to make DIY String Art Letters using differents styles and materials. A great craft to give, to sell and to decorate a special room.
Via
Studs And Lacess
As you can see on the image above, you are able to make String Art crafts without nails and boards, only using cardboard and making holes on it. That's a wonderful butterfly String Art Card and i also love the colours chosen by the crafter. Send it to a friend and make her/him happy!
This elephant with a heart on his trunk is a niece piece of String Art to decorate a nursery o a child bedroom. It's also a nice handmade gift to give to a girl.
Via
Minti Wall
Do you have a Jennifer or a Joe in your life and do you want to give her / him a great handmade gift? Look at this wonderful "J" letter String Art DIY tutorial and learn how to make it. Of course, yo can make it with no matter what letters and shapes you want. Just lovely!
35DHM
usually posts in his youtube channel videos and tutorials to show us how to make geometric DIy String Art, so thanks to him, we are learnign two differents great String Art designs!