Kids
Our favorite time of the year has arrived: Christmas is here! And it's just the time to send Christmas cards to our beloved ones. What do you think if we make them ourselves? Today we propose to you to make String Art Christmas cards with the shape of a christmas tree, an angel or a snowflake. For some of them, we give you the link to visit the tutorial. If not, we provide to you the free pattern or the free template to make it easier. Let's go!
MODERN CHRISTMAS TREE STRING ART CARD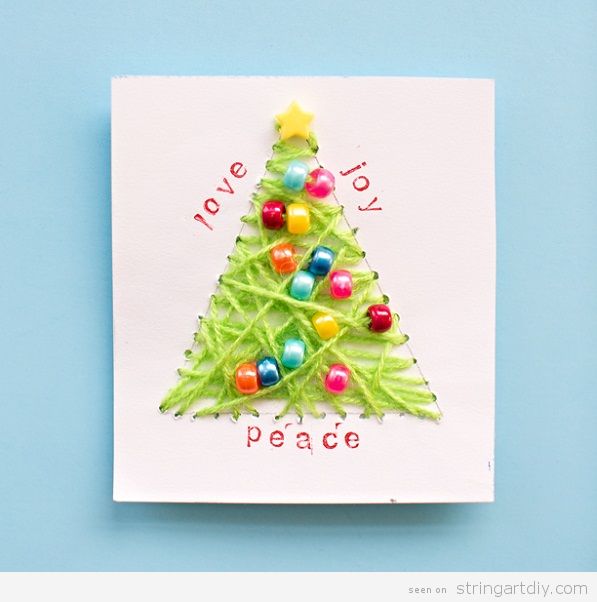 To start with, here you have this modern Christmas tree card, very easy to make, including some beads as a decoration. If you add words like "love", "joy" or "peace" is even more lovely. You can see the full tutorial step by step here: Hello, Wonderful. Simple and funny to make with kids, but be careful with the needle!
ANGEL STRING ARTCHRISTMAS CARD
This one it's also made by Hello, Wonderful, and the process is just the same that the modern tree. Instead of a tree, it's an blue and white angel. Pay attention to his halo or crown made using silver and very small garlands. So cute!
SNOWFLAKE STRING ART CHRISTMAS CARD
We have found on Jaded Stephanie Pinterest this wonderful snowflake Christmas Card and we think that it deserve a try because it's a beautiful, simple and modern design.
TRADITIONAL CHRISTMAS TREE STRING ART CARD
If you prefer a traditional christmas tree card instead, here you have another design by dominicInOhio. It's algo very minimal and elegant. As we can't bring you the tutorial, here you have a similar patter or template that maybe you can use: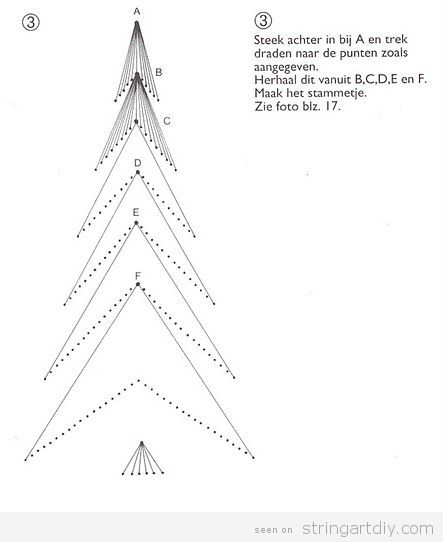 STITCHED TREE CARD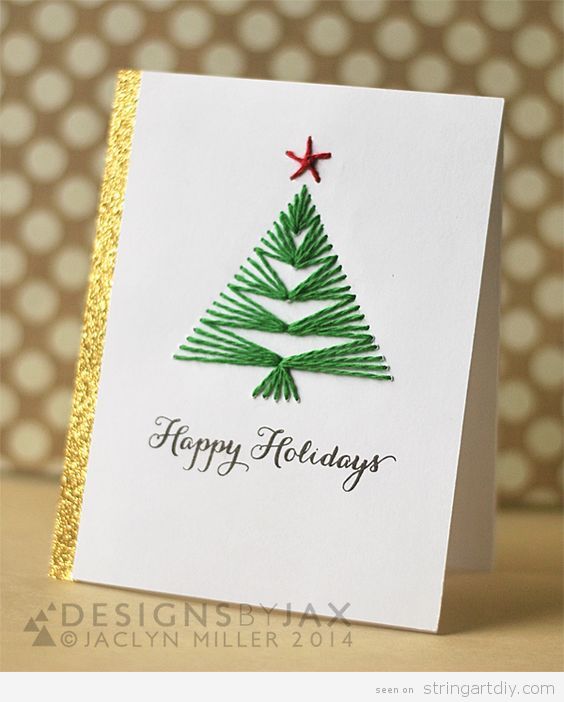 Yes, instead of call it "String aAt card" we can call it "stitched card" because it's a kind of embroidery work. This project it's also very easy to make and you can follow all the process step by step by visiting The Twinery. Minimal, elegant and very festive design, indeed, including the calligraphy and the glitter part.
CHRISTMAS TREE MADE BY CIRCLES STRING ART CARD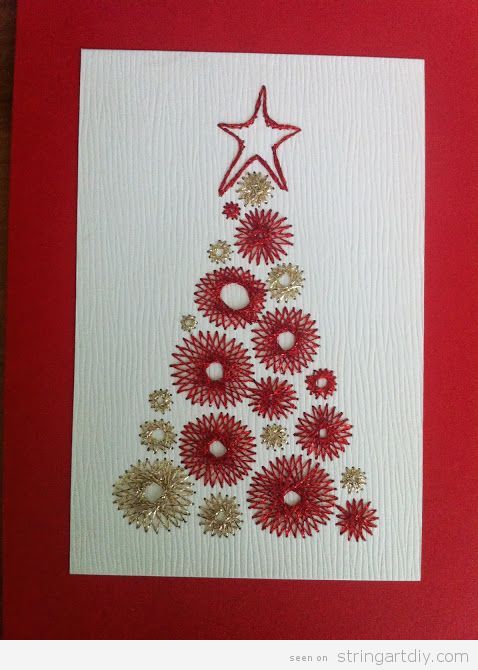 We finish by proposing you this original way to create a Christmas tree String Art card. Its shape is made with red and golden String Art traditional 8, 16, 24, 32 or 40 points stars. Here you have the template to a 16 point star String Art, but the process is the same by multiplying the points.
We hope you enjoyed these String Art Christmas Cards. If you decide to make one, please, send us photos to our Twitter or Facebook. Rembeber: @stringartdiy on Twitter and String Art DIY on Facebook. See you soon and happy holidays!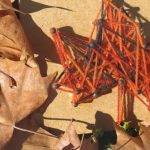 Hello everyone! Today we bring you a new String Art that is very easy to make, perfect to make it at fall season. Since it is very simple, it's suitable to make with children, but always with adult supervision, due to the fact that we are using nails and hammers. As you can see on the frame, it's a fall leaft String Art. Let's take a look to this video tutorial by regalamanualidades.
The best thing about this project is that you do not even need a leaf tree template, you can directly use a sycamore leaf, a maple leaf, a tulip tree leaf or no matter what leaf found at the woods in autumn as a template. Put it on the wooden board and put the nails around it, as you usually do with paper templates.
It would be perfect if you can buy a gradient yarn or gradient thread from orange to black or brown, as the used in the tutorial. If you cannot,  then buy orange, dark orange, ocher and dark brown threads and make several layers to get the gradient effect. Pay attention to the end of the video, where we see how to tie the last thread, creating a special knot to fix the thread and be sure that it will not untie.
We hope that you liked this Sting Art and that you fell fancy going the forest to find a few dry leaves to use as a template and make projects as beautiful as this one to decorate your house in the fall season.
If you enjoyed this tutorial, please, share it with your friends so that they can also do this beautiful craft with their kids or their art students. We hope to see you soon! Until then, have a happy autumn.
In the United States, Mother's Day is celebrated the second Sunday of May, so this year, 2017, will take place on Sunday, May 14. (In the UK, Mother's Day 2017 was celebrated on Sunday, March 26).
So in USA it rests less than a month, it's the final countdown! Let's take a look to some beautiful and lovely handmade String Art that your mother will love as a gift.
MOTHER'S DAY STRING ART BOARDS
This Mom String Art made by Carven Design Studio is one of our favourites. Pay attention, because the inside of the letter "O" is heart shaped. We also think that the combination of dark wooden board and this pink or purple thread is perfect.
This heart shaped String Art made by Debbie McLauchlin is easy to make and very very sweet. As you can see, there are two hearts, a little one inside one another and the word "Mum" it's also written with strings and nails. It's a handmade craft suitable to make with kids, so go ahead. Moms will love this handmade gift.
This one is another very very sweet design because we can see two handprints, one from the eldest son and one of the  yougest son with their names written on the side. You can make this String Art by yourself or buy one customized at  LivandEmma Etsy Shop.
MOTHER'S DAY STRING ART CARDS
Embroidery paper crafts or String Art on paper it's a very easy and lovely idea to make as a Mother's Day Gits. As you can see on the picture above and  on the video below, the process is simple and the result is great. You can make a String Art heart just using tissue paper, pencil, cardboard, punch, thread and needle. Once you finish, write down some nice quote like "I love you, mum" or something special for you two.
This craft has been creaded by Jar of Threads.
Another simple String Art Card for Mother's Day is this one that blog.michaels.com has shared with us. We really love the way that threads write the word "MOM" like if it eas a piece of classic embroidery.
We hope that these ideas encourage you to DIY some similar String Art crafts to offer to your mom. See you!
Hot Air Balloon is one of the most beautiful figures to make a String Art. Their shape it's simple and lovely, but it also it's good base to create volume effects, geometric figures or even replace the outline and fill it with another figures or animals.
Hot Air Balloon String Art templates
Fist of all, we want to bring you some Hot Air Ballon free templates in case you want to print it and use it to make easier the process. Here you have some of them:
Source: Get Coloring Pages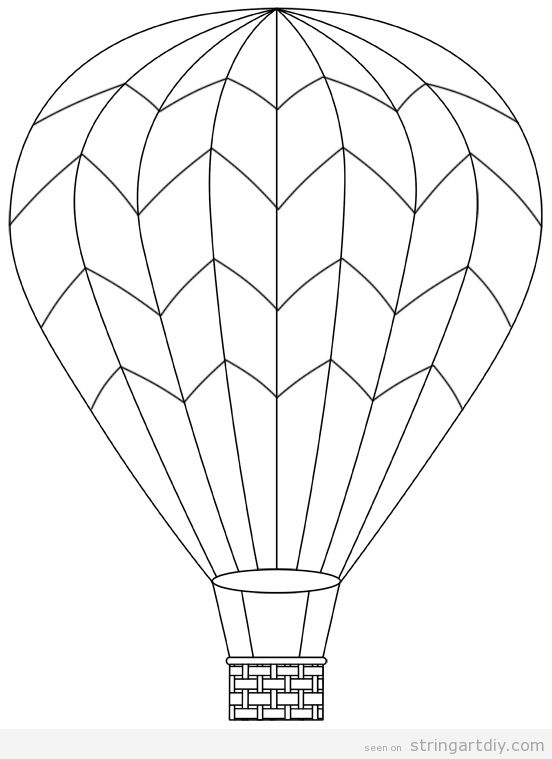 Source: Bird's Cards
Source: Hello Kids
Simple Hot Air Balloon String Art
Let's start with some simple Hot Air Balloon String Art that you can made it easly. They are a beutiful idea to decorate a nursery or a baby clothes shop.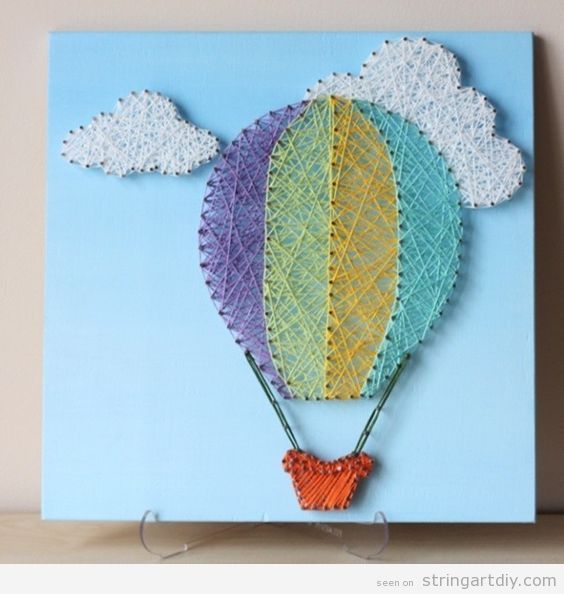 Oow, this air balloon surronded by clouds and made by mintiwall it's just perfect.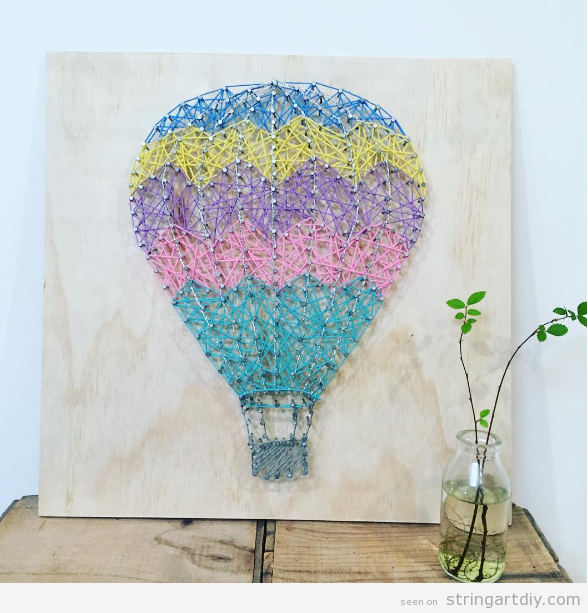 We really find this String Art nice because with a colorful zig-zag print creates a volume effect. This is a handmade project made by @simply_stringart.
Hot Air Balloon Butterflies String Art

As we can see, Beachmade has replaced the classical hot air balloon outline for butterflies and the result it's absolutely amazing.
We hope that you find this resources and ideas useful in order to Do it Yourself. Maybe, after finished the String Art, you can gave it to a child as a present or event sell it on flea markets and online shops. Have a nice week!
Heeey! If you are looking for an easy String Art for begginer or for make with kids and teenagers, maybe this video made by Diego Rojas will help you.
As you can see, you only have to nail the nails in a wooden board following the line of a circle. We recommend to print the shape or draw it using a pencil and then pin the nails around it. After that, you must cross the threads in the order you can see on the video. Then, repeat the process twice using some different colours and that's it.
An that's all! You will have a perfect handmade project to decorate a wall.
The school year has already started and we need a lot of ideas to make crafts with our kids or little students.
Easy Peasy and Fun it's a lovely site full of crats ideas for kids, as his name says, they are easy-peasy and fun to make. We have searched his String Art projects fors kid and we have found these 4 lovely crafts.
As you already know, to make it, we just need a wooden boards, nails (or thumbtacks), a hammer and threads (nylon, cottonr or wool)
Here they are!
BOAT STRING ART
LADYBUG STRING ART
STAR STRING ART
FLOWER STRING ART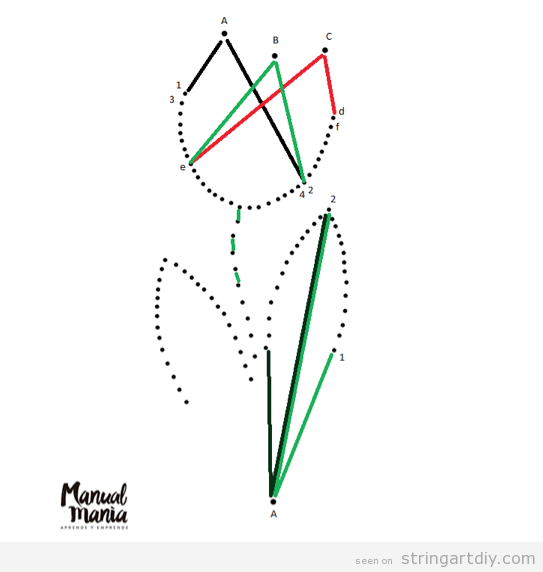 Here you have a flowers pattern that you can download for free. As you see, the shape is simple, so it's perfect for String Art beginners and kids. And even more, you can see numbers and letters to follow the thread sequence and make it simplier.
Doy ou like it?
HelloKids-us show us in this video a great way to make a Geometric String Art, even to make with kids. Look how they use clothespin in order to not to get damage in the fingers when you hammer the nail.
At the same thime they are having a great time making a craft, they learn geometry and maths. Just a perfect work to make with kids!
Do you like this wonderful String Art Christmas Tree on a wall that also could be used as a card display? It's a lovely idea to decorate your home at Christmas and your kids will love it!
Are you looking for a crrat or technology (or even marths) project to make with your kids or students? Here we have a lovely one, perfect for Christmas (that are coomiing…).
As you can see, is a Star String Art on a wood base, and the results can be very different.Here you have the tutorial made by
Plástica en el Valle
(a blog for the students of Ramón del Valle-Inclán secondary school, in Sevilla, Spain).
Enjoy it!