Boat
Yeees, we are in summer we live next to the ocean (but we are not on holiday, sniff). Whatever, we enjoy very much going to the beach, having walks and see and smell the salty air. As usual, we see many boats and they inspire us to create new projects and write new posts like this one. Today we are going to show us a special selection of Boat String Art DIY projects to decorate a coastal home, a nursery, a beach restaurant or café.
FREE STRING ART BOAT PATTERN
The first thing is to get a free printable pattern to make a Boat String Art like this one. You can download it free, as usual, and we think that this will be very useful for you.
BOAT STRING ART PROJECTS
This vintage Boat String Art is just perfect and was made by HammerAndTwine using the previously pattern or template. As you can see, it's a good choice the wooden board and the white threads. Lovely!
Monique Hansen has created this Boat String Art also using the template provided but she has decided to use a black wooden board and thre colourful threads: yellow, pink and mint. Very nice choice.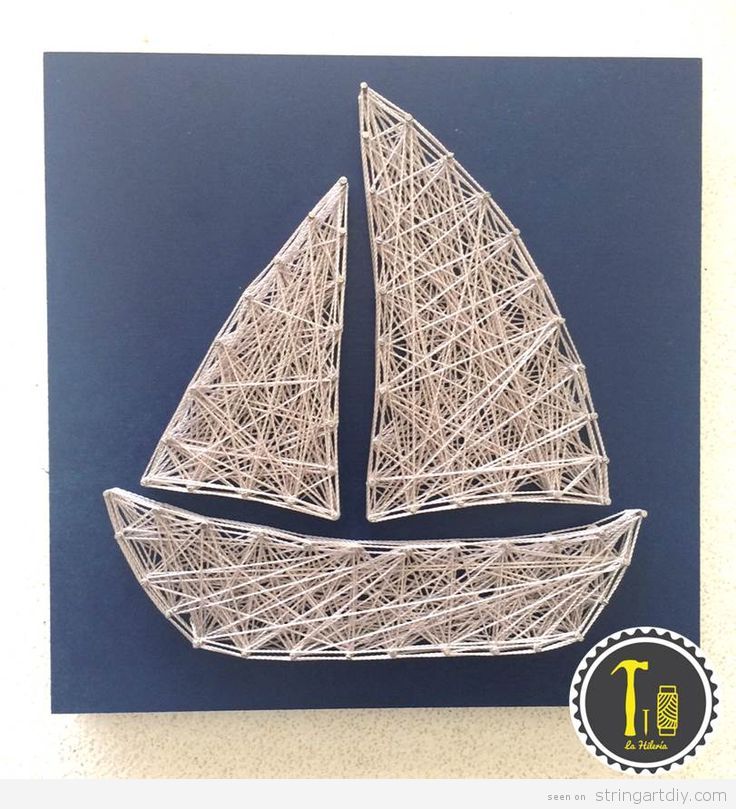 Obviously, you can use also another pattern or template to create different Boat String Art like this one made by La Hilería. In our opinion, it's also a wise choice to paint the board in navy blue, so this blue remember to the sea and, the boat sails tend to be white, so the white threads are just perfect.
Here you have another Boat String Art design, more traditional because of the colors used by VeesVintage. Indeed, it's a vintage one! Pay attention to the seagulls because they look nice on this project.
UrbanHoot has impressed us with this lovely Boat String Art design, suitable for a nursery wall decoration, don't you think so?
Have you enjoyed this post? If so, please, share it and comment your impressions. Thanks!
The school year has already started and we need a lot of ideas to make crafts with our kids or little students.
Easy Peasy and Fun it's a lovely site full of crats ideas for kids, as his name says, they are easy-peasy and fun to make. We have searched his String Art projects fors kid and we have found these 4 lovely crafts.
As you already know, to make it, we just need a wooden boards, nails (or thumbtacks), a hammer and threads (nylon, cottonr or wool)
Here they are!
BOAT STRING ART
LADYBUG STRING ART
STAR STRING ART
FLOWER STRING ART