Flower
The school year has already started and we need a lot of ideas to make crafts with our kids or little students.
Easy Peasy and Fun it's a lovely site full of crats ideas for kids, as his name says, they are easy-peasy and fun to make. We have searched his String Art projects fors kid and we have found these 4 lovely crafts.
As you already know, to make it, we just need a wooden boards, nails (or thumbtacks), a hammer and threads (nylon, cottonr or wool)
Here they are!
BOAT STRING ART
LADYBUG STRING ART
STAR STRING ART
FLOWER STRING ART
Hi everyone! Here you have a flower pattern to make a complex String Art, advanced level and kind of 70's style.
As always, you can download it for free.
We hope that this pattern could help you in order yo make easier the craft.
Source: Profilib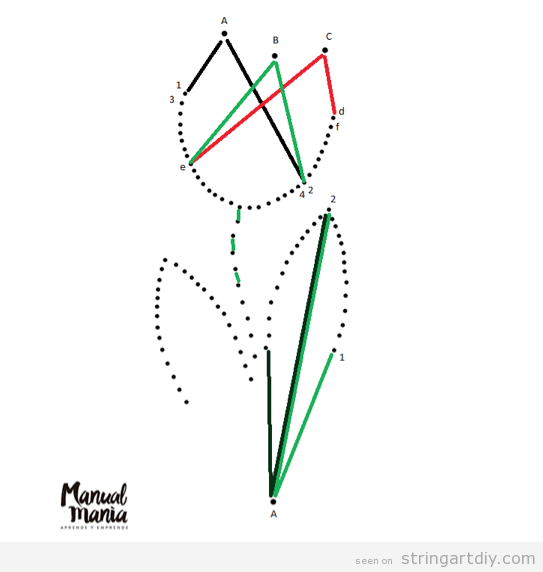 Here you have a flowers pattern that you can download for free. As you see, the shape is simple, so it's perfect for String Art beginners and kids. And even more, you can see numbers and letters to follow the thread sequence and make it simplier.
Doy ou like it?
Usually, we show you how to make String Art projects on a board or on a wall, but today we wanna show us how to malke a String Art flower on a cardboard, and, then, turn it into a brooch, bookmark or to decorate a scrapbook, whatever you like.
We hope you enjoy this easy craft taht you can also make with kids.
Source: Karenliz Henderson
When you make a String Art, you can compose every shape with plenty of little shapes inside. For example, here you have a big heart composed by flowers, zigzag, spiral, little hearts and an "S". I really love it, it0s a great idea to decorate a children or teenager bedroom.
You can learn how to make it by watching this tutorial by
ChuladasCreativas
-.
I hope you enjoy it!
Here you have a great tutorial to learn how to make a 70's style inspired Flower String Art made step by step by Sonia Goyal. I hope you like it and enjoy your craft!
Source:
ekunji
 on Youtube.
Hi! How long! I've been missing for a few weeks but I'm back now! Here you have a nice tutorial to learn how to create a String Art Flower. It's a very easy cfratd, perfect to make with kids on summmer.
Via
Cassidy Erin
This is a good option to make a String Art craft with kids in the springtime.
via
Los Trabajos de Pepa
Oh, what a nice DIY project idea! It's an Wall String Art with a simple flower on it, that's the perfect gift to your mum!
via
cremedelacraft.com