Shape
3 weeks left to Valentine's Day, so we are thinking about handmade gifts that you can offer to your girlfriend or boyfriend, so here you have a lovely String Art on a board.
This is special becaause the board it's also painted with pink diamonds.
Take a look to this video by
UnaPaginaEnBlanco
and try it, it's easy!
Panduro Hobby Webtube
show us how to make a String Art using our pet shape, using a photo of him or her as a pattern.
In this case, it's a lovely teckel. We encourage you to make the same with your dog, cat, bird or whatever you like. It's easy and a a great handmade gift or decoration. Go ahead!
Here you have a video to take a lot of String Art ideas. It show us plenty of templates and the way we have to spin and tie it, step by step. Nice!
Via Любимый Урок
So wonderfulballet dancers' shape… so wonderful this ballerina shaped String Art…
Here you have a nice craft to decorate a summer hourse or even a room in a boat, why not. As you see, is a anchor shaped String Art. What I like the most is the blue navy colour mixed with red! The nails with a big head are lovely too. What do you think?
via
BleulineInteriors
on Etsy.
That's, obviously, a MUSTache on your wall decoration. Nice Nail and String Art!
via
alimorriscreations
on Etsy.
As you know, you can also make String Art projects on cardboard making holes and putting threads through them. Here you have a nice craft idea for Valentine's Day and it also a DIY project perfect to do with kids. Absolutely lovely!
Via
zszywka.pl
Wow! Have you ever imagined that you can make String Art projects with copper threads? Me not! But look at these lovely deers… i just felt in love with them!
via TheMosaicButterfly en Flickr
Oh, what a nice DIY project idea! It's an Wall String Art with a simple flower on it, that's the perfect gift to your mum!
via
cremedelacraft.com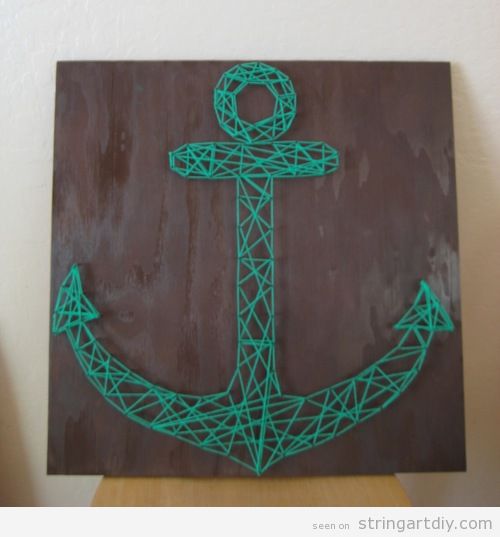 Anchors are trendy this year in clothes, tattoos and decoration. You can make an anchord shaped Wall String Art pretty awesome to decorate your living room or office. It's cool!
via
Pretty Love, Pretty Life
.