Valentine's Day
Hey guys! One week left for Valentine's Day, so it's the moment of thinking about de DIY and easy gifts that we can male, as this String Ar made by Sofia Loayza. Let's take a look to this tutorial so we can learn how to make it!
You will need these materials:
 Wooden board
 Tracing paper
 Pencil
 Patterns
 Acrylic paint
 Brush
 Cotton Thread or Wool
 Sandpaper
 Hammer
 Nail
1. The first step is to sand down the wooden board and, then, paint it in white using acrylic paint.1
2. The second step is to trace the shape on the board using tracing paper. As you can see, you have to put the tracing paper between the board and the template and dreaw again the line using a pencil. In this case it's an elephand and the word "LOVE"
3. The third step it's to nail the nails ord pins using a hammer all around the elephant or "Love" letters shape.
4. The fouth step is to pass the thread over the edges or borders making a little loop in each one, as you can see on the video. Remember that you can use different colours.
And that's all! It look really nice and it's a perfect handmade gift to give to your beloved on Valentine's Day.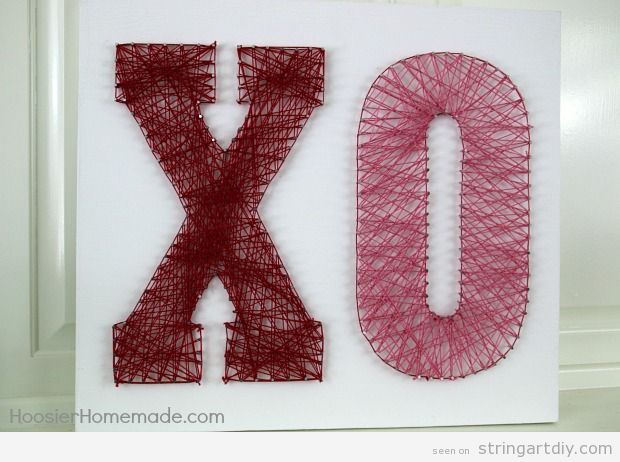 Come on! 6 days left until Valentine's Day and wer are sure that you haven't started yet yout handmade gift!
If you are not fancy doing a heart shaped thing, you can try this XO (kisses) String Art . You wil need these materials:
You can see trhe pattern and the full tutorial by visiting Hoosier homemade.
Enjoy it! We hope your Valentines will love this handmade gift!
3 weeks left to Valentine's Day, so we are thinking about handmade gifts that you can offer to your girlfriend or boyfriend, so here you have a lovely String Art on a board.
This is special becaause the board it's also painted with pink diamonds.
Take a look to this video by
UnaPaginaEnBlanco
and try it, it's easy!
"&" symbol is a subtle way to say that you want to stay with her or him forever! For that reason is a beautiful craft DIY to make and offer on Valentine's Day. You can learn how to make the "&" symbol with nails and strings following this tutorial made by How.Do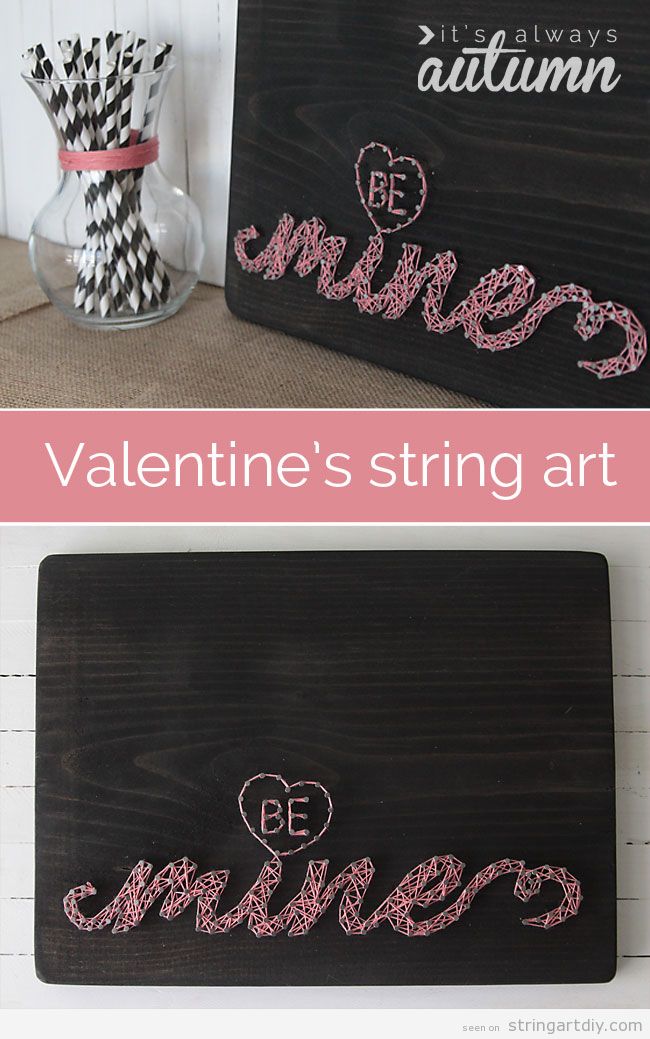 Here you have just another great idea to gave to your girlfriend for Valentine's Day. "Be mine" is the message. Extremely lovely!
You can learn how to make it following the steps here
It's Always Autumn
Valentie's Day is coming and it's a perfect chance to gave a handmade present like this heart Shaped String Art. You can learn how to make your own String Art DIy watching this video by
SirisLife
That's a nice Valentine's Day craft or a an excellent gift to give at an anniversary. The word "love" is always inspiring us and if it's made woth treads, even more!
Via
Nona Ullie