Handmade gift
Andrea Vlogger Gt show us in this video 2 ways to make a String Art DIY, the "inverse way", filling with thread all the space left outside the main figure, in this case, a heart and, on the other side, the classic way, filling the figure, in this case, the word "love", written whith a lovely handwritting typo.
As you can see, she paints the board in blue and in pink. The thing I like the most is that she uses jute or sacking thread to make this project and it looks really great. Don't you think so?
It's a really lovely handmade gift to your boyfriend or girlfriend, no matter if it is because of your love, your anniversary or Valentine's Day.
Well, as always, we engourage you to send your String Art project to us via Twitter @stringartdiy and Facebook String Art DIY!
Thanks to ElefantImGlashaus for showing us how to make this super cool Superman Logo String Art!
As you can see, it's an advanced craft. First of all, she cut the logo shape on a wooden board and you need some special tools to make it properly.
After that, she paints the board in blue and starts the process of creating the "S" of Superman Logo String Art with red and yellow threads.
That's a nice piece of craft to give to your brother, husband, boyfriend or even your dad as a handmade gift.
Do you like it? Make it and share it! 🙂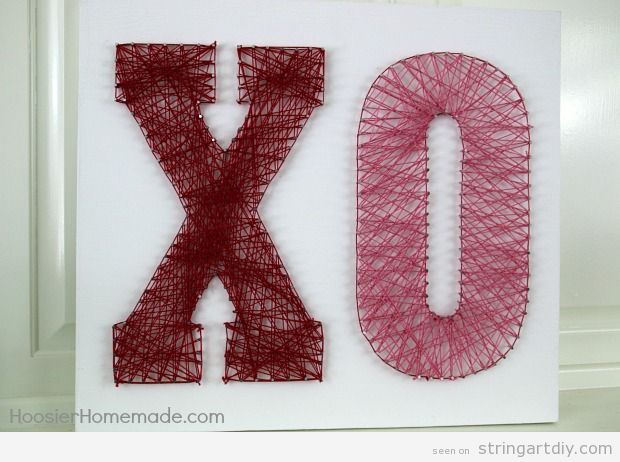 Come on! 6 days left until Valentine's Day and wer are sure that you haven't started yet yout handmade gift!
If you are not fancy doing a heart shaped thing, you can try this XO (kisses) String Art . You wil need these materials:
You can see trhe pattern and the full tutorial by visiting Hoosier homemade.
Enjoy it! We hope your Valentines will love this handmade gift!