Steps
Hey guys! One week left for Valentine's Day, so it's the moment of thinking about de DIY and easy gifts that we can male, as this String Ar made by Sofia Loayza. Let's take a look to this tutorial so we can learn how to make it!
You will need these materials:
 Wooden board
 Tracing paper
 Pencil
 Patterns
 Acrylic paint
 Brush
 Cotton Thread or Wool
 Sandpaper
 Hammer
 Nail
1. The first step is to sand down the wooden board and, then, paint it in white using acrylic paint.1
2. The second step is to trace the shape on the board using tracing paper. As you can see, you have to put the tracing paper between the board and the template and dreaw again the line using a pencil. In this case it's an elephand and the word "LOVE"
3. The third step it's to nail the nails ord pins using a hammer all around the elephant or "Love" letters shape.
4. The fouth step is to pass the thread over the edges or borders making a little loop in each one, as you can see on the video. Remember that you can use different colours.
And that's all! It look really nice and it's a perfect handmade gift to give to your beloved on Valentine's Day.
To make this wonderful gradient name String Art, first of all, you have to paint the wooden board with alcohol ink. After that, cut out the name pattern, previosly printed on a paper, and put all the letter on the board and encircle the shape of every letter with nails. Right after, start to put all the threads, from red to orange, from orange to yellow… after, blue – purpple – pink – coral. Oh! Don'f forget to remove the letters one you have finished.
The result is amazing! isn't it? It turns out a great craft to decorate a wall!
Source:
Loo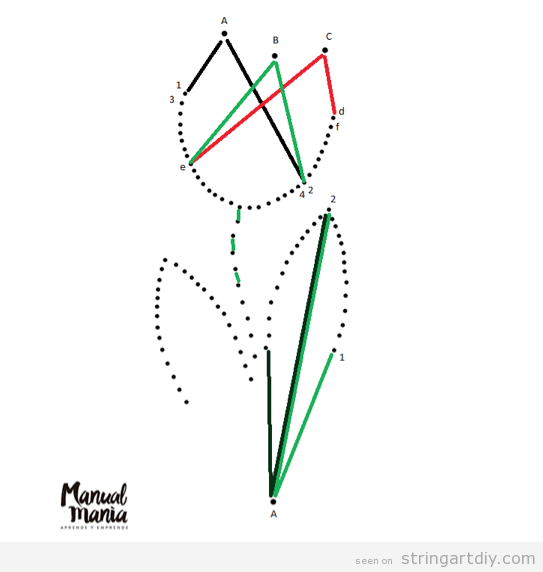 Here you have a flowers pattern that you can download for free. As you see, the shape is simple, so it's perfect for String Art beginners and kids. And even more, you can see numbers and letters to follow the thread sequence and make it simplier.
Doy ou like it?
Here you have a video to learn two String Art techniques step-by-step. As you can see, it's perfect to give as a Valentine's present. One of them is the word "Love" written with pita fibre, but you can also use cotton or wool thread.Obviously, you have to use nails too, as well as wood or thick cardboard for the base and a pattern.
The other one is just a heart shaped String Art, but still different and lovely.
Enjoy it!
Source: Andrea Vlogger Gt
To make this wonderful heart shaped String Art you will need:
– Hammer
– Red String
– Heart Pattern (made by felt, foam or cardboard)
– Tree or trunk slice
– Nails
– Scissors
After that, you need to put the felt heart shaped pattern on the slice and clue the nails all over it.
Then, you just need to pass or cross the thread and fix it on the nails in multiples directions and you will have this wonderful piece to decorate a room, a cafe, a wedding or whatever you want.
Source:_ Salacadula
First of all, you have to sand the wood and varnish it. Then, draw the shape on a paper and fix it to the wood. The next step is to clue the nails all over the shape. When you finish it, move away the paper and start to pass the thread the and knot it to the pins. Then, you have finished, congrats!
We hope that this tutorial by
eleFANTASIAndo
is useful to you.
Thanks to
Mahmoud Al-Qammari
for showing us how to make a vortex String Art step by step. Just wonderful and inspiring piece!
This is an awesome work by Israel Narváez Romero – Artísta Exponline. Two really awesome mom-son portrait made with strings and nails. Lovely…
Just another way to make your own circle shaped with a star String Art. Learn how to DIY watching this tutorial. via
Cristian Lopez Martin
What a lovely String Art made with golden Strings and heart shaped <3 You can learn how to make it DIY whatching this tutorial step by step.
via
jvothuy