Wood
First of all, you have to sand the wood and varnish it. Then, draw the shape on a paper and fix it to the wood. The next step is to clue the nails all over the shape. When you finish it, move away the paper and start to pass the thread the and knot it to the pins. Then, you have finished, congrats!
We hope that this tutorial by
eleFANTASIAndo
is useful to you.
Cosmic Beach made two zodiac constellations (aries and aquarius) on a wood piece using nails, paint, and string. Very nice DIY project, a great handmade gift to give to a friend!
Here you have a videotutorial to learn how to make a rounded String Art on wood, step by step. That's an easy one, perfect for beginners.
Via
35DHM
on Youtube.
That's a nice Valentine's Day craft or a an excellent gift to give at an anniversary. The word "love" is always inspiring us and if it's made woth treads, even more!
Via
Nona Ullie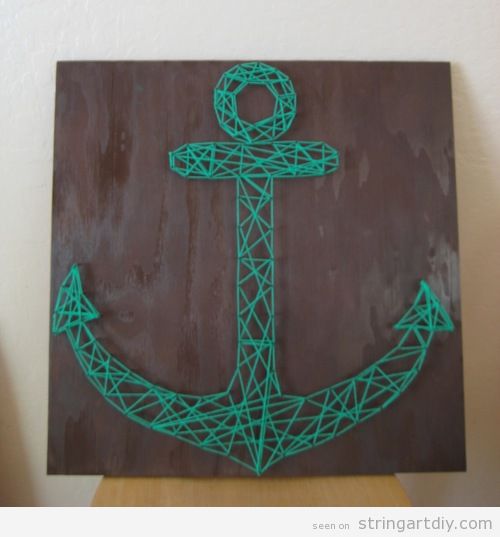 Anchors are trendy this year in clothes, tattoos and decoration. You can make an anchord shaped Wall String Art pretty awesome to decorate your living room or office. It's cool!
via
Pretty Love, Pretty Life
.
If you really love bonsais and it's not enough to have one on your table, you can have another one in your wall with this string art on wood! Really beautiful!
via Amy Lee Wheeler on
Kaboodle
.
Oh, là, là! What a lovely String Art idea! That's, obviously, the Eiffel Tower and I love it!
via Amy Lee Wheeler on
Kaboodle
.
What a lovely String Art! Love Birds are really beautiful and the red color on wood it's awesome. I take note to make it for my bedroom!
via
Kaboodle