Craft
In the United States, Mother's Day is celebrated the second Sunday of May, so this year, 2017, will take place on Sunday, May 14. (In the UK, Mother's Day 2017 was celebrated on Sunday, March 26).
So in USA it rests less than a month, it's the final countdown! Let's take a look to some beautiful and lovely handmade String Art that your mother will love as a gift.
MOTHER'S DAY STRING ART BOARDS
This Mom String Art made by Carven Design Studio is one of our favourites. Pay attention, because the inside of the letter "O" is heart shaped. We also think that the combination of dark wooden board and this pink or purple thread is perfect.
This heart shaped String Art made by Debbie McLauchlin is easy to make and very very sweet. As you can see, there are two hearts, a little one inside one another and the word "Mum" it's also written with strings and nails. It's a handmade craft suitable to make with kids, so go ahead. Moms will love this handmade gift.
This one is another very very sweet design because we can see two handprints, one from the eldest son and one of the  yougest son with their names written on the side. You can make this String Art by yourself or buy one customized at  LivandEmma Etsy Shop.
MOTHER'S DAY STRING ART CARDS
Embroidery paper crafts or String Art on paper it's a very easy and lovely idea to make as a Mother's Day Gits. As you can see on the picture above and  on the video below, the process is simple and the result is great. You can make a String Art heart just using tissue paper, pencil, cardboard, punch, thread and needle. Once you finish, write down some nice quote like "I love you, mum" or something special for you two.
This craft has been creaded by Jar of Threads.
Another simple String Art Card for Mother's Day is this one that blog.michaels.com has shared with us. We really love the way that threads write the word "MOM" like if it eas a piece of classic embroidery.
We hope that these ideas encourage you to DIY some similar String Art crafts to offer to your mom. See you!
Hi everyone! Here you have a flower pattern to make a complex String Art, advanced level and kind of 70's style.
As always, you can download it for free.
We hope that this pattern could help you in order yo make easier the craft.
Source: Profilib
It seems that this Star Trek Strign Art were available in stores around 1976, so it's unique. You can make this by your own. That's a great DIY craft to give to a trekkie (a Star Trek Fan). Do you like it? It's impressive!
Via Craig Wheeler
Oh! What a lovely heart shaped mobile, made with strings and inspired by a deamcarcher.
Wartch this tutorial by
Lully Mel
yo learn how to make it step by step. That's a great craft to give and sell.
It is obviously a geeky craft, but we love it anyway. This Thread Art is a Zelda Triforce symbol and it's a nice gift to give to a geeky friend who really loves Zelda videogame.
via
iHasCupquake
on Youtube.
Wow! This blue owl String Art is awesome, perfect to decorate a wall. Pay attention to the fact that de owl is posed on a branch tree wich is painted on the wood, so you can combine differents techniques to make this craft. Lovely!
Via
Nine Red
That's a nice Valentine's Day craft or a an excellent gift to give at an anniversary. The word "love" is always inspiring us and if it's made woth treads, even more!
Via
Nona Ullie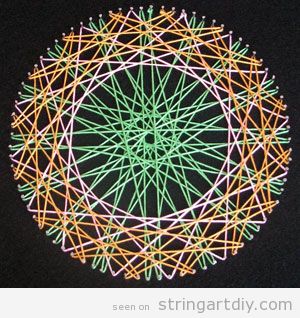 Hi! Here you have a tutorial to learn how to make a geometric String Ar step by step tutorial.
via
Monster Patterns
You only need some colorful threads to create this String Art Owl. Learn how to make it on this video from Suzanne McNeill. A great craft, perfect to make with kids!
via designoriginals123 on Youtube.