Gift
In the United States, Mother's Day is celebrated the second Sunday of May, so this year, 2017, will take place on Sunday, May 14. (In the UK, Mother's Day 2017 was celebrated on Sunday, March 26).
So in USA it rests less than a month, it's the final countdown! Let's take a look to some beautiful and lovely handmade String Art that your mother will love as a gift.
MOTHER'S DAY STRING ART BOARDS
This Mom String Art made by Carven Design Studio is one of our favourites. Pay attention, because the inside of the letter "O" is heart shaped. We also think that the combination of dark wooden board and this pink or purple thread is perfect.
This heart shaped String Art made by Debbie McLauchlin is easy to make and very very sweet. As you can see, there are two hearts, a little one inside one another and the word "Mum" it's also written with strings and nails. It's a handmade craft suitable to make with kids, so go ahead. Moms will love this handmade gift.
This one is another very very sweet design because we can see two handprints, one from the eldest son and one of the  yougest son with their names written on the side. You can make this String Art by yourself or buy one customized at  LivandEmma Etsy Shop.
MOTHER'S DAY STRING ART CARDS
Embroidery paper crafts or String Art on paper it's a very easy and lovely idea to make as a Mother's Day Gits. As you can see on the picture above and  on the video below, the process is simple and the result is great. You can make a String Art heart just using tissue paper, pencil, cardboard, punch, thread and needle. Once you finish, write down some nice quote like "I love you, mum" or something special for you two.
This craft has been creaded by Jar of Threads.
Another simple String Art Card for Mother's Day is this one that blog.michaels.com has shared with us. We really love the way that threads write the word "MOM" like if it eas a piece of classic embroidery.
We hope that these ideas encourage you to DIY some similar String Art crafts to offer to your mom. See you!
Yeeeey! The Chistmas countdown has started! Just one month left! So, oficially, we can finally start to think about Christmas decorations, Christmas gifts and Christmas projects! We want to start with this wonderful snowflake String Art.
We have found this tutorial on Decoración Ideas. As it is explained in Spanish, we let's try to translate it to English.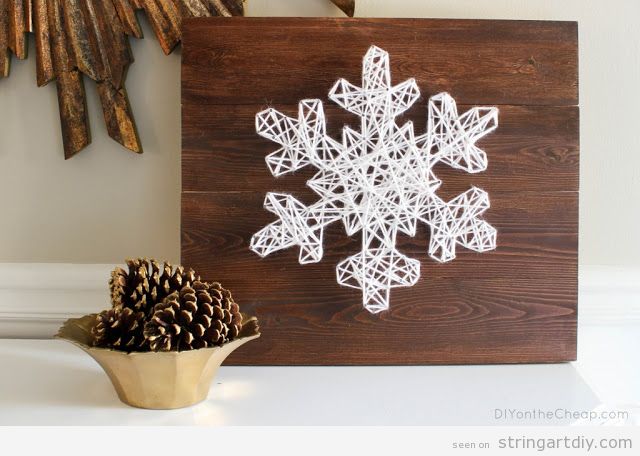 To make this String Art, will need these materials:
Wooden board
Hammer
Wood glue
Printer
Projector (optional)
Pencil or chalk
Nails
Threads
Drill, dowels, tenterhooks and rings or shackles (to fix it to the wall)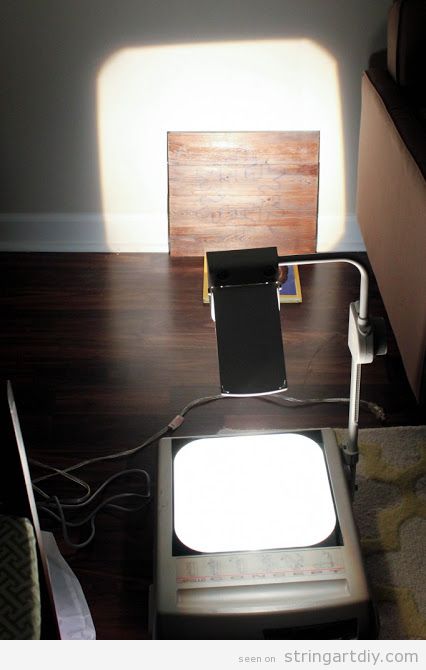 As you can see, the first step is to print the snowflake pattern or, if you have a projector, it could be perfect use it to project the image directly on the board.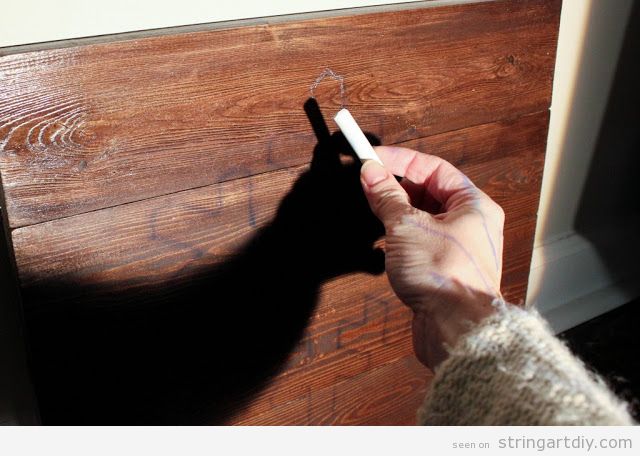 Then, you have to draw the snowflake shape on the board using a pencil or a chalk and following the projected shadow lines.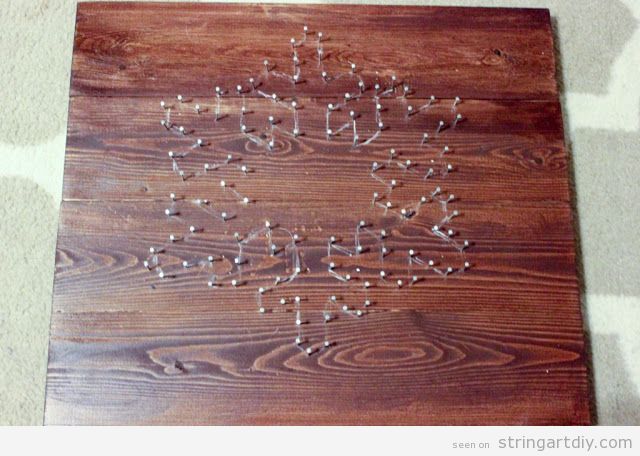 The next step is to clue the nails along the drawing. You can leave a 2 or 3 centimeters between them, but make sure that they are pinned in the most important vertexs, angles or corners.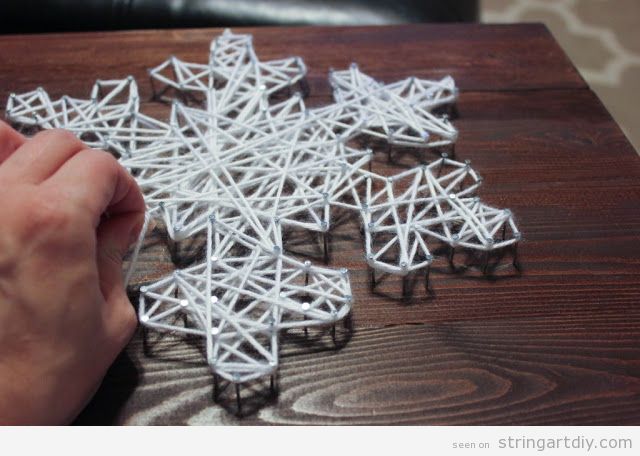 The last step is to pass the thread through the nails or across them and make some knots in order to fix it well.
And that's it! You have this gorgeous snowflake shaped String Art to decorte yout home at Christmas or even to offer as a handmade gift. Have a nice weekend!
Here you have a tutorial by
Better Homes and Gardens
where they show us an easy way to make letter "M" String Art.
It is a perfect customized gift so think about making it for a friend or relative!
To create this String Art, you just need:
Block wood
Letter pattern
Small nails
Crochet string
Hammer
Scissors
Painter's tape
We hope you enjoy it!
3 weeks left to Valentine's Day, so we are thinking about handmade gifts that you can offer to your girlfriend or boyfriend, so here you have a lovely String Art on a board.
This is special becaause the board it's also painted with pink diamonds.
Take a look to this video by
UnaPaginaEnBlanco
and try it, it's easy!
Here you have a free String Art pattern to download. As you can see, it's a bride and groom shape, a perfect DIY for decorating a wedding or to give a handmade gift to the married. Do you like it? I think it¡s simple, but beautiful and elegant.
I really love this Darth Vader with a heart inside String Art, perfect to give to a boyfriend or girlfriend on Valentine's Day or for yout anniversary.Here you have the free pattern for download!
You can learn how to make it step by step by visiting: Frame DARTH VADER Art In String (VALENTINE'S DAY BRASIL)
Wow, if you really love sueprheroes, specially "The Avengers", this is the best craft ever to decorate a wall! That's also a nice piece of craft to give as a present to your geek son, friend or boyfriend. As you see, it's a 4 piece String Art. Love it!Source:
halftonehandicrafts
Valentine's Day has just happened but it doesn't matter, here we have a beautiful idea to gave as a present for wedding anniversary or just to celebrate your love and decorate your place. This penguin love String Art is cute and lovely.
Via Briana Lamet Originals on Pinterest