Names
Hello everyone and welcome one more time to our blog. Today we are going to show you some Arabic String Arts where we will see some arabic letters, names in arabic, arabic phrases and islamic verses. Currently I am studying arabic lenguaje and arabic calligraphy and I feel that I am a lover of this culture, so I am going to try to translate each one so you know what it says. Ialla or let's go!
ARABIC LETTERS
Let's start with some arabic letters String Art with beautiful calligraphy.
The first is the letter "و", we pronunce it as "waw" if it's isolated or "uu" if it's in the middle or the end of a noun. It also works to join two phrases, is our "and". At the site nailstring.com you can see more works like this one by Emine Kara.
These two letters are the initials of a couple made by A Crafty Arab for their wedding day. These  "ق" (faa) and "ن" (nuun) letters. You can see the full tutorial step by step in his site.
MY MOTHER IN ARABIC
You can also choose to pay tribute to your mother with this fabulous String Art that says "أمي" (Umi), that is "my mother". We really love this beautiful design by Jwana Al Sha'lan and  you can see more pictures at his Behance Gallery.
NAME PATRICIA IN ARABIC
An excellent option is also a String Art with your name in Arabic. In this created by Monica Artwork we can read "باتريثيا", witch means Patricia, although it is really written "Baatriiziaa" because the letter "P" and "C" do not exist in Arabic.
PATIENCE IS BEAUTIFUL IN ARABIC
Another idea is to write a beautiful sentence in Arabic, using a beautiful calligraphy, for your String Art. This one says "فصبر حميل" ("fa sabrun jameel") and it means "patience is beautiful". We have seen this beautiful Arabic String Art at Izza Shahid Pinterest.
ALLAH
Now we start with religious Arabic String Art.
"الله" Allah means God and there are many ways to write it in many different calligraphies, each one more beautiful than the other. You can buy this on Etsy 
This one is stunning due to its design and the bright green thread used.
THANKS GOD IN ARABIC
In this other String Art we can read "الحمد لله" ("alhamdulillah") is literally "Praise be to Lord", but muslims use it as "Thank Lord". Pay attention to his beautiful calligraphy! If you like it, it's avaliable on Etsy.
THE MERCIFUL IN ARABIC
 
"الرحيم" means "The merciful" and is one of the names of Allah. As you can see in these two islamic String Art, there are many ways to write the same by using several calligprahies and ornaments. The second one it's on sale at Etsy.
MY GOD DON'T BE FAR FROM ME IN ARABIC
We finish this article with a verse that says "يا إلهي لا تبعد عني", meaning "My lord, don't be far from me" and it's calligraphy it's impressive. It0s avaliable on Etsy.
We hope you liked these arabic String Art and see you soon!
Hi, guys! I  have found a wonderful Facebook page called La Hilería and it is full of beautiful String Art projects that you can notice that they are full or love and care. I love especially those that pay attention to kids, with colorful designs, perfects to decorate a childs bedroom. Here I show to you some ideas that you can buy or DIY.
BIKE AND NAME STRING ART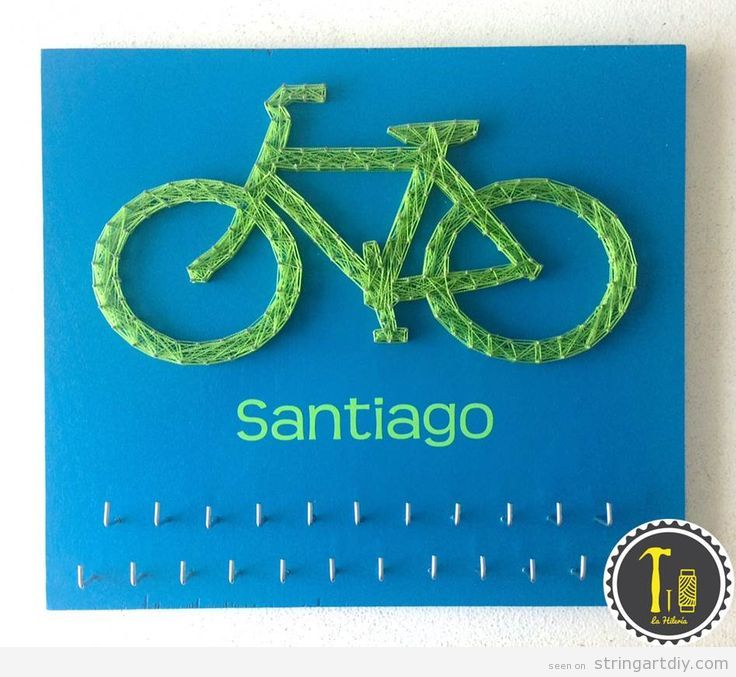 If your son or daughter loves bikes, this String Art with a nice bicycle and his name is perfect. Notice that there are some pins on the bottom to hang whatever you want.
SAILING BOAT STRING ART
It's amazing go to the beach and watch sailing boats on the sea, right? When I was a little girl, I enjoyed this moment to much! So a sailing boat String Art could be nice to decorate a themed kid bedroom.
CROWNS AND NAMES STRING ART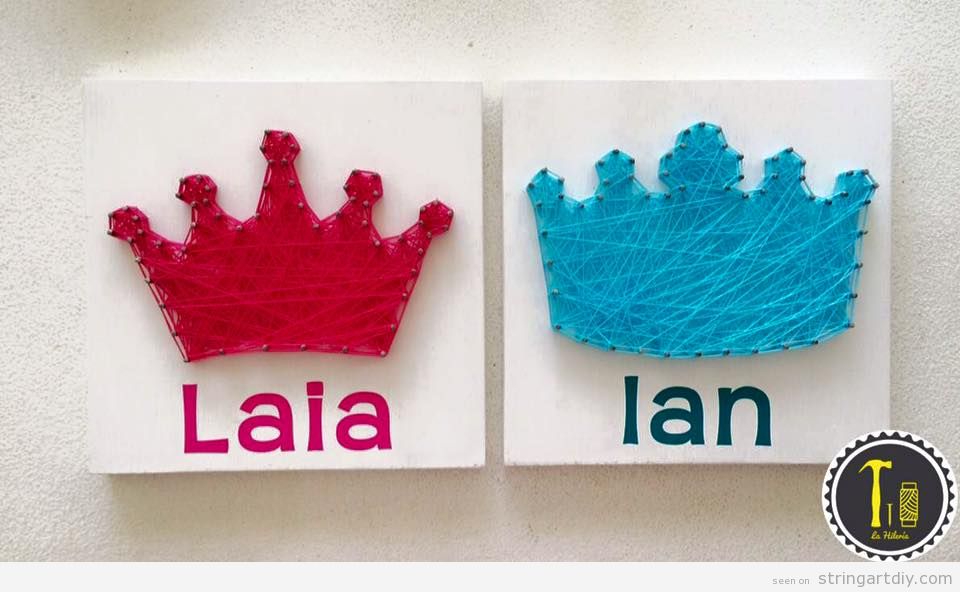 If you think that your daughter is the princess or already the queen of the house and your son is the little prince or the king of the house, these crowns and names String Art is perfect for them!
FAMILY AND HEART STRING ART
Oh, really cute design! You can portrait love family with this simple String Art. Think that there are a lot of kind of families, like a single mom or dad, two dads, two moms, etc… so open your mind and make different designs.
SMALL PLANE STRING ART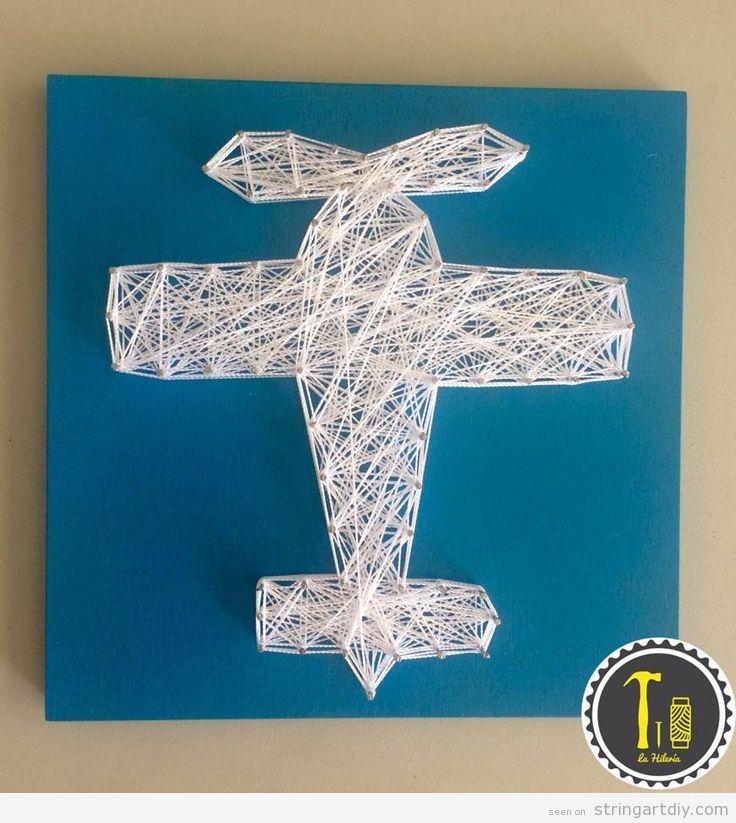 If instead of bikes or boats, your kid are obsessed with planes, this small plane or light aircraft made with white strings and with this amazing and intense blue background, it's perfect for him or her.
Have you liked these String Art Designs for kids? If so, please, comment or send us pictures to our social networks. Thanks for reading this blog and see you soon!
Denise Wild
show us in this video an amazing and big string art wall mural perfect to make to Valentine's Day.
Follow this step-by-step guide to learn how to make it. As you can see, you can write your name and your couple's name and add a heart figure if you like it. If don't, the name and the threads in red and gradient to pink it's just perfect.
I hope you love it!
These tags say in Catalan "Desitjo que t'agradi", what means "I hope you like it". There star shaped String Art is a wonderful idea to package your Christmas gifts.Source:
Papel y cola
This is a nice craft to decorate a teenager beedrom.
Wow, that's a great idea to decorate a wedding or to decorate the table where the guests know the number of his table using these small tags. This tree shaped String Art is lovely!
Via
Carneros Inn Napa Wedding
on
Green Wedding Shoes
Have you recently moved to an appartment with your couople? here you have a lovely idea to decorate your walls. Paint differet patterns on a board and write your names with String Art on it. Add a & symbol to make it even better.
vía
Rock Your Walls
Here you have a nice tutorial to learn how to make step by step a name string art DIY. Add a frame and it's even more beautiful! Enjoy it!
Via
Lola.vn