Wall
Pleaee, don't buy fresh Christmas tree, save the planet! There are many options to have a wonderful Christmas tree at home, like this one, made just using pins and threads.
You can learn how to make it on a wall by watching this tutorial by
Michaels Stores
Do you like this wonderful String Art Christmas Tree on a wall that also could be used as a card display? It's a lovely idea to decorate your home at Christmas and your kids will love it!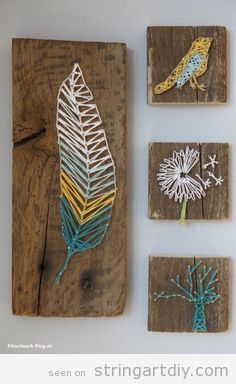 Oh, I really like this Strign Art mix: Feather, dandelion, tree and bird. Pay attention to the different dimensions and the way they form a bigger and more complex String Art.
That's a great idea to decorate a wall at home, a cafeteria or a shop.Source:
kitschwerk
Eiffel Tower is a great symbol and it's widely famous all over the world. Its shape is amazing but simple, so it's perfect to mkake this kind of crafts.
This Eiffel Tower String Art is a great example and a nice idea to decorate a wall (at your place or even in a shop or cafe).Via
Dailyfix
Nothing to add about this handmade piece, it speaks by itself: a wonderful pink flamingo String Art. I really want to make it, maybe this cold weekend! That's nice to decorate a shop, a cafe or even a room.
Source Dailyfix
Our hall is the first impression that people have when they come to visit us, so we have to decorate it in a beautiful way I really love this idea: it's about a wooden hager with a "HI" String Art on it.
Via Idees
"You are loved" String Art is a nice cfrat to make with your kids and to show how much do you love them by telling and showing it with time and love.
That's a nice handmade piece to decorate their bedroom, don't you think so?
Via
Canvas & Clay
Hi, guys! Today we want to show us a wondergul idea. Pay attention to this dark wooden board because it's fantastic and itself made a great piece to decorate a wall, vintage style. The feather is light and nice, it suits a lot with the mirror and the dressing table.
Just another wonderful deer String Art. A fabulous way to decorate a cafe wall, a bedroom wall or wherever wall you want to hang it.
Via Delapudious