Wall
Paris… lovely city, lovely name and lovely String Art craft. I really like the "A" shape as it was the Eiffel tower.
That's a wonderful idea to a  wall decoration.
If you have some time, we recommend to visit this site
Mr and Mrs Morgan
because there are a lot of String Art ideas to decorate a room… There are plenty of lovely artworks and even you can buy it if you like it.
Woow! So lovely this mushroom String Art. A great idea to decorate a baby or kid bedroom or a nursery school!
Via
Minti Wall
Here you have a nice craft project to do with your kids and decorate a wall room. As you can see on the image, it's about three squared String Art panels and the effet made on the wall is nice. You can try it on differents colours.
by
mshichma
Have you recently moved to an appartment with your couople? here you have a lovely idea to decorate your walls. Paint differet patterns on a board and write your names with String Art on it. Add a & symbol to make it even better.
vía
Rock Your Walls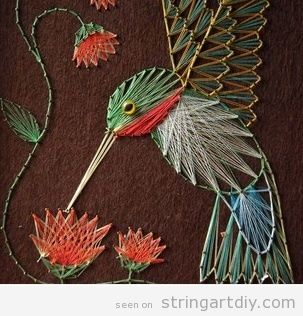 Sometines, String Art crafts are masterpieces, like they were paintings, as we see on this image with a bird placed on a flower. Extremely beautifil.
Via
2 Rown Tree
Here you have two lovelies gingko leaves made with String Art technique. This craft is made on wood and it's a great piece to decorate your wallroom.
via
Amy Lee Wheele
r on Kaboodle.