Flowers
Mother's Day is near and it is always a good time to give away a craft that shows your affection, attention and love for her. It's easy to buy a gift, but it's more meaningful if you give a craft or a DIY. That's why today we propose to you the 10 best Mother's Day String Art with differents designs and colors. Choose the design that you think your mother will like more, taking into account her preferences. If she is modern, romantic, cheesy… Pay attention to these pieces because they are small workarts that your mother will love.
MOM PINK LETTERS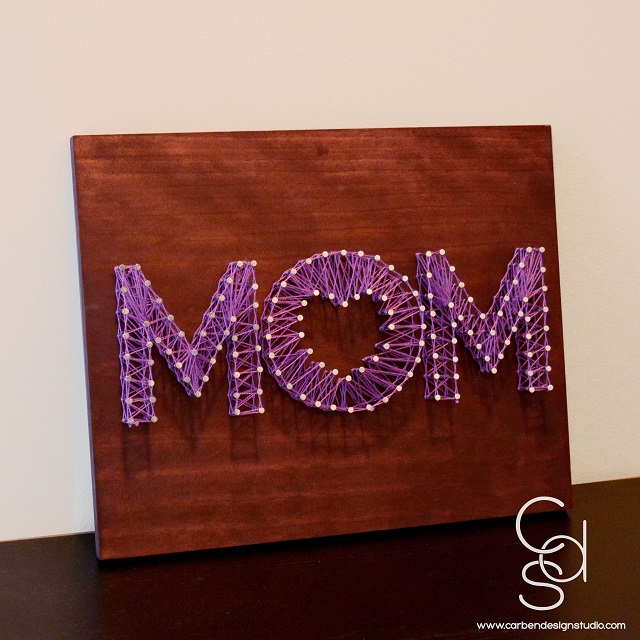 We like this String Art with pink MOM letters and a modern type. It's perfect for young, femenine and modern mothers. Desing by Carben Design Studio.
MOM AND TULIPS
Mother's Day is an excellent time to give tulips. If you want them to last forever, make a String Art with tulips  like these. It's a wonderful design by StringsAndStrokesArt.
WORD SEARCH GAME MOM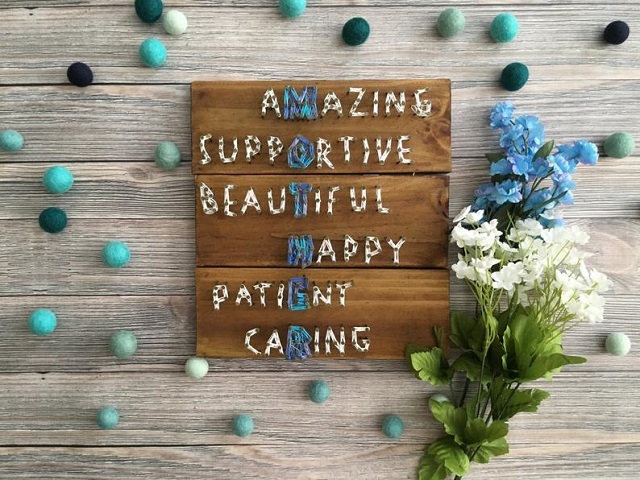 Word Search game and Scrabble is a smart and fun game. We love the idea of uniting words that define your mother, such as aMazing, suppOrtive, beauTiful, Happy, patiEnt and caRing. This design is by CustomizedByAshley.
RED PASSIONATE HEART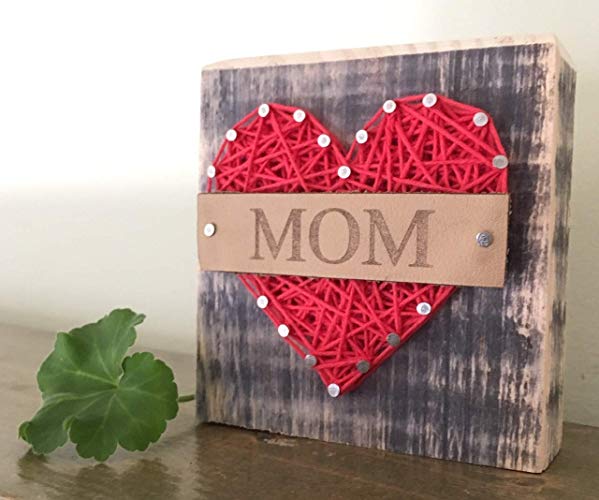 Of course, it is also a good idea to make a String Art of a red heart and to put the word MOM on top of it on a cardboard or a piece of leather. It maintains the handcrafted touch and with some old school point.- You can buy it at Amazon or Do It Yourself because it's easy.
M ❤ M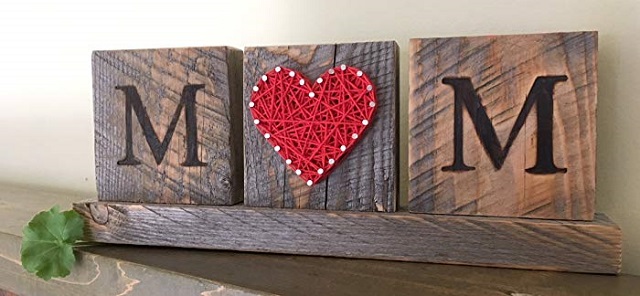 In the first String Art we have already seen the idea that the "O" of "MOM" is a heart. Here this fact is still more visible since there are three wooden boards and the middle one is a Strin Art red heart. We love the design and you can buy it at Wantitall or DIY.
M ❤ M WITH PICTURES
Write down the idea of adding your photos to the Mother's Day String Art because it is a detail that your mother will like. Also, in this video the creator show you step by step how to do it. Easy and beautiful.
M ❤ M NEGATIVE LETTERS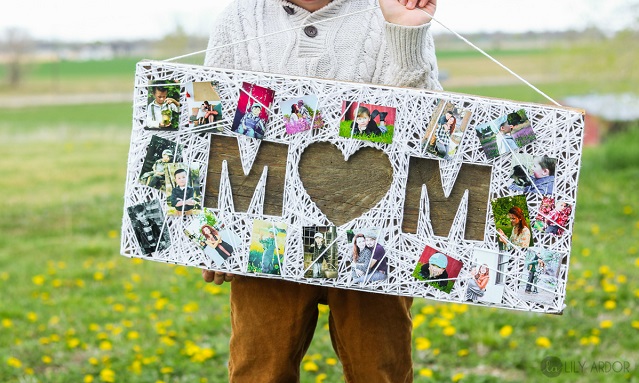 Negative letters means that all the space around the letters is filled up with threads and the word MOM is seen because it does not have threads on it, but the wood on the background appears. By this fact, this Mothers Day String Art is original and different from the rest. Lovely desing by Lily Ardor.
RED HEART MOM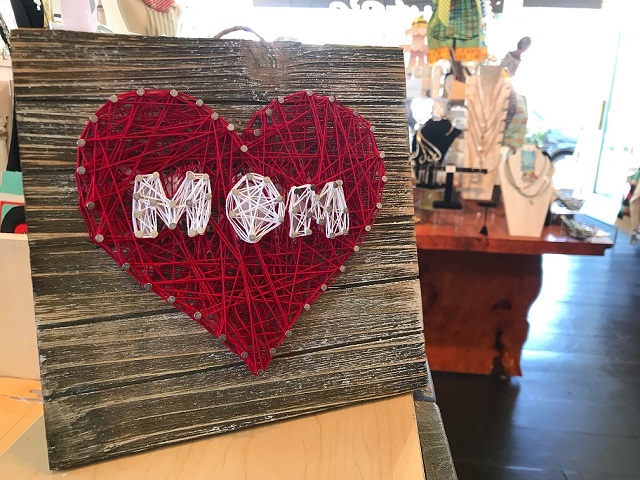 This design with a red heart is very passionate. In it we can read the word MOM in the middle made with white threads ina b bold type letters. For romantic and passionate moms. Great design via San Clemente Times.
M❤M  SOFT COLORS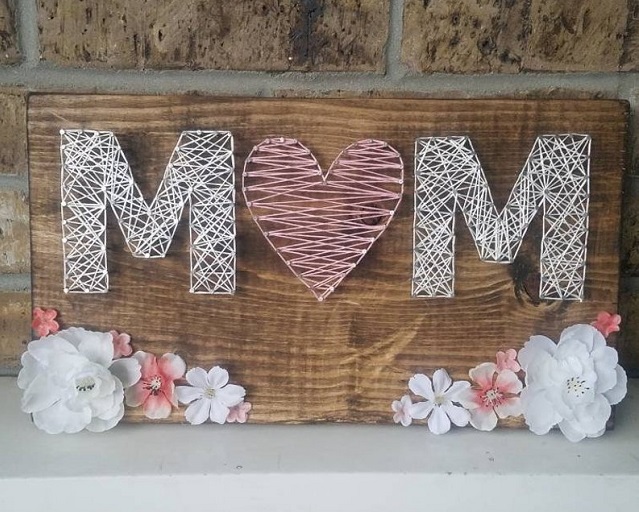 Although the design of the letters and the concept is similar to the previous ones, what makes this Mother's Day String Art different are the colors, which instead of being red, are made in pastel tones or soft colors. It's perfect for sentimental and romantic mothers. You can buy it at Etsy. If not, you can DIY because it's not very difficult.
M❤ THER BEAUTIFUL CALLIGRAPHY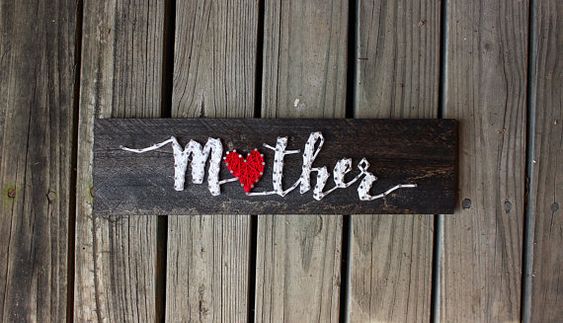 We finished this selection with a different design because it pays attention to calligraphy. Her creator has written the word "mother" with a beautiful calligraphy or bouncing lettering between classic and modern that gives it a special touch. Design by EclecticGreetings.
As always, we hope you liked what we consider the 10 best Mother's Day String Art and that among them you will find the one you like the most to give to your mother.
We can't understand how, after so many years of bloging, we haven't dedicated yet one post to talking about cactus Strings Art! Luckily, today we have thought about it and we have looked for the 10 best cactus String Art, so, here we have our Top 10. As we can see below, some of them are regular cactus or succulent, others are cactus with flowers and others are cactus that can be found in flowerpots or in the plains of the desert. Let's take a look at these 10 works.
THREE CACTUS
We love this String Art with three different cactus planted in three pretty pots, each one of a color. Notice that one of them has pretty flowers. You can DIY or buy it on BrittasDreamDesigns.
CACTUS AND SUCCULENTS
Pay attention also to these beautiful succulents and cactus on a dark wood base. We love their shapes and colors. This work was created by Rachel Herring.
BIG CACTUS
We leave the flowerpots and we take a look at the plains of the desert to imagine a big cactus like this one. It's a nice piece that you can buy at Etsy or, if tyou prefer Do It Yoursef, so we encourage you to watch this tutorial by Love Tempe.
Here you haver another tutorial step by step by TurquoiseBoutiqueStudio that could help too to make this cactus String Art.
CACTUS WITH CLOTH FLOWER

Sometimes it is very good when we add an object of another material in a String Art work. For example, in the next two cactus String Art, the flower is made of cloth and it looks wonderful. This one is made by BrittasDreamDesigns and the next one with the orange flower is made by Locker Pivots.
PASTEL CACTUS
If the String Art is to decorate a nursery, it is better to make it with soft and pastel colors, like this cactus full of flowers and beautiful details. It's no longer avaliable on Etsy but you can Do It Yourself having it as a reference.
CACTUS WITH FRINGES
If you are tired of cactus flowers, you can add something more original, like pompoms or colored fringes. You can see the full tutorial step by step visiting Perles and Co.
THREE CACTUS ON WOOD SLICE

In case you would like to add something different on the cactu String Arty, you can also change the base from normal wood piece to a slice of wood. You can buy it on hannahhandcraftedco or take it as an example and try to imitate it.
GEOMETRIC CACTUS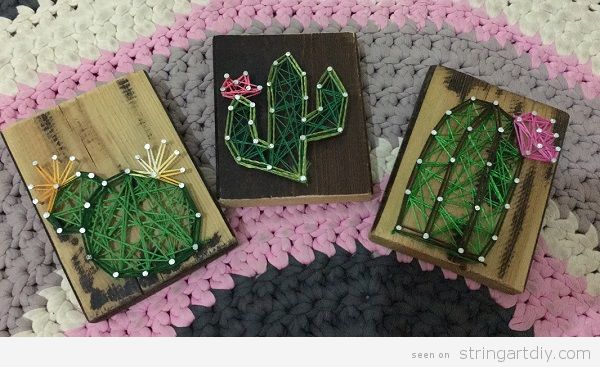 Another original way to make these String Art cactus is by drawing them in geometric shapes. It gives a much more modern look. We have found it on Pinterest.
REAL CACTUS ON STRING ART
To finish, we turn it around and we offer you a variety of a geometric String Art with real cactus planted in the wood base, as if they were flowerpots or vertical planters. Is really really original and you can found the whole tutorial step by step on Brit.co.
We wish that all these cactus String Art have pleased you and that you decorate your home walls with them. We encourage you to do it yourselves and tell us how it was. See you soon!
Here you haver a lovely sunflower String Art made by All Strung Up.
We need a little bit un sun after this long winter… but brace yourselves, spring is coming!!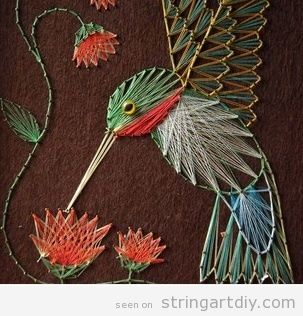 Sometines, String Art crafts are masterpieces, like they were paintings, as we see on this image with a bird placed on a flower. Extremely beautifil.
Via
2 Rown Tree
Here you have two flowers made with String Art technique on blue and red. Very nice pieces!