Hearts
Mother's Day is near and it is always a good time to give away a craft that shows your affection, attention and love for her. It's easy to buy a gift, but it's more meaningful if you give a craft or a DIY. That's why today we propose to you the 10 best Mother's Day String Art with differents designs and colors. Choose the design that you think your mother will like more, taking into account her preferences. If she is modern, romantic, cheesy… Pay attention to these pieces because they are small workarts that your mother will love.
MOM PINK LETTERS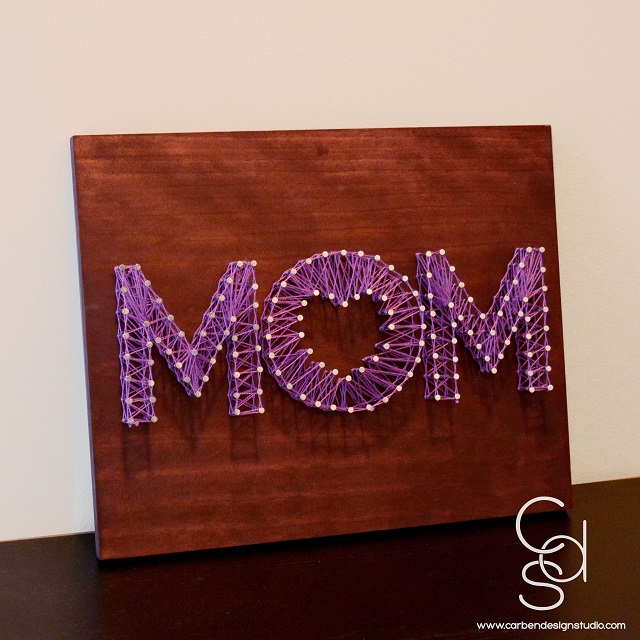 We like this String Art with pink MOM letters and a modern type. It's perfect for young, femenine and modern mothers. Desing by Carben Design Studio.
MOM AND TULIPS
Mother's Day is an excellent time to give tulips. If you want them to last forever, make a String Art with tulips  like these. It's a wonderful design by StringsAndStrokesArt.
WORD SEARCH GAME MOM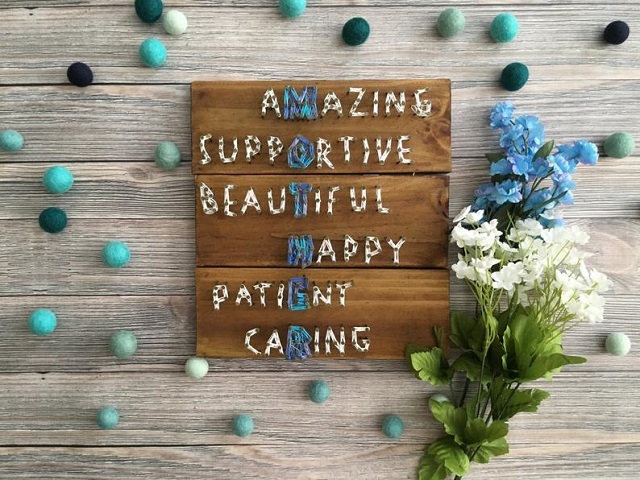 Word Search game and Scrabble is a smart and fun game. We love the idea of uniting words that define your mother, such as aMazing, suppOrtive, beauTiful, Happy, patiEnt and caRing. This design is by CustomizedByAshley.
RED PASSIONATE HEART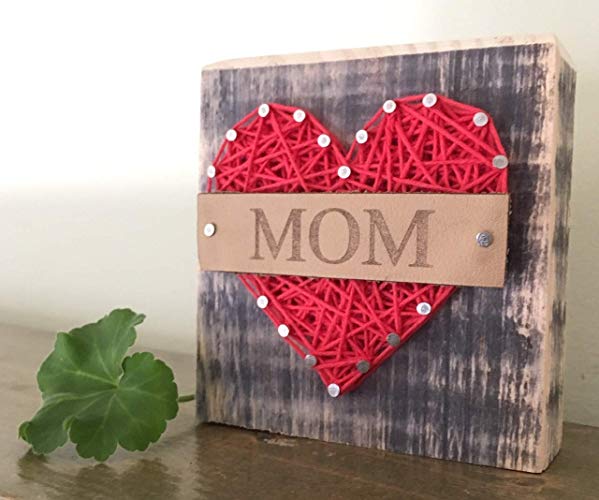 Of course, it is also a good idea to make a String Art of a red heart and to put the word MOM on top of it on a cardboard or a piece of leather. It maintains the handcrafted touch and with some old school point.- You can buy it at Amazon or Do It Yourself because it's easy.
M ❤ M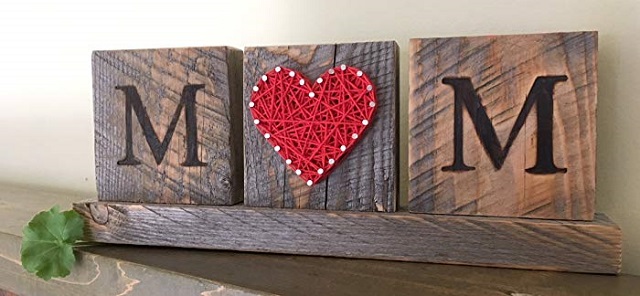 In the first String Art we have already seen the idea that the "O" of "MOM" is a heart. Here this fact is still more visible since there are three wooden boards and the middle one is a Strin Art red heart. We love the design and you can buy it at Wantitall or DIY.
M ❤ M WITH PICTURES
Write down the idea of adding your photos to the Mother's Day String Art because it is a detail that your mother will like. Also, in this video the creator show you step by step how to do it. Easy and beautiful.
M ❤ M NEGATIVE LETTERS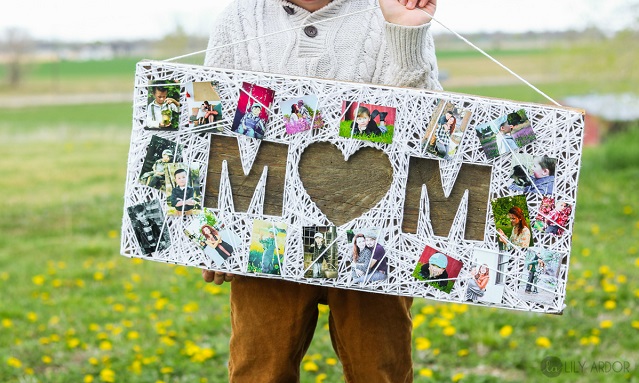 Negative letters means that all the space around the letters is filled up with threads and the word MOM is seen because it does not have threads on it, but the wood on the background appears. By this fact, this Mothers Day String Art is original and different from the rest. Lovely desing by Lily Ardor.
RED HEART MOM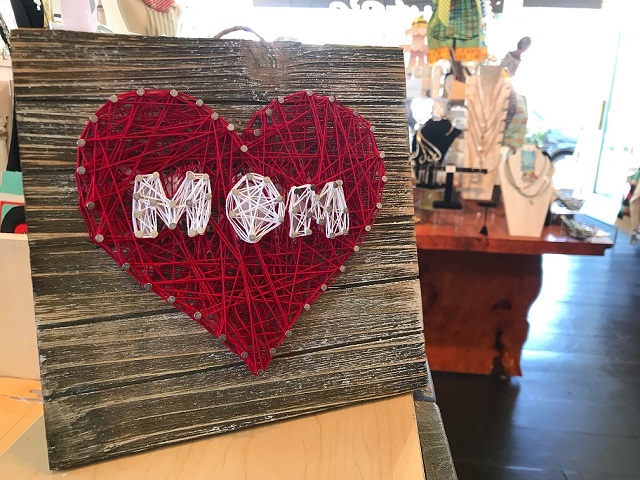 This design with a red heart is very passionate. In it we can read the word MOM in the middle made with white threads ina b bold type letters. For romantic and passionate moms. Great design via San Clemente Times.
M❤M  SOFT COLORS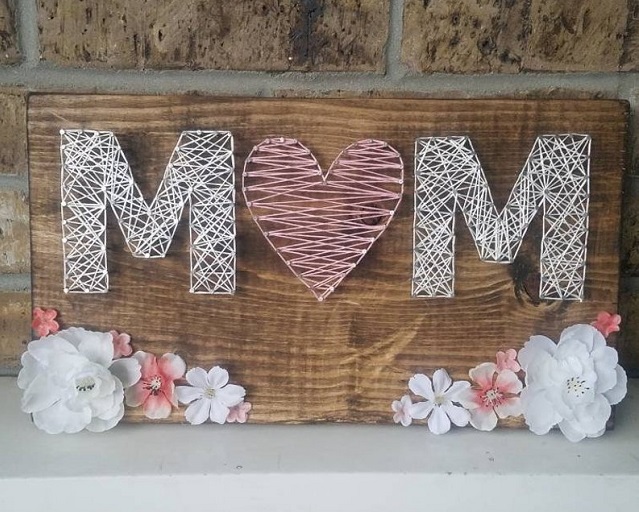 Although the design of the letters and the concept is similar to the previous ones, what makes this Mother's Day String Art different are the colors, which instead of being red, are made in pastel tones or soft colors. It's perfect for sentimental and romantic mothers. You can buy it at Etsy. If not, you can DIY because it's not very difficult.
M❤ THER BEAUTIFUL CALLIGRAPHY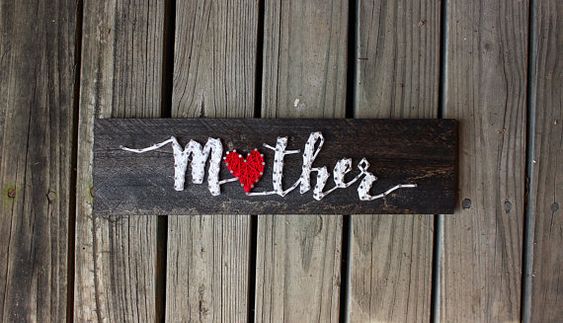 We finished this selection with a different design because it pays attention to calligraphy. Her creator has written the word "mother" with a beautiful calligraphy or bouncing lettering between classic and modern that gives it a special touch. Design by EclecticGreetings.
As always, we hope you liked what we consider the 10 best Mother's Day String Art and that among them you will find the one you like the most to give to your mother.
Geometric String Art are the most popular designs. No wonder, because they are really beautiful, colorful and you can put it on the wall to decorate any room. However, there are many difficulty levels. Today we bring you several Easy Geometric String Art designs. There are some very easy projects, which you can even do in math class with kids, and other easy ones that you can do at home without any effort. So let's take a look to these Easy Geometric String Art ideas!
GEOMETRIC STRING ART AS MATH PROJECT WITH KIDS
There are plenty of easy Geometric String Ar designs for kids and to do in math class in order to learn geometry.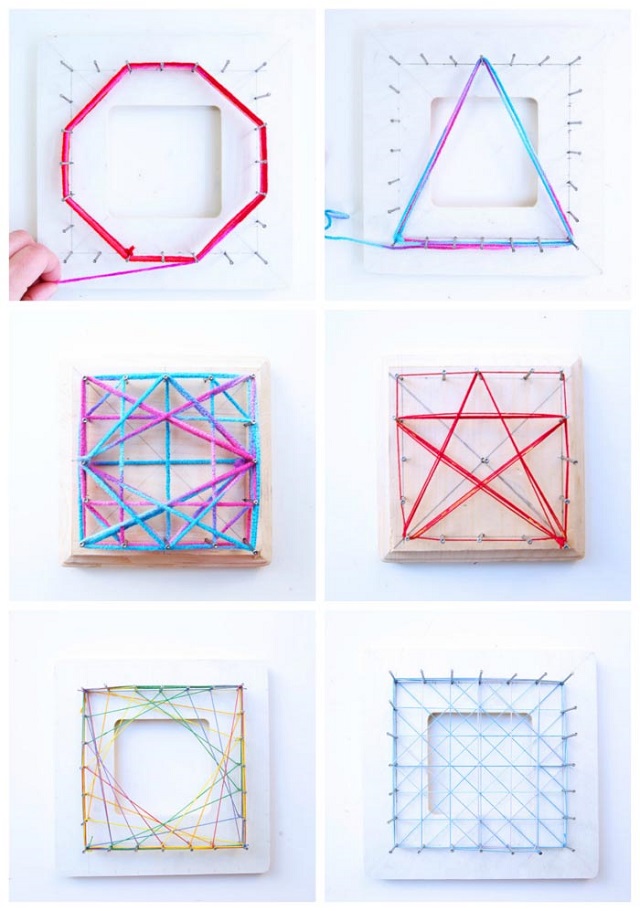 We start with these geometric designs because they are the easiest. In fact, they are recommended to do with kids between 5 and 9 years old because they have basic geometric shapes.
You can increase the level a little more and make this another more complex form, recommended for children over 10 years old because it even plays with the volume. You can see the tutorials of this mats project in babbledabbledo,
TWO PENTAGONS
You can also use geometric shapes simples even you are and adult 🙂 , such as pentagons, to make these kind of String Arts. Look at this design of two pentagons in black, a really minimalist and modern design, perfect for decorating a house, You can see the tutorial in A Crafted Passion.
TRIANGLES GEOMETRIC STRING ART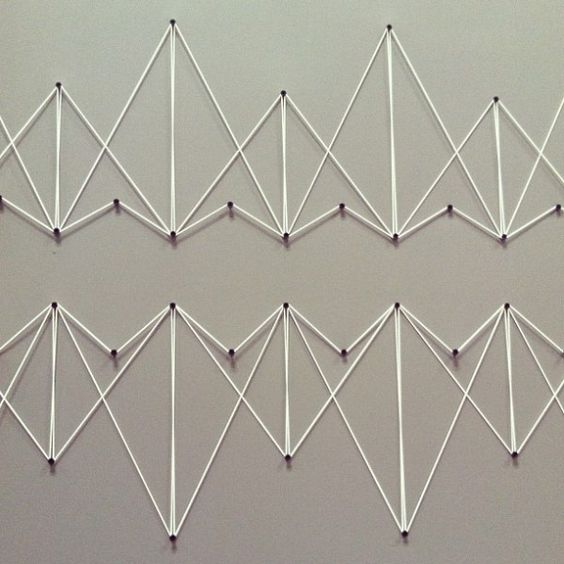 As you can see, combining triangles, a very simple geometric shape, you can make wonderful compositions like these, which look like mountains and their reflection in water. Via Studio DIY.
DIAMOND SHAPED GEOMETRIC STRING ART
It is also very easy to make a Diamond String Art, since the diamond is a pure geometric shape. You can see the tutorial step by step in: Deep Purple and Blue.
HEART GEOMETRIC STRING ART
As with the diamond, you can make a heart geometrical too, giving it shapes to make it look like it has volume or 3D effect. It is wonderful.
GEOMETRIC DEER STRING ART
There is also the possibility of making easy geometric designs that represent animals, as is the case with this deer. Very simple to do and with a nice result.
METRATRON'S CUBE
It seems an easy geometric shape to cerate a Strig Art, although it is not so much. It is based on the Metatron's cube, a shape that contains every shape that exists within the universe. WOW! We bring to you the video in order you can understand it better:
In addition, you can experiment with different colours and adds an interesting affect to this project. You can see the tutorial step by step to make these  Geometric String Art at Rapid Resizer.
We hope you liked these easy Geometric String Art designs and you are encouraged to carry out some of them. If you have done a project like this, please leave us the link in a comment because we would love to see them! Thanks for reading and for sharing!