Geometric String Art are the most popular designs. No wonder, because they are really beautiful, colorful and you can put it on the wall to decorate any room. However, there are many difficulty levels. Today we bring you several Easy Geometric String Art designs. There are some very easy projects, which you can even do in math class with kids, and other easy ones that you can do at home without any effort. So let's take a look to these Easy Geometric String Art ideas!
GEOMETRIC STRING ART AS MATH PROJECT WITH KIDS
There are plenty of easy Geometric String Ar designs for kids and to do in math class in order to learn geometry.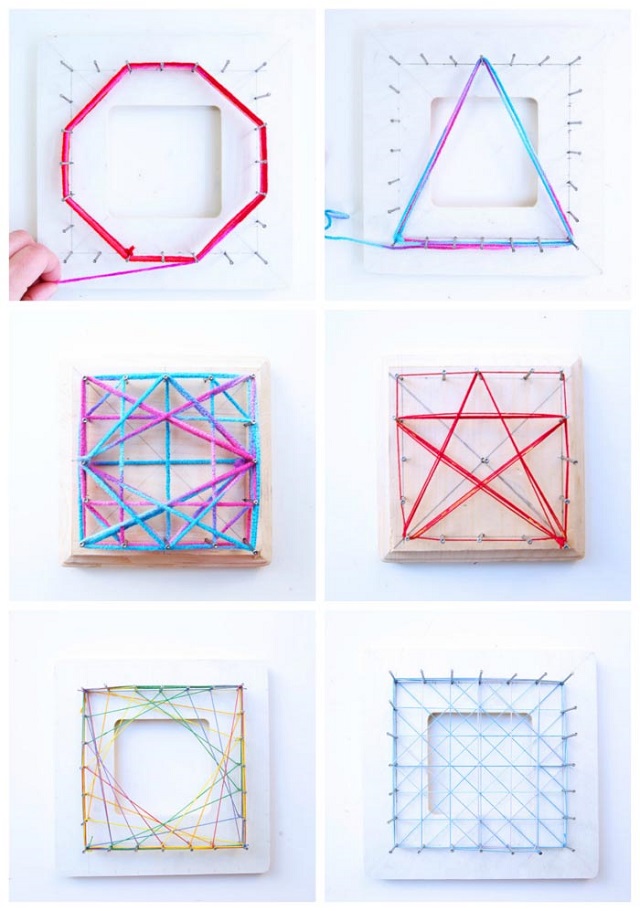 We start with these geometric designs because they are the easiest. In fact, they are recommended to do with kids between 5 and 9 years old because they have basic geometric shapes.
You can increase the level a little more and make this another more complex form, recommended for children over 10 years old because it even plays with the volume. You can see the tutorials of this mats project in babbledabbledo,
TWO PENTAGONS
You can also use geometric shapes simples even you are and adult 🙂 , such as pentagons, to make these kind of String Arts. Look at this design of two pentagons in black, a really minimalist and modern design, perfect for decorating a house, You can see the tutorial in A Crafted Passion.
TRIANGLES GEOMETRIC STRING ART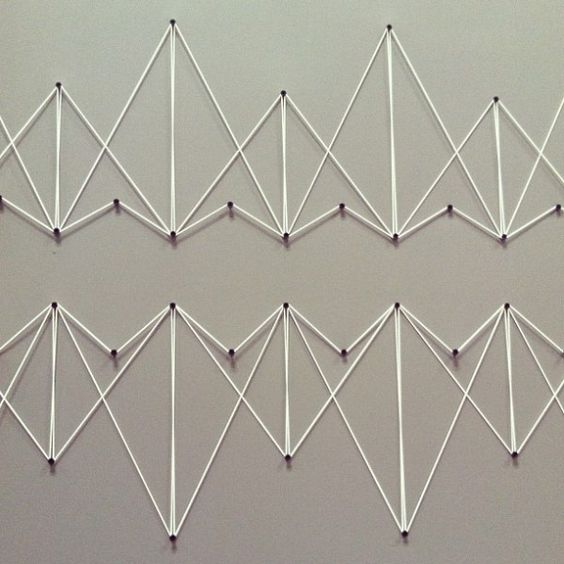 As you can see, combining triangles, a very simple geometric shape, you can make wonderful compositions like these, which look like mountains and their reflection in water. Via Studio DIY.
DIAMOND SHAPED GEOMETRIC STRING ART
It is also very easy to make a Diamond String Art, since the diamond is a pure geometric shape. You can see the tutorial step by step in: Deep Purple and Blue.
HEART GEOMETRIC STRING ART
As with the diamond, you can make a heart geometrical too, giving it shapes to make it look like it has volume or 3D effect. It is wonderful.
GEOMETRIC DEER STRING ART
There is also the possibility of making easy geometric designs that represent animals, as is the case with this deer. Very simple to do and with a nice result.
METRATRON'S CUBE
It seems an easy geometric shape to cerate a Strig Art, although it is not so much. It is based on the Metatron's cube, a shape that contains every shape that exists within the universe. WOW! We bring to you the video in order you can understand it better:
In addition, you can experiment with different colours and adds an interesting affect to this project. You can see the tutorial step by step to make these  Geometric String Art at Rapid Resizer.
We hope you liked these easy Geometric String Art designs and you are encouraged to carry out some of them. If you have done a project like this, please leave us the link in a comment because we would love to see them! Thanks for reading and for sharing!