Whether you are passionate about cars, or want to make a Car String Art to a car enthusiast, you have to take a look at these String Arts that we suggest you. Only with wood, color threads of  and nails, the creators, craftsmen, craftswomen and artists manage to recreate the shapes of the most mythical cars in history, some famous movie cars and also some themed cars. By the way, if you need malaga car hire, take a look at Niza Cars, the company most chosen by users in the United Kingdom for car rental in Malaga. Now, we start with the 10 Best Car String Arts! (Well… actually, there are 12, 2 bonus extra!)
MUSTANG 1968
We start with the mythical 1968 Ford Mustang String Art, one of the most appreciated cars in history. It's a good work of @lsd_stringart with a nice perspective and full of details.
VOLKSWAGEN BEETLE
Here we have two views of another of the most famous cars in history, the Volkswagen Beetle. As you can see, you can make the String Art car with lateral view, with perspective or front. It is recognizable anyway and it looks great. These works are created by Filografistan and Tie One On With Lucy.
VOLKSWAGEN VAN
If you are a hippie or a hipster, these String Art will drive you crazy, literally. Volkswagen Van is the best to travel around the country or to surf. This String Art is a great gift for surfers!
MINI COOPER
What do you think about this Mini Cooper String Art? Surely Marsh has had a happy 25th anniversary with this wonderful gift amde by @the.stringarts.
RACE CAR
The vintage race cars are beautiful and perfects for decorate from a children's room, until a mecanic workshop or a vintage coffee shop. This String Art is delicious! By UrbanHoot.
LIGHTING MCQUEEN
How much love we have for this character from the movie Cars and how much fun have we had watching it! A Lightning McQueen String Art is a perfect gift for a kid. This work is made by La Hilería.
TOW "MATE" MATER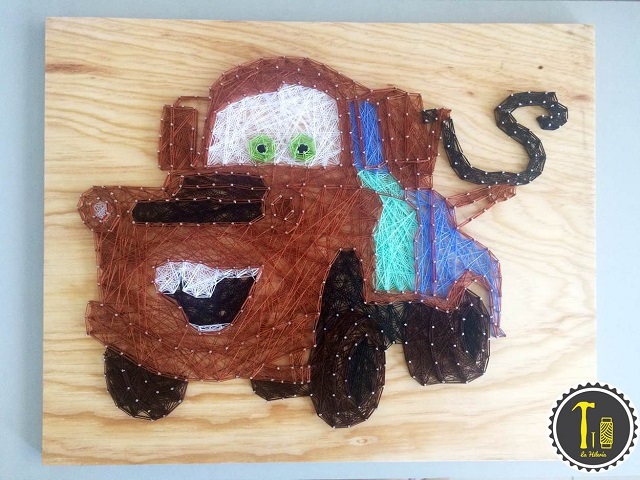 If the kid prefers Tow "Mate" Mater, also from the movie "Cars", is another charming character whose String Art looks funny and sweet. Also by La Hilería.
TOY CAR
Maybe you want to make the String Art Car with a kid and you are looking for an easy design, that's why we suggest this toy car, easy to make and perfect to decorate nursery or kids bedroom. This craft is by TheHonakerHomeMaker.
CHRISTMAS TRUCK CAR
In case you prefer a themed String Art to decorate your home at Christmas, here is a Christmas truck Stringf Art carrying a Christmas tree that is beautiful, easy to make and full of Christmas spirit.
JUST MARRIED CAR

We finish with this wonderful Just Married Car String Art and we think it is a good wedding gift. It serves to decorate the wedding salon and is a gift that they will keep all their lives. This one is made by byHANDstringart.
We hope that you have liked these amazing Car String Art and that you are encouraged to make a DIY to decorate your house or as gift to someone you really love. Which one is your favorite? What car would you like to make? We are waiting for your comments! See you soon!