Mountain String Arts are an ideal choice for decorating your living room with the taste of nature and traditional artwork. There are several ways to draw a mountain with threads: one is more realistic, with complex shapes and shadows and another simpler, with geometric shapes that give it the appearance of abstract mountains.
Here are two mountain templates, one realistic and the other geometric. Afterwards, we will see a step-by-step tutorial to learn how to make a realistic mountain String Art, as it is more complicated. Finally, we show you 10 String Arts mountain designs, some of them realistic and others abstract, so that you can be inspired by their designs and make your own DIY.
MOUNTAIN STRING ART PATTERN
As mentioned above, the first thing to do is to download and print the Mountain String Art template of your choice. Here are two examples. They're easy to draw, so if you don't have a printer, you can take them as a reference and draw their shapes on top of the piece of wood or canvas.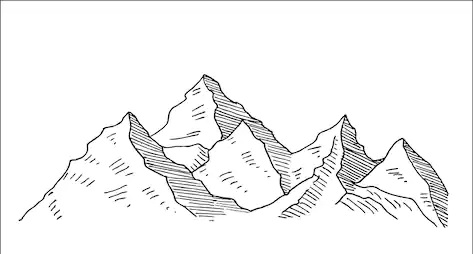 TUTORIAL STEP BY STEP
Since making a realistic Mountain String Art is more complicated, here's a step-by-step tutorial by HANDMADE STUDIO Golden Sun so you can easily follow the process. As you can see, he draws the mountain directly with a pencil on top of the wood, but you can put the paper and nail the nails on top. The most difficult part is to make the shadows with threads, they don't have to be black, they can also be white, so stay tuned.
MOUNTAIN STRING ART DESIGNS
Now that you know how to draw mountains and how to make String Art, it's time to show you different Mountain String Art designs so you can decide which style you like best. Let's take a look:
This white mountain String Art design on grey wood with red and orange trees is simply beautiful.
Via Distant Realms
The mountains in white thread on a background of dark wood look very good, as you can see. They look like snowy mountains.
Via Bigantic
In this other mountain String Art we see again the design in white thread on a dark wood background, but with the novelty that it also adds a white tree and a bear in the foreground.
And still another design similar to the previous ones, but with different size and a lighter wood color.
Via byHANDstringart
We changed the design for one where the mountains appear flatter and more colorful, as if it were a drawing made by children. We love the colors, as well as the road and trees in the foreground.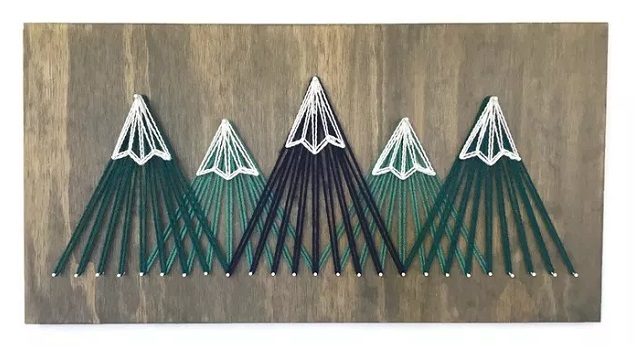 Via StencilsStudios
We entered fully into a more geometric and abstract style of drawing mountains Strin Art, with triangles only. Notice also how they has pulled the String Art threads, straight and vertical, which adds a curious height effect to the mountains.
In this design they have also drawn mountains with triangles and with depth effect. What stands out is that they have added a nice painted lettering that says "Adventure Awaits"
Via Krisjsmitty
We love this mountain string Art especially for the colors that it has chosen, different to the previous ones, in orange and brown tones, that give it an air of autumn. Notice also that they have added the reflection of the mountains below and it seems that there is a lake.
Via jennyweasley
These geometric mountains in blue tones are also precious and also have their reflection in the lower part. The sun in warm tones are a good counterpoint to the composition.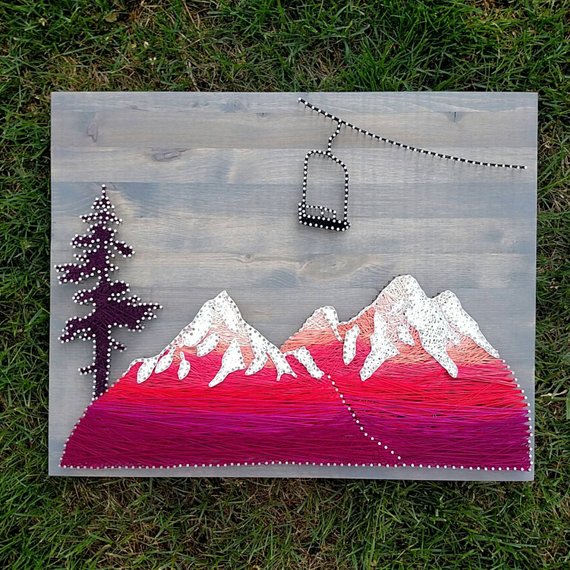 We finished with this beautiful and colorful design in which they have decided that the mountains are fuchsia, pink and white to give a more vivid effect. The chairlift on top is funny.
We hope that  you liked these mountain String art Templates, the step-by-step tutorial and the 10 designs and that them has inspired you to create your own mountain string art DIY right now. Come on!