Gift
Here you have a tutorial by
The Present Factory
where you can learn hoy to make an easy and beautufil craft to give. It's a "Dream" gradient colour String Art, very easy to do. Your friend, girfriend or sister will love it!
That's a perfect handmade gift to give to a cat lover… A very nice String Art cat shaped.
via
Ps I Adore You
This one is a an easy art project for Kids and a nice cfrat to give on Mother's day. Btterfiles, love and gratitude. Lovely.
Via
EasyMeWorld
"&" symbol is a subtle way to say that you want to stay with her or him forever! For that reason is a beautiful craft DIY to make and offer on Valentine's Day. You can learn how to make the "&" symbol with nails and strings following this tutorial made by How.Do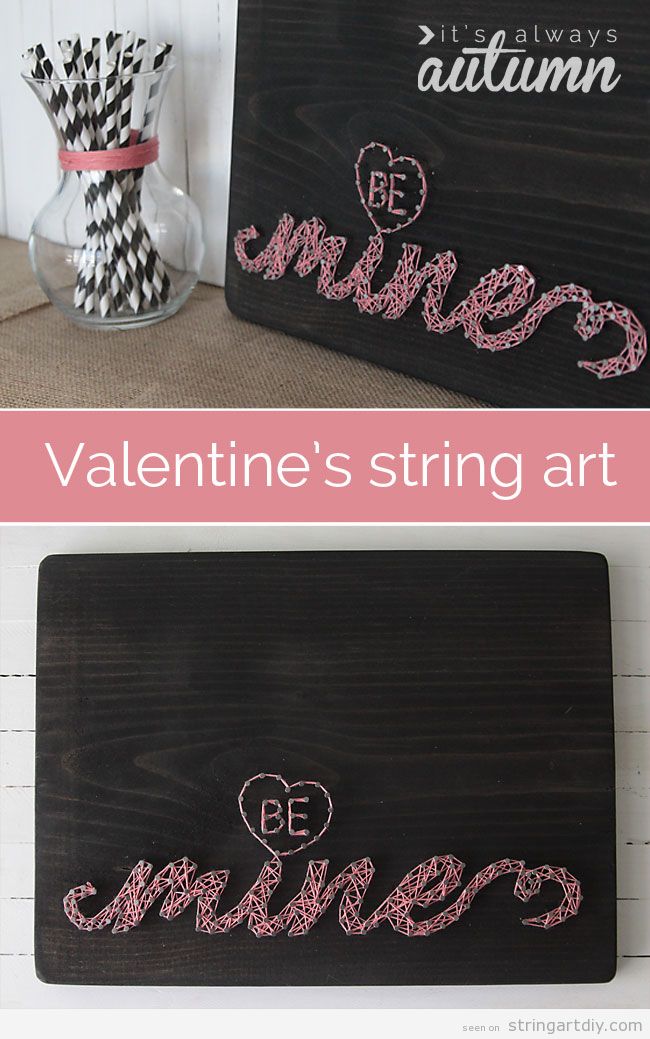 Here you have just another great idea to gave to your girlfriend for Valentine's Day. "Be mine" is the message. Extremely lovely!
You can learn how to make it following the steps here
It's Always Autumn
Valentie's Day is coming and it's a perfect chance to gave a handmade present like this heart Shaped String Art. You can learn how to make your own String Art DIy watching this video by
SirisLife
That's a perfct handmade gift to give to your couple on Valentine's day. It's a wonderful String Art showing a couple in love giving a kiss.
via
Habitos Arte
This String Art is a really nice handmade gift to give to a friend or relative who are in though times to them know that you support them. We are all of us in the same boat!
Wow, he is such great and majestic animal… we really love elephants and this simple elephant shaped String Art is lovely. A great piece and a great craft to decorate a wall or to give as a gift on Christmas.