Christmas
Ho, ho, ho! We are already getting in the mood for Christmas so we are fancy making Chritmas String Art DIY decorations and ornaments for our home. We have selected 5 projects that we have loved very much, so here we go!
STRING ART CHRISTMAS TREE ORNAMENT
As a Christmas Tree ornament you can make this wonderful wood slice string art. We can draw a tree, a star, a snowflake… whatever you like the most. You can get more information about this DIY by visiting the web Happy Brown House
STRING ART ELF LEGS
We think that these elf legs are so cute! As we can see on the picture above, it's a complexe String Art on a round wooden board. It is a little difficult to ake, so if you can't reach a good result, you can buy it at Etsy VotreVieEnRose shop.
STRING ART CHRISTMAS, GRINCH HAND
If you don't like Christmas Time  very much and you feel like if you were The Grinch, this Merry Grinchmas String Art is perfect for decorate your home. This projecis is made by EveryStringAttached.
STRING ART CHRISTMAS, SNOWFLAKE
Another nice Christmas ornament to decorate your house could be this snowflake String Art on  a thick board, traead as if it were antique. You can make it yourself or by it at Bring it Home.
STRING ART CHRISTMAS TREE
Finally we want to show you this wonderful String Art Christmas Tree, also made on a thick wood board. It would be even more beautiful if you draw some stars or words, as merry & bright. Also you can do it yourself or buy it at California Seashell.
Have you enjoyed these projects? If so, please, share with your friends on your social networks and send us pictures once you have finished your String Art DIy Projects. Thanks!
Yeeeey! The Chistmas countdown has started! Just one month left! So, oficially, we can finally start to think about Christmas decorations, Christmas gifts and Christmas projects! We want to start with this wonderful snowflake String Art.
We have found this tutorial on Decoración Ideas. As it is explained in Spanish, we let's try to translate it to English.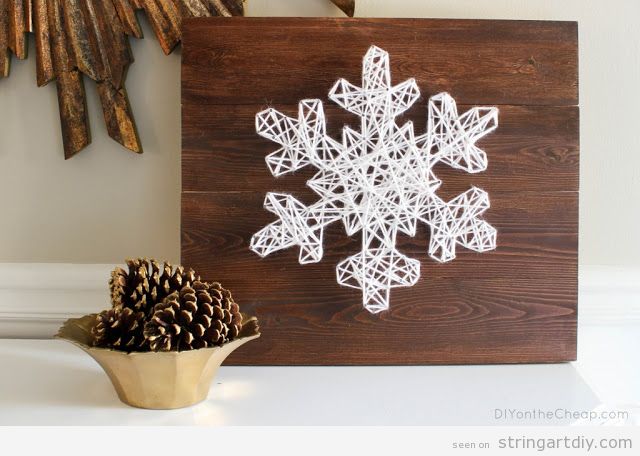 To make this String Art, will need these materials:
Wooden board
Hammer
Wood glue
Printer
Projector (optional)
Pencil or chalk
Nails
Threads
Drill, dowels, tenterhooks and rings or shackles (to fix it to the wall)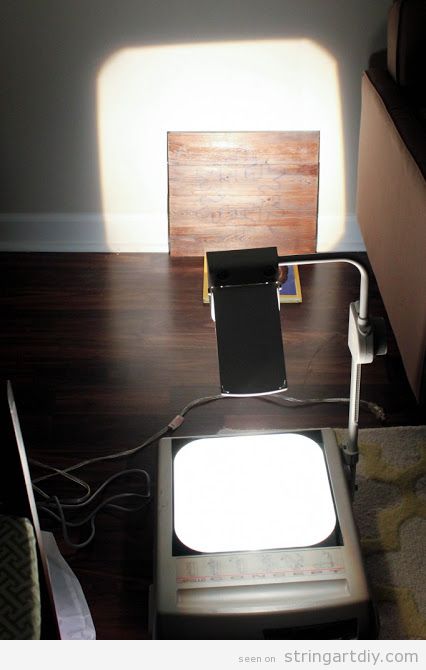 As you can see, the first step is to print the snowflake pattern or, if you have a projector, it could be perfect use it to project the image directly on the board.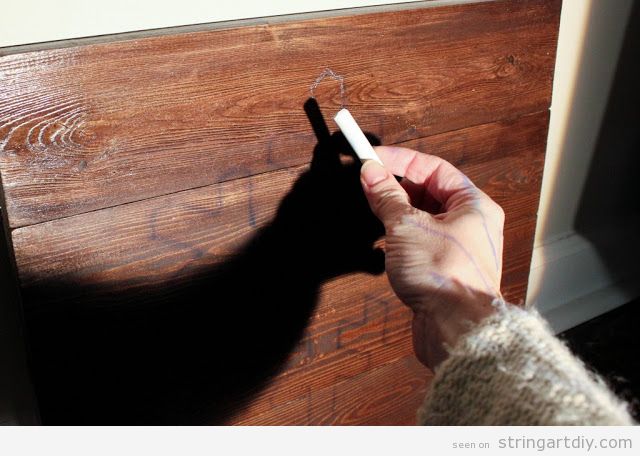 Then, you have to draw the snowflake shape on the board using a pencil or a chalk and following the projected shadow lines.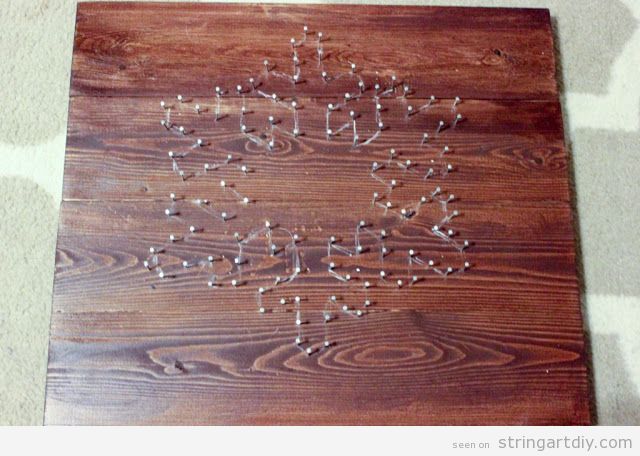 The next step is to clue the nails along the drawing. You can leave a 2 or 3 centimeters between them, but make sure that they are pinned in the most important vertexs, angles or corners.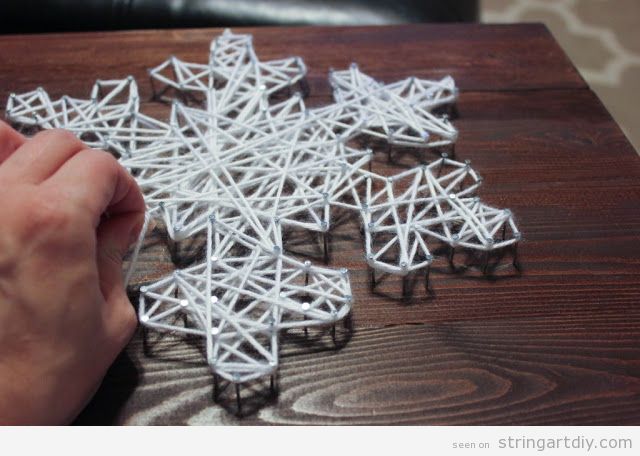 The last step is to pass the thread through the nails or across them and make some knots in order to fix it well.
And that's it! You have this gorgeous snowflake shaped String Art to decorte yout home at Christmas or even to offer as a handmade gift. Have a nice weekend!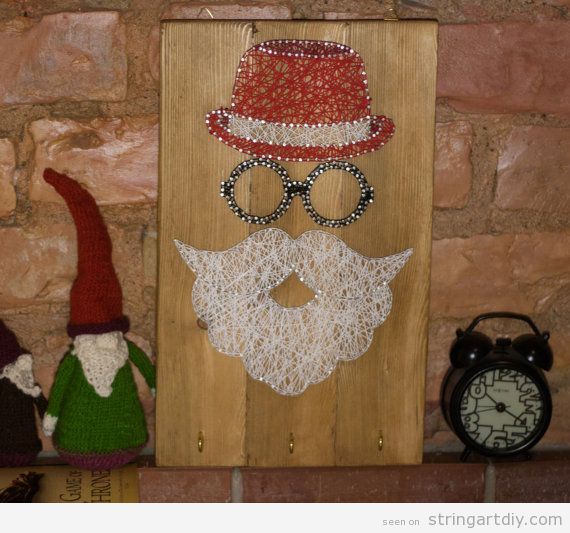 If you like this hipster and modern Santa Claus String Art to decorate your home (or shop or cafe) at Christmas, you can make it yourself or buy it at Etsy:
Goodlights- Santa Claus
Enjoy making Christmas cfrats at home with your family!
Are you looking for a crrat or technology (or even marths) project to make with your kids or students? Here we have a lovely one, perfect for Christmas (that are coomiing…).
As you can see, is a Star String Art on a wood base, and the results can be very different.Here you have the tutorial made by
Plástica en el Valle
(a blog for the students of Ramón del Valle-Inclán secondary school, in Sevilla, Spain).
Enjoy it!
Is the final countdown to Christmas! Here you have a nice Advent Calendar made with a board, strings, nails and printed numbers on paper. You can learn how to make it by watching this tutorial.
Source: A Beautiful Mess