Decorations
Ho, ho, ho! We are already getting in the mood for Christmas so we are fancy making Chritmas String Art DIY decorations and ornaments for our home. We have selected 5 projects that we have loved very much, so here we go!
STRING ART CHRISTMAS TREE ORNAMENT
As a Christmas Tree ornament you can make this wonderful wood slice string art. We can draw a tree, a star, a snowflake… whatever you like the most. You can get more information about this DIY by visiting the web Happy Brown House
STRING ART ELF LEGS
We think that these elf legs are so cute! As we can see on the picture above, it's a complexe String Art on a round wooden board. It is a little difficult to ake, so if you can't reach a good result, you can buy it at Etsy VotreVieEnRose shop.
STRING ART CHRISTMAS, GRINCH HAND
If you don't like Christmas Time  very much and you feel like if you were The Grinch, this Merry Grinchmas String Art is perfect for decorate your home. This projecis is made by EveryStringAttached.
STRING ART CHRISTMAS, SNOWFLAKE
Another nice Christmas ornament to decorate your house could be this snowflake String Art on  a thick board, traead as if it were antique. You can make it yourself or by it at Bring it Home.
STRING ART CHRISTMAS TREE
Finally we want to show you this wonderful String Art Christmas Tree, also made on a thick wood board. It would be even more beautiful if you draw some stars or words, as merry & bright. Also you can do it yourself or buy it at California Seashell.
Have you enjoyed these projects? If so, please, share with your friends on your social networks and send us pictures once you have finished your String Art DIy Projects. Thanks!
What are you most afraid of? Bats, aspiders or a black cat crossing yout path in the night? Well, I'm an animal lover, so I think that bats and black cats are super cute. Big and dangerous spiders… it is another matter.
The night of Halloween is full of terrors, so, what do you think about making a DIY String Art with the shape of a scary animal?
Here you have three wonderful handmade pieces. I hope you like it!
BAT STRING ART
Source: All Strung Upp
BLACK CAT STRING ART
Source: Strung by Brianne
WEB SPIDER STRING ART
Source: homemade interest
SPIDER STRING ART
Source: Strings by Samantha
Honestly, I think the most terrifying is the last one, so, for me, it is the chosen one to make and decorate a Halloween party. Maybe I'll put in in the front door! Muhahahaha…
Yeah, we are in fall season and pumpinks starts to appear in every cornerm, so he have searched for pumping String Art.
The normal thing is make a beautiful pumping in a regular wooden board, like this one by Jillibean Soup: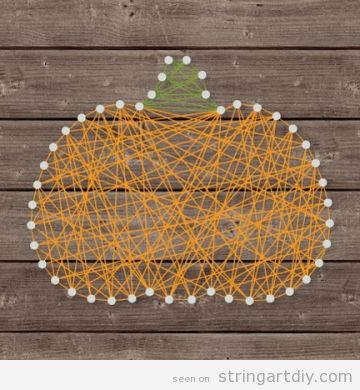 But what could happen if we invert the process and we use a pumpkin as a canvas? The results are amazing! As you can see, we pin the nails on the pumpink and then the following stepas are the regular ones.
BOO GHOST PUMPKIN STRING ART
If you don't like to crave a pumpkin, there are plenty of possibilities, like this boo and ghost shaped String Art made on a pumkin. You can see the full tutorial at: Lovely Indeed – diy string & nail art pumpkin
ZOMBIE PUMPKIN STRING ART
Yeah, zombies are terrifying so this is a perfect DIY decoration for Halloween.
You can know how to make it by visiting Dream a little bigger – ZOMBIE STRING ART PUMPKINS – NO CARVE!
EVIL FACE PUMPKIN STRING ART
This is the typical evil face that we use to carne on a pumpkin, but this String Art is easier, quicker and better!
HEART PUMPKIN STRING ART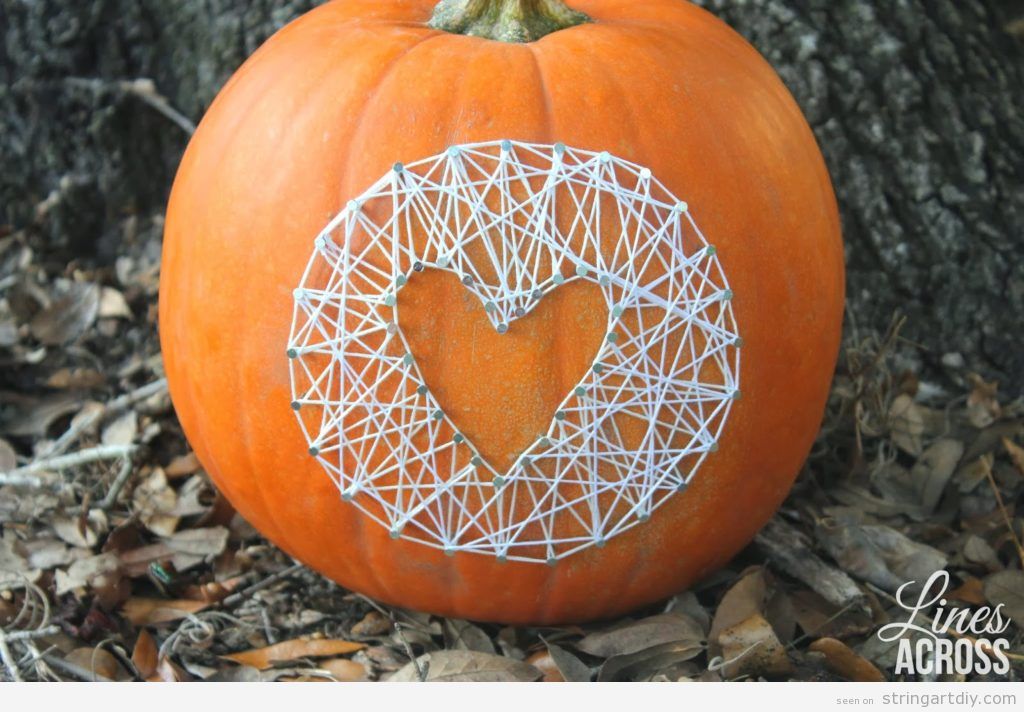 If you just love autumn and pumkins and you don't want to scare anybody, you can make a heart shaped string art on this vegetable, well, is technically a fruit. This would look awesome on your front door.
You can found the full tutorial on this link: Lines Across – Pumpkin String Art
Have you liked it? If so, please, share the post on yout social networks! Thanks! 🙂