Halloween
Halloween is coming and now it's the perfect time to start to make Halloween themed crafts and projects. Previously, we have posted Three Halloween animals: bat, spider and cat String Art and some Pumpking String Art, but today we are inspired by the quote "You say witch like it's a bad thing" and we are fancy focusing on witch String Art projects. So let's go!
WITCH OF OZ STRING ART
Our favorite project is this one by Strings by Samantha. As you can see by the shape and the colour, it's a Wizard of Oz String Art and it's absolutely perfect to decorate a Halloween party or to put in your home, café or shop to create this terrific and classical atmosphere.
WITCH OF OZ STRING ART TEMPLATE
To make yourself this wonderful String Art, maybe it's a good idea to download this template for free. Print it, put it on the wooden board and hammer the nails around the silhouette. Then, cross the green Strings as you see on the image.
WITCH HAT STRING ART IN PURPLE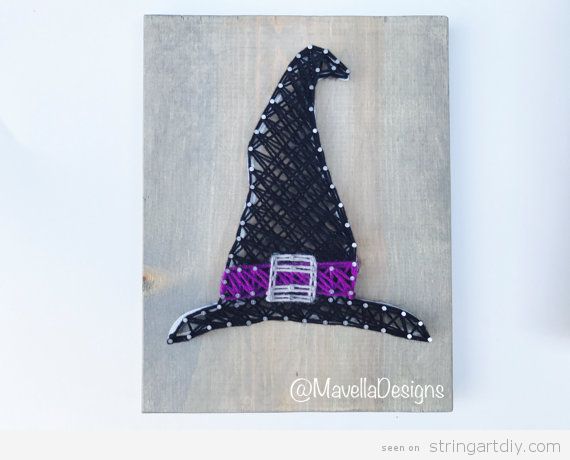 The second idea that we suggest is this Witch Hat String art with the belt in purple made by MavellaDesigns. This one it's easy to make and you only need a wooden board, nails and purple, black and white strings.
WITCH HAT STRING ART TEMPLATE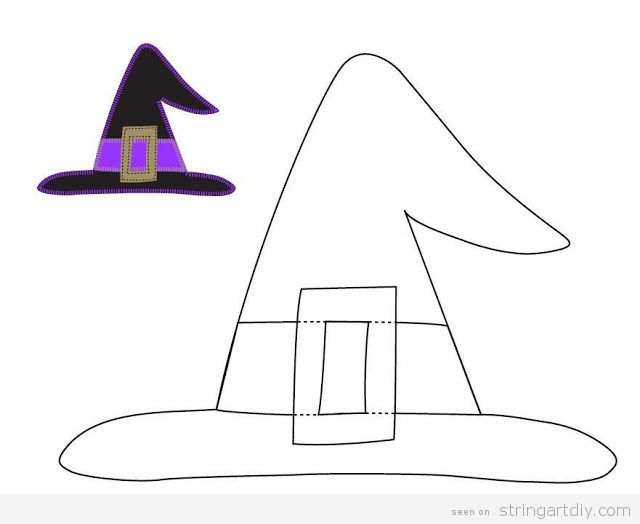 If you feel like doing this Witch Hat String Art yourself, here you have this printable free template. Its shape it's very similar to the previous String Art.
WITCH HAT STRING ART IN ORANGE
If you prefer the orange colour to suit with the pumpkins, maybe you can change the designs and put the witch hat belt in orange, like MBWoodenCreations has done in this creation. Really lovely, don't you think so?
As always, we hope that you have loved these witch String Art and that, now, you feel like making it right now! See you soon!
What are you most afraid of? Bats, aspiders or a black cat crossing yout path in the night? Well, I'm an animal lover, so I think that bats and black cats are super cute. Big and dangerous spiders… it is another matter.
The night of Halloween is full of terrors, so, what do you think about making a DIY String Art with the shape of a scary animal?
Here you have three wonderful handmade pieces. I hope you like it!
BAT STRING ART
Source: All Strung Upp
BLACK CAT STRING ART
Source: Strung by Brianne
WEB SPIDER STRING ART
Source: homemade interest
SPIDER STRING ART
Source: Strings by Samantha
Honestly, I think the most terrifying is the last one, so, for me, it is the chosen one to make and decorate a Halloween party. Maybe I'll put in in the front door! Muhahahaha…
Hi everyone! We really love fall season, so we are happy and cheerful when we find and make this kind of String Art projects to celebrate it.
As you know, the fall emblem is the leave in different colours as brown, dark red and ochre. But there are more, as trees withouy leaves or trees with falling leaves; pumpkings (not only in Halloween, but since september to december) and candy corn. The last one this is clearly a Halloween symbol and we are sure you have eat tons of them!
So here you have three wonderful ideas to decorate DIY your home, shop, café or office in an autumn mood.
Happy fall to all of you!
Source: Rhapsody Crafts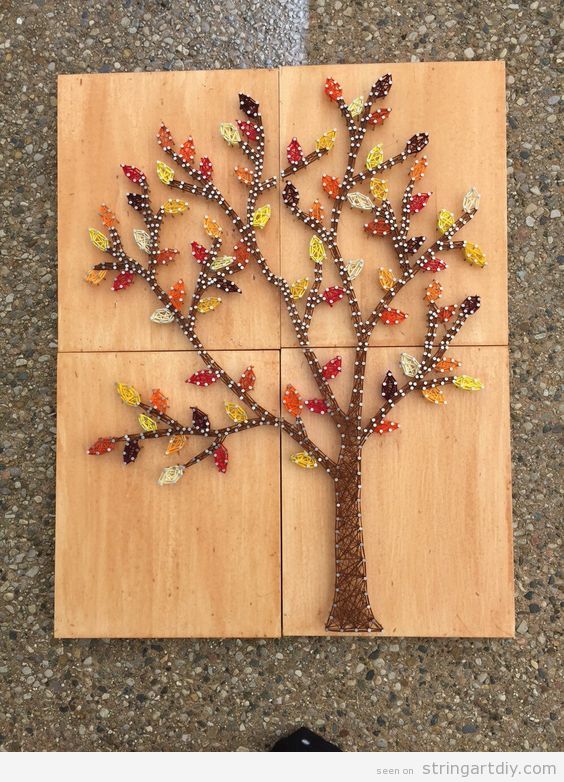 Source: VotreVieEnRose on Etsy
Source: Southern String Art
Yeah, we are in fall season and pumpinks starts to appear in every cornerm, so he have searched for pumping String Art.
The normal thing is make a beautiful pumping in a regular wooden board, like this one by Jillibean Soup: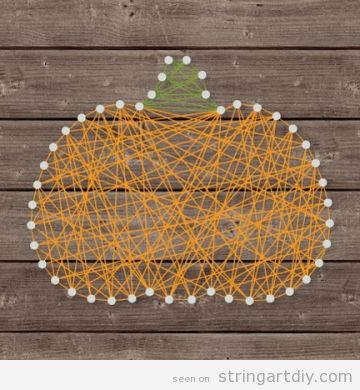 But what could happen if we invert the process and we use a pumpkin as a canvas? The results are amazing! As you can see, we pin the nails on the pumpink and then the following stepas are the regular ones.
BOO GHOST PUMPKIN STRING ART
If you don't like to crave a pumpkin, there are plenty of possibilities, like this boo and ghost shaped String Art made on a pumkin. You can see the full tutorial at: Lovely Indeed – diy string & nail art pumpkin
ZOMBIE PUMPKIN STRING ART
Yeah, zombies are terrifying so this is a perfect DIY decoration for Halloween.
You can know how to make it by visiting Dream a little bigger – ZOMBIE STRING ART PUMPKINS – NO CARVE!
EVIL FACE PUMPKIN STRING ART
This is the typical evil face that we use to carne on a pumpkin, but this String Art is easier, quicker and better!
HEART PUMPKIN STRING ART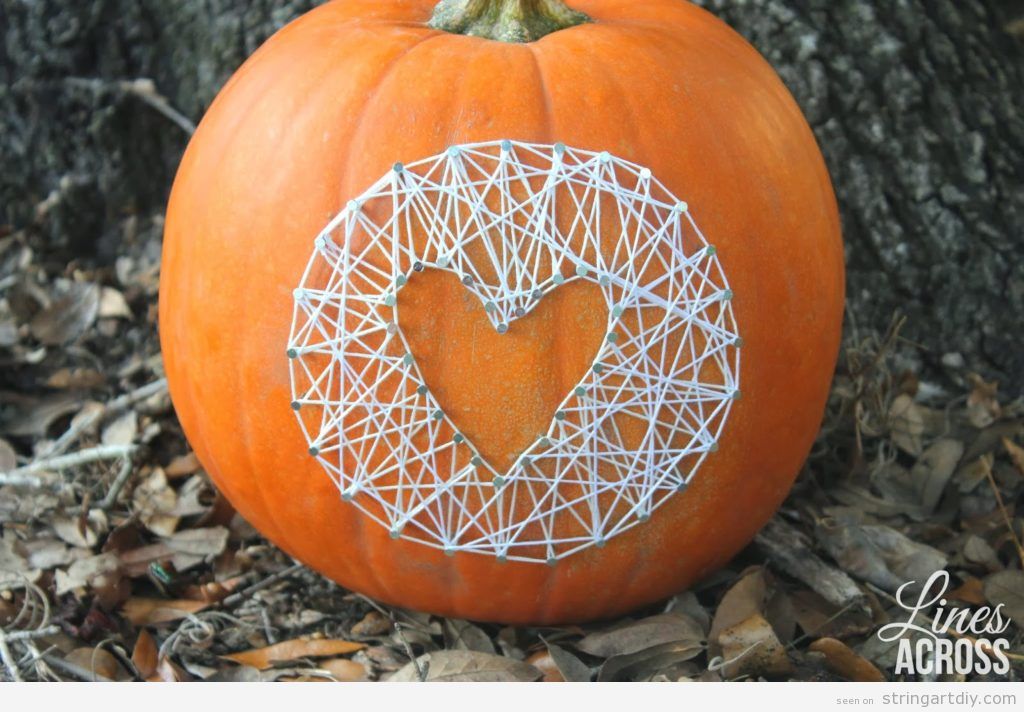 If you just love autumn and pumkins and you don't want to scare anybody, you can make a heart shaped string art on this vegetable, well, is technically a fruit. This would look awesome on your front door.
You can found the full tutorial on this link: Lines Across – Pumpkin String Art
Have you liked it? If so, please, share the post on yout social networks! Thanks! 🙂
Maria 28
shou us in this video tutorial an easy way to make a Pumpink Sting Art, perfect as a craft to make today with your kids and for decorate your place for Halloweens night (is tomorrow!!)
I hope you enjoy it.
To make this amazing Skull String Art to decorate your place for Halloween, you will need:- Canvas (anysize)
– Paint (your choice)
– Paint Brush
– String (your choice)
– Scissors
You can download the pattern for free in this link: Skull Pencil Drawing
Source: suzaxne
Yeeey, we really like Halloween decorations, more if they are handmade, like this Skull String Art.
To make this String Art, you'll need: piece of wood about 1/2″ thick, nails, black paint and white string.
Are you fancy making it? Me yees!
Source: The surznick common room
Wow, we really love this Halloween decoration DIY! As you see, it's a "Boo" String Art. Very very nice!
If you want to see the full tutorial step by step, we recommend us to visit the following link:
Simply Being Mommy – DIY Halloween String Art
That's a nice craft to make with kids at Halloween night. It's a String Art made on cardboard with a little spider and a nice spider web on the corner. Happy Halloween!
via
Eat, Sleep, Crafts