Template
Hi, guys! How are you doing? Spring is coming, the sun is coming, so… what if we make some sunglasses String Art to decorate our home or store to add this new sunny taste to the atmosphere? If the lenses of your sunglasses are broken, you can buy a new pair of replacement lenses in this website: Sunglasses Restorer or you can use the frame (or the broken lenses) to make the following String Art workpieces. You can use the frame as template for a small piece or add them to the composition to create a new volume effect.
What is clear is that to create this String Art, the crafter has used a real sunglasses frame to create the negative effect where the sunglasses shape are blank (well, we can see the dark wooden base behind) and all around them is filled with white threads using the String Art technique. This design is very nice, simple and elegant.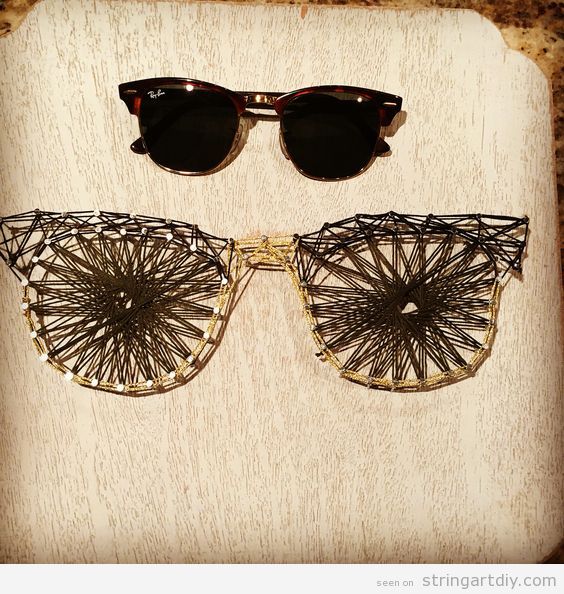 In case you love your Rayban sunglasses so so much, you can add or glue them to the String Art copy to create a volume effect or just use the sunglasses as a model to copy. Notice that the crafter has used a special wood base that add a traditional and fancy look to the work, following the Rayban style.
Let's move to the color that make us feel that the sun is above us and making us feel alive and happy. Evidently, the yellow! We really love this yellow sunglasses String Art made by The Honaker Home maker. This design is lovely for a room, a coffe shop or a clothes and accessories store decorating, don't you think so? Pay also attention to the wooden base painted in gray (but still letting the woodgrain show through), because is the color that fits the most with the yellow.
If we are looking for funny sunglasses String Art, what is better than this sunglasses emoji String Art? You will need a round wood base to make it, that you can cut or you can buy already cut, paint it in yellow and, then, make the emoji shape. Don't forget the smile and, obviously, the black sunglasses.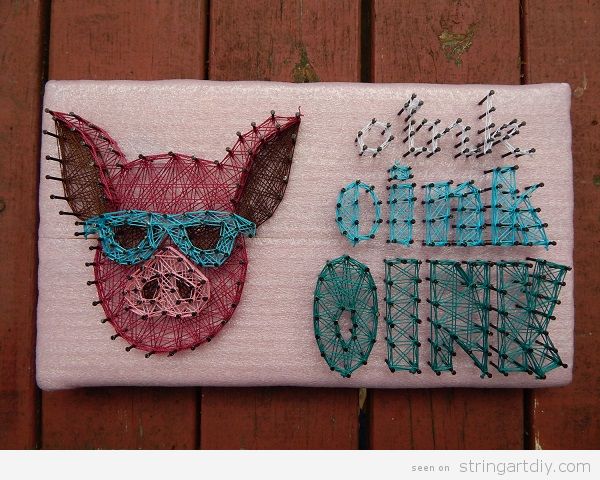 Let us allow our minds to be free and creative. If we are able to reach this point, we can produce String Art pieces as original as this one. Once you have the idea of the sunglasses String Art you can try to put them over other figures, like a person or an animal. For example, put the sunglasses on a pig face. He seems so cute, good-looking, a bit cocky but happy! That's just an idea. We suggest you to choose a cat or a dog if you don't like pigs, even your pet, and put on them some cool sunglasses.
As always, we hope that you have enjoyed these String Art ideas and we encourage you to go to the DIY superstore, get some wood bases, nails and threads and make some of these pieces to decorate your place. Thank you for reading and see you soon!
Hot Air Balloon is one of the most beautiful figures to make a String Art. Their shape it's simple and lovely, but it also it's good base to create volume effects, geometric figures or even replace the outline and fill it with another figures or animals.
Hot Air Balloon String Art templates
Fist of all, we want to bring you some Hot Air Ballon free templates in case you want to print it and use it to make easier the process. Here you have some of them:
Source: Get Coloring Pages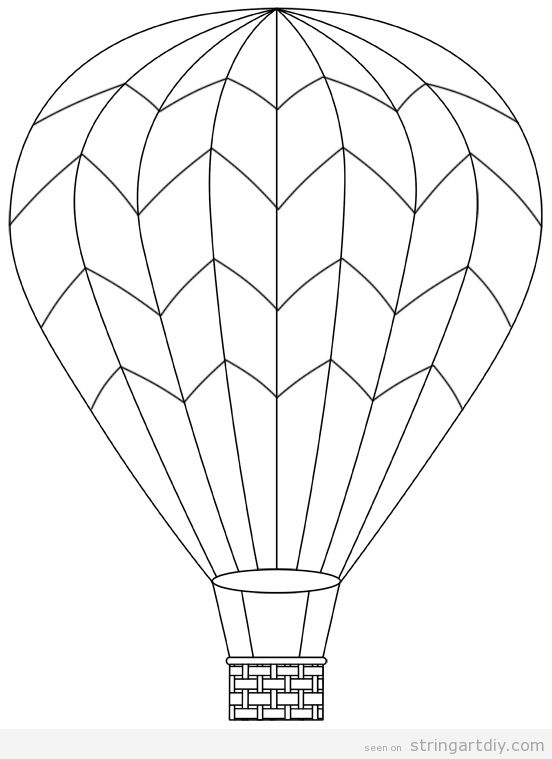 Source: Bird's Cards
Source: Hello Kids
Simple Hot Air Balloon String Art
Let's start with some simple Hot Air Balloon String Art that you can made it easly. They are a beutiful idea to decorate a nursery or a baby clothes shop.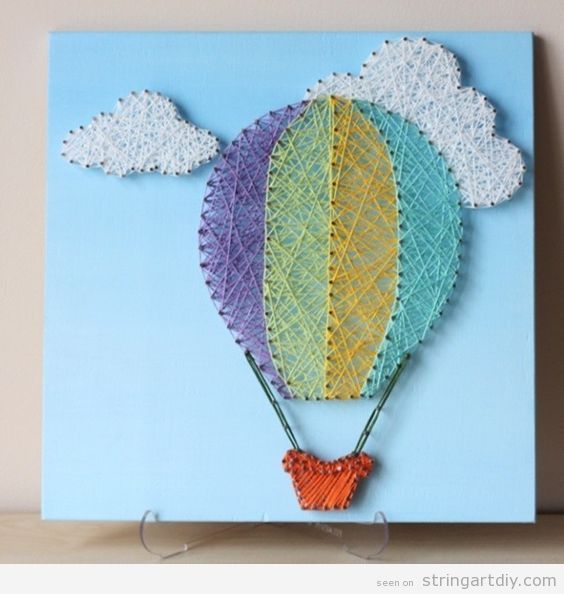 Oow, this air balloon surronded by clouds and made by mintiwall it's just perfect.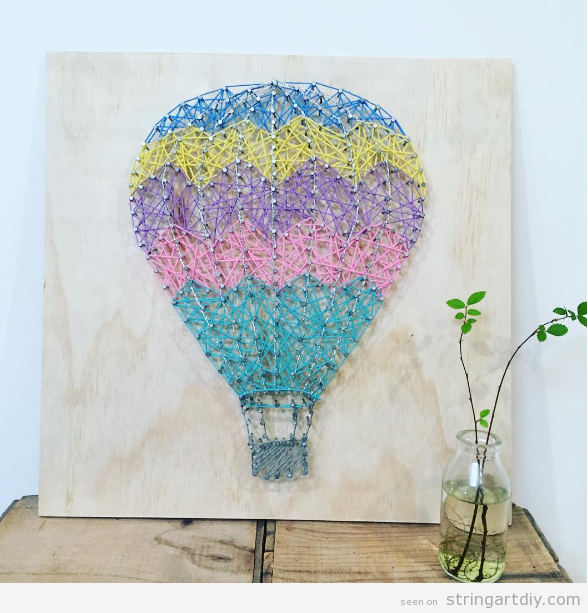 We really find this String Art nice because with a colorful zig-zag print creates a volume effect. This is a handmade project made by @simply_stringart.
Hot Air Balloon Butterflies String Art

As we can see, Beachmade has replaced the classical hot air balloon outline for butterflies and the result it's absolutely amazing.
We hope that you find this resources and ideas useful in order to Do it Yourself. Maybe, after finished the String Art, you can gave it to a child as a present or event sell it on flea markets and online shops. Have a nice week!
You will need these supplies to make this snowflake String Art
– Wooden board
– Nails
– Hammer
– White string
– Scissor
– Template
Here you have the template for free download:
Created by Muhaiminah Faiz on Guidecentral English channel.