Christmas Card
Our favorite time of the year has arrived: Christmas is here! And it's just the time to send Christmas cards to our beloved ones. What do you think if we make them ourselves? Today we propose to you to make String Art Christmas cards with the shape of a christmas tree, an angel or a snowflake. For some of them, we give you the link to visit the tutorial. If not, we provide to you the free pattern or the free template to make it easier. Let's go!
MODERN CHRISTMAS TREE STRING ART CARD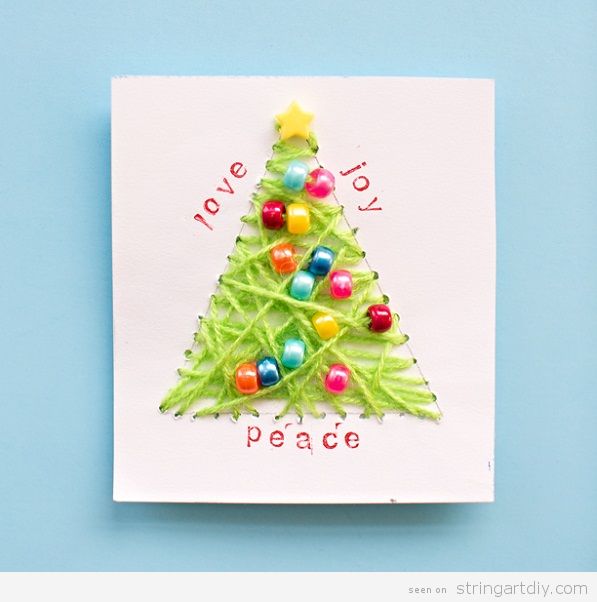 To start with, here you have this modern Christmas tree card, very easy to make, including some beads as a decoration. If you add words like "love", "joy" or "peace" is even more lovely. You can see the full tutorial step by step here: Hello, Wonderful. Simple and funny to make with kids, but be careful with the needle!
ANGEL STRING ARTCHRISTMAS CARD
This one it's also made by Hello, Wonderful, and the process is just the same that the modern tree. Instead of a tree, it's an blue and white angel. Pay attention to his halo or crown made using silver and very small garlands. So cute!
SNOWFLAKE STRING ART CHRISTMAS CARD
We have found on Jaded Stephanie Pinterest this wonderful snowflake Christmas Card and we think that it deserve a try because it's a beautiful, simple and modern design.
TRADITIONAL CHRISTMAS TREE STRING ART CARD
If you prefer a traditional christmas tree card instead, here you have another design by dominicInOhio. It's algo very minimal and elegant. As we can't bring you the tutorial, here you have a similar patter or template that maybe you can use: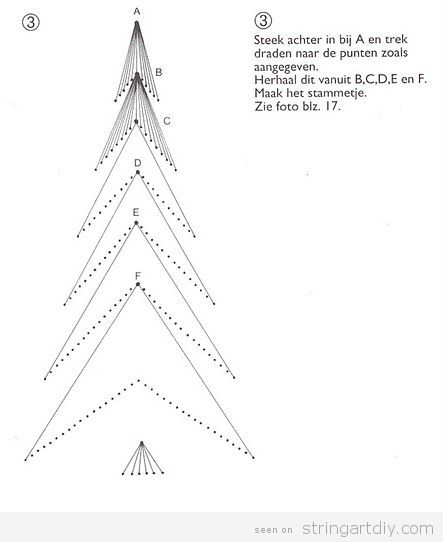 STITCHED TREE CARD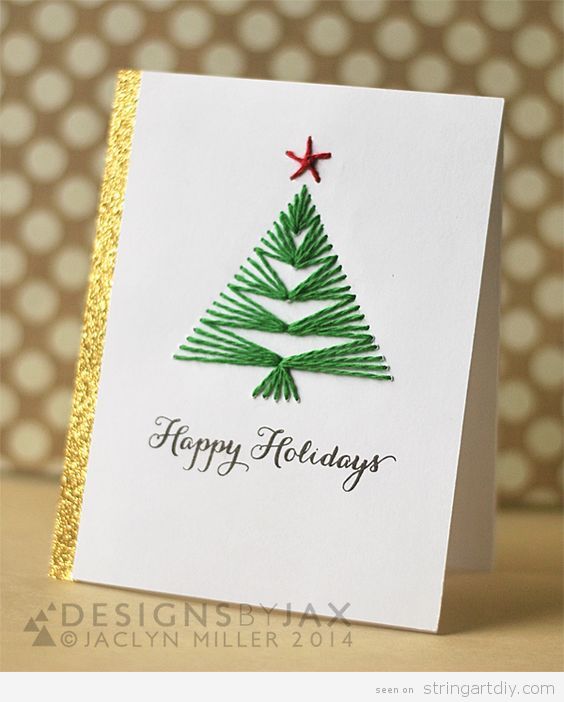 Yes, instead of call it "String aAt card" we can call it "stitched card" because it's a kind of embroidery work. This project it's also very easy to make and you can follow all the process step by step by visiting The Twinery. Minimal, elegant and very festive design, indeed, including the calligraphy and the glitter part.
CHRISTMAS TREE MADE BY CIRCLES STRING ART CARD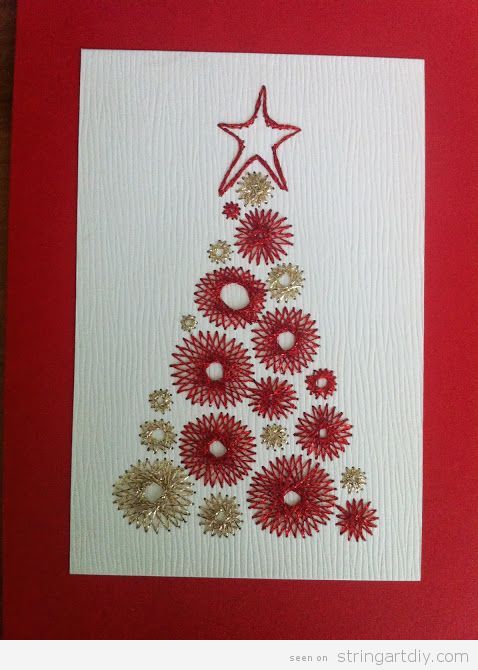 We finish by proposing you this original way to create a Christmas tree String Art card. Its shape is made with red and golden String Art traditional 8, 16, 24, 32 or 40 points stars. Here you have the template to a 16 point star String Art, but the process is the same by multiplying the points.
We hope you enjoyed these String Art Christmas Cards. If you decide to make one, please, send us photos to our Twitter or Facebook. Rembeber: @stringartdiy on Twitter and String Art DIY on Facebook. See you soon and happy holidays!
More than String Art, this Christmas Card it's a kind of needle point art. Anyway, we can use this idea and make string art project on a cardboard, not only on wooden board. Absolutely lovely and a nice cfrat to give on Christmas!
We know that are two months left to Christmas but we feel the need to start it with some ideas, for example, this String Art Christmas Tree. More ecologic than the original one and a nice craft to do with your kids and make christmas cards!
As we have seen on previous posts, you can also make String Art on cardboards. There's one idea for a Christmas Card made with spirelli, a dutch technique. Dou you love it? Me yes!
via Rosie Owens,
RubberStampRosie
, on Youtube