Kids
Here you have a fantastic and easy craft to make with kids: a Mickey Mouse silhouette String Art.
via
Marilou Larson
on Pinterest
Makins String Art crfracts with names are a great idea to make with kids and teenagers at school or at any workshop. You can see how great can result on the picture above. Ins this case is "Becca" name and the threads are making a colour degradation. Just wonderful.
Via Zainabn on Instructables.com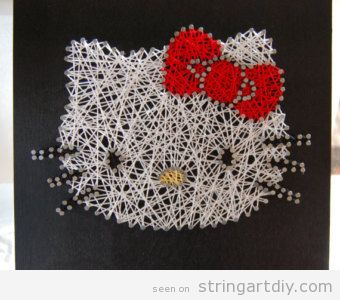 Are you or you daughter crazy about Hello Kitty stuff? You can made a Hello Kitty String Art together and have a nice time.
via
OrgaknitsbyBrielle

This group of teens made this craft and this tutorial as a project for their Math class. Absolutely awesome and very fun!
via juan raygoza on Youtube
Kids can also celebrate Valentine's day and declare their love for someone's. The best way to do this is making a nice DIY craft. For exemole, this String Art heart on a cork coaster is a good option, very easy and lovely. You can follow the tutorial and the step by step on this link:
Melissa & Doug String Art Heart
Here you have a nice String Art craft to make with kids and it's also a good craft for Mothers' Day, don't you think so? Follow the steps on this tutorial and enjoy it.
via
Gears Company
As you know, you can also make String Art projects on cardboard making holes and putting threads through them. Here you have a nice craft idea for Valentine's Day and it also a DIY project perfect to do with kids. Absolutely lovely!
Via
zszywka.pl
Here you have a nice craft to make with kids. It's easier if you make a String Art project on corkboard, and less dangerous, indeed. That's a nice idea to decorate a bedroom!
via
Apartment Therapy
That's a nice craft to make with kids at Halloween night. It's a String Art made on cardboard with a little spider and a nice spider web on the corner. Happy Halloween!
via
Eat, Sleep, Crafts
Here you have a lovely an easy String Art project to make with your own or with your kids. You only need:
Corkboard
Flat Head Thumb Tacks
Map Tacks
Fabric
Monogram or Image for Project (sized to fit corkboard)
Sheet of White Tissue Paper
Thread
Tools:
Fabric Scissors
Marker or Pencil
Follow the step by step showed on the video and enjoy it.
via Kin Community on YOutube.