Decoration
This string art map on a old wooden board is a nice way to decorate in a rustic-chic style. In this case, its's France, but you can make whatever country, city or state you want.
Source: artworkisntwork
WE LOVE DANDELIONS! That's a fact! So today we have chosen this wonderful Flying Dandelion String Art to make by our own and decorate ou living room. Let's go!
Source: Cajun Mama
Here you have and example that show us the result when you decide to make a String Art directly on a wall. It's super nice to deorate a room, a shop, a pop-up store, a meeting… whatever! As you see, the diamond pattern is very easy to make and just wonderful! Using neon threads is suepr cool!
Via HGTV Handmade
Wow, if you really love sueprheroes, specially "The Avengers", this is the best craft ever to decorate a wall! That's also a nice piece of craft to give as a present to your geek son, friend or boyfriend. As you see, it's a 4 piece String Art. Love it!Source:
halftonehandicrafts
Here you have a tutorialn by
EasyMeWorld
where you can learn how to make a dream cather string art step by step. Super easy and cool, don't you think so?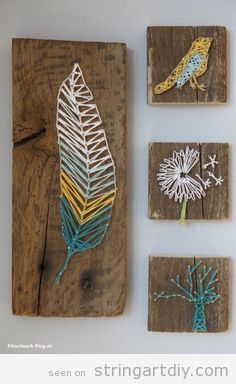 Oh, I really like this Strign Art mix: Feather, dandelion, tree and bird. Pay attention to the different dimensions and the way they form a bigger and more complex String Art.
That's a great idea to decorate a wall at home, a cafeteria or a shop.Source:
kitschwerk