Learn
Here you have a video to learn two String Art techniques step-by-step. As you can see, it's perfect to give as a Valentine's present. One of them is the word "Love" written with pita fibre, but you can also use cotton or wool thread.Obviously, you have to use nails too, as well as wood or thick cardboard for the base and a pattern.
The other one is just a heart shaped String Art, but still different and lovely.
Enjoy it!
Source: Andrea Vlogger Gt
Denise Wild
show us in this video an amazing and big string art wall mural perfect to make to Valentine's Day.
Follow this step-by-step guide to learn how to make it. As you can see, you can write your name and your couple's name and add a heart figure if you like it. If don't, the name and the threads in red and gradient to pink it's just perfect.
I hope you love it!
3 weeks left to Valentine's Day, so we are thinking about handmade gifts that you can offer to your girlfriend or boyfriend, so here you have a lovely String Art on a board.
This is special becaause the board it's also painted with pink diamonds.
Take a look to this video by
UnaPaginaEnBlanco
and try it, it's easy!
Pleaee, don't buy fresh Christmas tree, save the planet! There are many options to have a wonderful Christmas tree at home, like this one, made just using pins and threads.
You can learn how to make it on a wall by watching this tutorial by
Michaels Stores
Cristina Alvaga
show us on this tutorial how to make a String Art writing the poupular message: BE HAPPY.
She has chosen two thin wooden boards and has glued them. Also she has printed the letters (you can chose the font ot type you like the most), and then, she has clued the pins all over the letters and has put the threads all over it, using two different colours: one for the shape, the other one for the stuffing.
I really love it! And you?
To make this amazing Skull String Art to decorate your place for Halloween, you will need:- Canvas (anysize)
– Paint (your choice)
– Paint Brush
– String (your choice)
– Scissors
You can download the pattern for free in this link: Skull Pencil Drawing
Source: suzaxne
Hi, sweeties! Friday at least! If you will have a rainy weekend at your city and you will stay at home, there is a craft that you can make with your kids. As usual, we offer you a tutorial to learn how to make String Art projects.
In this case,
¡Hoy no hay cole!
(No school today!) show us how to make a cloud and rain String Art in a very easy way.
Enjoy it, have a great weekend!
Usually, we show you how to make String Art projects on a board or on a wall, but today we wanna show us how to malke a String Art flower on a cardboard, and, then, turn it into a brooch, bookmark or to decorate a scrapbook, whatever you like.
We hope you enjoy this easy craft taht you can also make with kids.
Source: Karenliz Henderson
¡Hoy no hay cole!
show us in this tutorial an easy way to make a String Art projects with kids. In this case, it's a wonderful dandelion made on  green painted a board. Just beautiful!
What could we do these cold days that our kids don't have to go to school and it's a better idea stay at home? Well, make easy String Art with them is a good idea. Here you have a nice tutorial to learn how to make birdie String Art step by step.
Bird Patterns
Here you have the patterns, free download!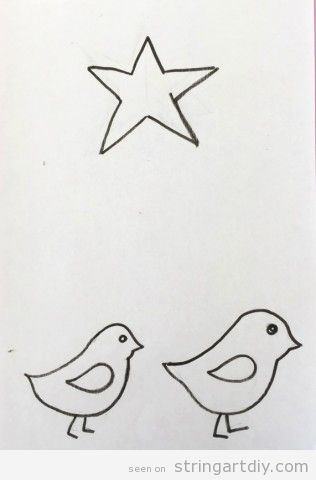 Source: ¡Hoy no hay cole!