Hi, guys! Today we have find this amazing Electric Guitar String Art made by La Buhardilla and we want to share the process with us in order you can learn how to make it.
As usual, you will need the following materials: a wooden board, a hammer, scissors, nails, threads (black and white) and a template.
First of all, here you have the templeate, so you can download it: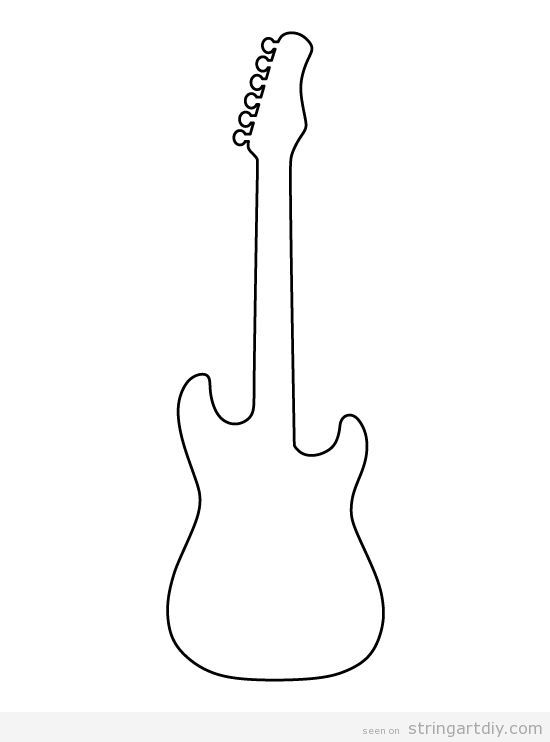 You can download a higher version of this template to print it in this link: Download the pattern by Pattern Universe.
Then, we start the process, wich is almost always the same.
You must put the pattern over the wooden board and, then, start to clue the nails on the shape.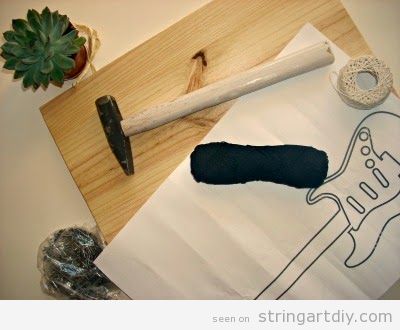 2. Once you have finished, retire or remove the paper and you will have all the guitar shape and its decorations.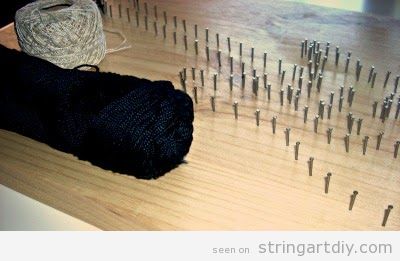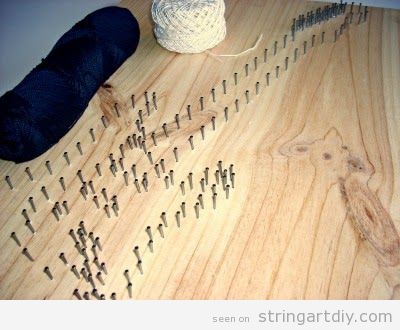 3. This is the moment when you start to put the threads over the nails. Make a loop around the nail heads. Pay special attention if you want to make the guitar in different colours. This one is in black and white but you could chose whatever colour you like the most.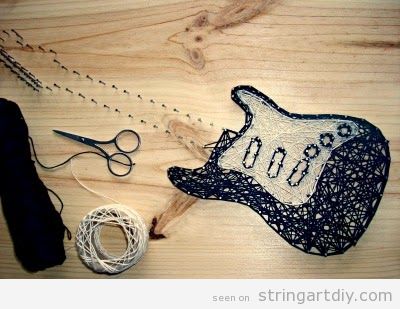 4. That's it! Put the String Art in a wall to decorate it. This it's also a nice handmade gift.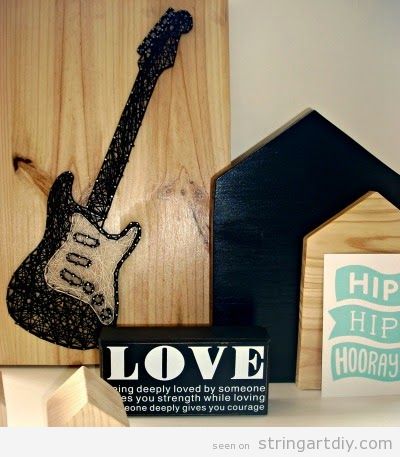 Have you like it? So comment and share! Thanks for reading, see you soon!
How could we say about Frozen? We suppose that you have already watched it. It's a wonderful movie, far from the stereotyped ones that we are used to watch. All our kids are crazy about Elsa, Anna, Olaf… they can feel that they are kind hearted and they love them.
Today we want to show you 5 String Arts inspired in this movie. Here we go!
ELSA STRING ART
Elsa is the main character and all the girls want to be her and they often are dressep up or disguised like her. Here you have a Elsa wonderful String Art where she are making her magic gesture that creates snowflakes. The background in blue is a nice option.
Source: Derannoula
This Elsa String Art is stunning because the artist has added some flat head pins that makes the outline and add some sparkles to her hair and body. In addition, the snowflakes are very well done. Lovely!
ANNA STRING ART
Anna is Elsa's sister and we could consider her also a main character in the film because is the one who are really worried about Elsa and tries to save her from the ostracism she are suffering.
This Anna String Art is simpler but still beautiful.

Source: Pinterest 
OLAF STRING ART
Olaf is the kindest and funiest character in "Frozen" and he takes our hearts from the very beginning. Look at these two wonderful Olaf String Art that can transmit his personality and his joy.
Source: All strung up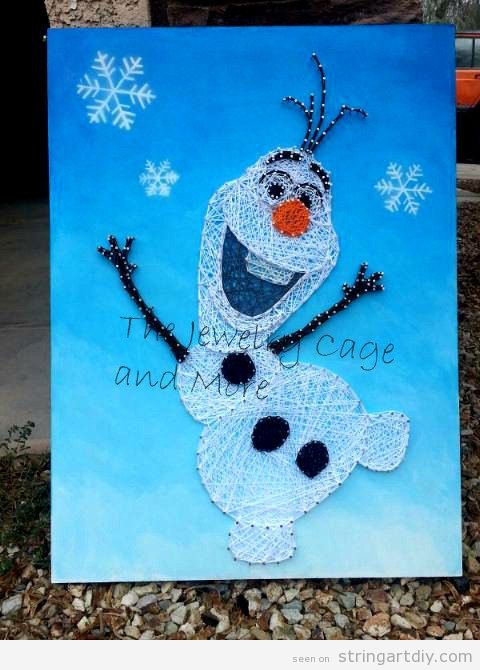 Source: The Jewlery cage and more
Have you loved these Frozen String Art? It could be a really good handmade gift to give to a girl or boy. It would be a nice piece to decorate their rooms also. You can made them yourself of buy in the source links if you prefer. Enjoy it!
Ho, ho, ho! We are already getting in the mood for Christmas so we are fancy making Chritmas String Art DIY decorations and ornaments for our home. We have selected 5 projects that we have loved very much, so here we go!
STRING ART CHRISTMAS TREE ORNAMENT
As a Christmas Tree ornament you can make this wonderful wood slice string art. We can draw a tree, a star, a snowflake… whatever you like the most. You can get more information about this DIY by visiting the web Happy Brown House
STRING ART ELF LEGS
We think that these elf legs are so cute! As we can see on the picture above, it's a complexe String Art on a round wooden board. It is a little difficult to ake, so if you can't reach a good result, you can buy it at Etsy VotreVieEnRose shop.
STRING ART CHRISTMAS, GRINCH HAND
If you don't like Christmas Time  very much and you feel like if you were The Grinch, this Merry Grinchmas String Art is perfect for decorate your home. This projecis is made by EveryStringAttached.
STRING ART CHRISTMAS, SNOWFLAKE
Another nice Christmas ornament to decorate your house could be this snowflake String Art on  a thick board, traead as if it were antique. You can make it yourself or by it at Bring it Home.
STRING ART CHRISTMAS TREE
Finally we want to show you this wonderful String Art Christmas Tree, also made on a thick wood board. It would be even more beautiful if you draw some stars or words, as merry & bright. Also you can do it yourself or buy it at California Seashell.
Have you enjoyed these projects? If so, please, share with your friends on your social networks and send us pictures once you have finished your String Art DIy Projects. Thanks!
Heeey! If you are looking for an easy String Art for begginer or for make with kids and teenagers, maybe this video made by Diego Rojas will help you.
As you can see, you only have to nail the nails in a wooden board following the line of a circle. We recommend to print the shape or draw it using a pencil and then pin the nails around it. After that, you must cross the threads in the order you can see on the video. Then, repeat the process twice using some different colours and that's it.
An that's all! You will have a perfect handmade project to decorate a wall.
Yeeeey! The Chistmas countdown has started! Just one month left! So, oficially, we can finally start to think about Christmas decorations, Christmas gifts and Christmas projects! We want to start with this wonderful snowflake String Art.
We have found this tutorial on Decoración Ideas. As it is explained in Spanish, we let's try to translate it to English.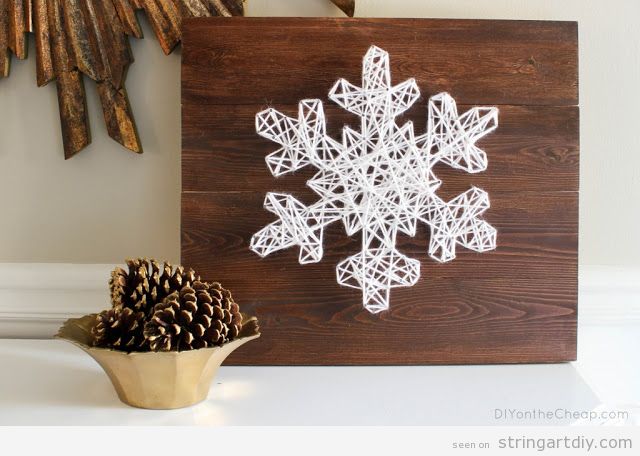 To make this String Art, will need these materials:
Wooden board
Hammer
Wood glue
Printer
Projector (optional)
Pencil or chalk
Nails
Threads
Drill, dowels, tenterhooks and rings or shackles (to fix it to the wall)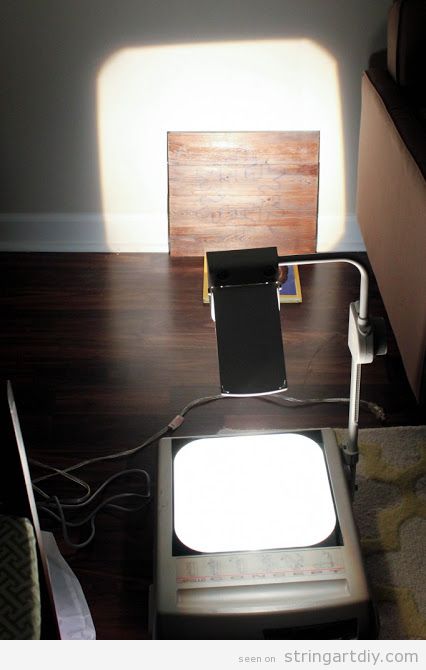 As you can see, the first step is to print the snowflake pattern or, if you have a projector, it could be perfect use it to project the image directly on the board.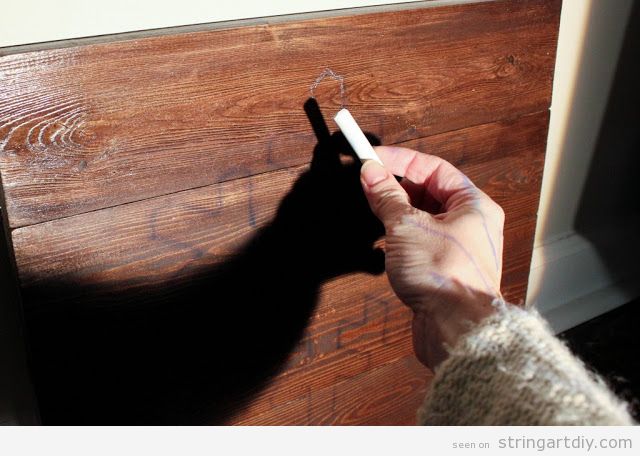 Then, you have to draw the snowflake shape on the board using a pencil or a chalk and following the projected shadow lines.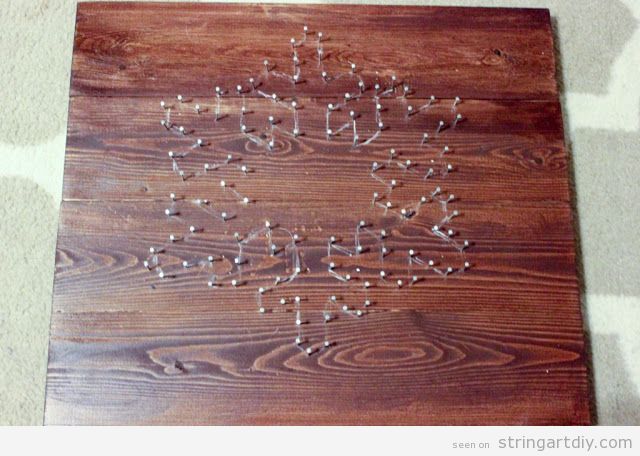 The next step is to clue the nails along the drawing. You can leave a 2 or 3 centimeters between them, but make sure that they are pinned in the most important vertexs, angles or corners.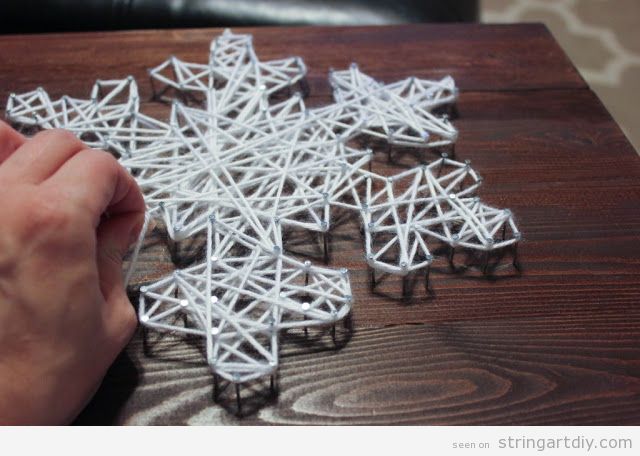 The last step is to pass the thread through the nails or across them and make some knots in order to fix it well.
And that's it! You have this gorgeous snowflake shaped String Art to decorte yout home at Christmas or even to offer as a handmade gift. Have a nice weekend!
Hello everybody! How are you doing? We are fine and ready to make a lot of crafts to give on Christmas. String Art is always a perfect handmade gift and there are a plenty of ideas to make using this technique.
For example, is you or the person your are gonna to offer the presents loves dance, these dancer and ballerina images printed on board with threads all over their dresses on movement are just wonderful.
First of all, you should watch this video by brperf yo know How to get a picture printed on wooden board DIY.
After that, you have to clue the nails following the shape of the dresses and theirs folds, even you can make these lines longer and make them bigger, following the direction line that the dresses are pointing to.  As you can see, it creates a wonderful movement effect that makes the pictures even wonderful. The colours chosen are important too to create this impression.
Do you like it? In my opinion, it's a small piece of art. <3
We always identify the pink ribbon as a breast cancer symbol. We usually wear this pink ribbon pinned in our lapel to support this cause.
Maybe we can make this Pink ribbon String Art and sell it in markets to collect or raise money for breat cancer investigation. What do you think about this idea?
Well, here you have a video by CuquiLife to learn how to make it step by step:
As you can see, you will need:
– Wooden board
– Sandpaper
– Chalk paint
– Paper
– Pencil
– Nails
– Hammer
– Pink thread
Then, pay attention to the steps shown on the video, it's easy and fun. Enjoy making this charity project and we hope that you will raise a lot of money to help these brave women. Stay strong!
Usually we show you handmade String Art projects made on a board or framed. Sometimes, we also bring you DIY String Art nailed on the wall. A house or a shop or café wall. However, today we want to show you a wonderful piece of art, a on-site installation made with strings and threads nailed on reinforced concreted walls.
This is Prism, an installation made by the artist Ines Esnal and brings a colorful and and optical illusion to the lobby of a residential building at 205 Water Street, Dumbo (Brooklyn, New York).
Here you could see more images by Cameron R Neilson.
Have you enjoyed it? Maybe it's a big project to make by yourself, but we encourage you to take the basic idea of this installation and make something similar on a wall in your home, on a living-room roof corner or maybe in your porch or balcony.
What are you most afraid of? Bats, aspiders or a black cat crossing yout path in the night? Well, I'm an animal lover, so I think that bats and black cats are super cute. Big and dangerous spiders… it is another matter.
The night of Halloween is full of terrors, so, what do you think about making a DIY String Art with the shape of a scary animal?
Here you have three wonderful handmade pieces. I hope you like it!
BAT STRING ART
Source: All Strung Upp
BLACK CAT STRING ART
Source: Strung by Brianne
WEB SPIDER STRING ART
Source: homemade interest
SPIDER STRING ART
Source: Strings by Samantha
Honestly, I think the most terrifying is the last one, so, for me, it is the chosen one to make and decorate a Halloween party. Maybe I'll put in in the front door! Muhahahaha…
Hi everyone! We really love fall season, so we are happy and cheerful when we find and make this kind of String Art projects to celebrate it.
As you know, the fall emblem is the leave in different colours as brown, dark red and ochre. But there are more, as trees withouy leaves or trees with falling leaves; pumpkings (not only in Halloween, but since september to december) and candy corn. The last one this is clearly a Halloween symbol and we are sure you have eat tons of them!
So here you have three wonderful ideas to decorate DIY your home, shop, café or office in an autumn mood.
Happy fall to all of you!
Source: Rhapsody Crafts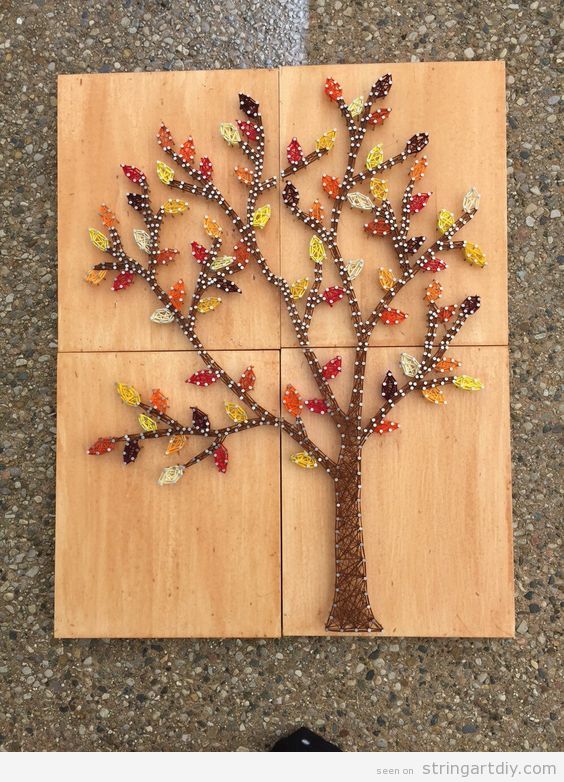 Source: VotreVieEnRose on Etsy
Source: Southern String Art