The thing I love the most from this String Art is the fact that the head of the pins are big, rounded and bronze coulour, wich fits a lot with green and pink pale colours from the flower.
via 
artofart.net
Wow! this is really amazing! They have used String Art to decorate a building and made the neighbourhood more beautiful. Purely Street Art. Such a lovely idea!
via
AleCoras
on Flickr
If you want to make a
String Art
,
Star of David
shaped, here you have a
free pattern
to download. Have a good craft!
via Agota on
stringart.ro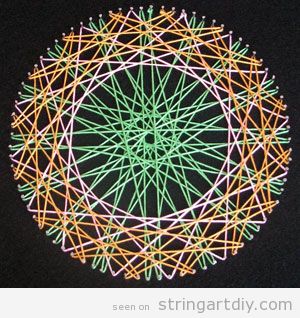 Hi! Here you have a tutorial to learn how to make a geometric String Ar step by step tutorial.
via
Monster Patterns
As we see on the pic above, String Art crafts are a lovely project to do with kids and teenagers. We can make, for example, a simple piece star shaped pinned on wood, previously painted. After that, they are able to decorate their own space with their lovely DIY piece.
Via
Paradise54
on Flickr.
We bring us today a free pattern to make a wonderful String Art, windmill shaped. We hope it makes you the craft easier.
via Agota on
stringart.ro
What a lovely wall String Art with a simple tree on wood painted in turqupise… perfect to decorate a living room, a reception or a hall .
via
Etsy
Here you have a extremely beautiful mandala string art, circle shaped, made with thousand of threads and colours… I've just fell in love!
Via @ José L. Rodríguez on  
topologia.wordpress.com
Here you have a free pattern to make a wonderful String Art, flower and drop shaped.
via Agota on
stringart.ro