String Art Ideas
Ideas to make your own String Art craft.
Here you have another great idea to make your own String Art. In this case, it's a circular shaped one with three little and abstract birds flying on it. Do you like it?
via
fotosik.pl
Here you have two lovelies gingko leaves made with String Art technique. This craft is made on wood and it's a great piece to decorate your wallroom.
via
Amy Lee Wheele
r on Kaboodle.
As we have seen on previous posts, you can also make String Art on cardboards. There's one idea for a Christmas Card made with spirelli, a dutch technique. Dou you love it? Me yes!
via Rosie Owens,
RubberStampRosie
, on Youtube
Wow! What a wonderful String Art! It's a 8 points star surrounded by others figures, a nice geometric craft in two green tones. Lovely!
via
Jose Manuel Antares
on Flickr.
Here you have a retro Starburst String Art. You can download the pattern for free, as usual.
via reocities
You only need some colorful threads to create this String Art Owl. Learn how to make it on this video from Suzanne McNeill. A great craft, perfect to make with kids!
via designoriginals123 on Youtube.
We are back to the 70's again with this String Art in yellow and organge, and also a little to mexican style! Do you love it? Tell us!
via
Manuel Antares
on Flickr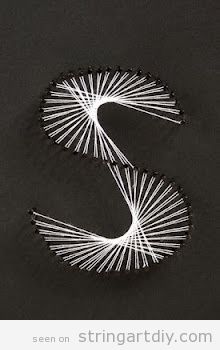 Here you have a tutorial to learn how to make a Tout Eiffel String Art, step by step. It's a little bit complicated and it takes a few hours to complete, but it worth it! It's amazing!
via
MrJanos100