String Art Ideas
Ideas to make your own String Art craft.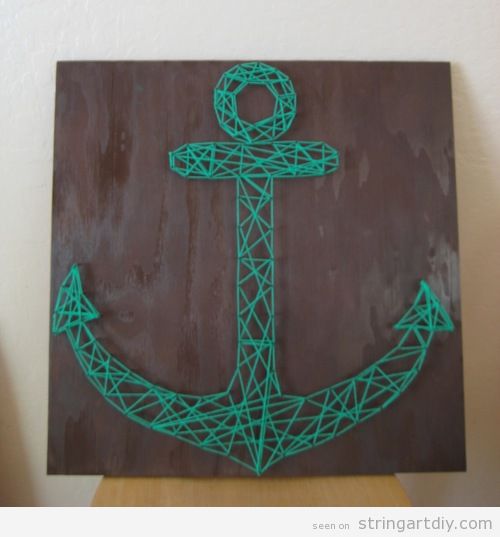 Anchors are trendy this year in clothes, tattoos and decoration. You can make an anchord shaped Wall String Art pretty awesome to decorate your living room or office. It's cool!
via
Pretty Love, Pretty Life
.
The best message you can read wqhen you get home: Home, sweet home! a very colourful and innovative Wall String Art.
via
Papernstitchblog
Here you have a String Art idea to make. You can also download the free pattern to make easier the craft. Enjoy it.
Here you have a lovely an easy String Art project to make with your own or with your kids. You only need:
Corkboard
Flat Head Thumb Tacks
Map Tacks
Fabric
Monogram or Image for Project (sized to fit corkboard)
Sheet of White Tissue Paper
Thread
Tools:
Fabric Scissors
Marker or Pencil
Follow the step by step showed on the video and enjoy it.
via Kin Community on YOutube.
To make this lovely String Art we only need a pencil, a ruler, a scissor, embroidery tread, a hammer, a bunch of nails, rounded and small piece of wood and a heart pattern. After that, you must follow the steps showed on the video tutorial and here you have this nice crafts. It is simple, so you can make it with kids.
via AlishaCraft on YOutube
The thing I love the most from this String Art is the fact that the head of the pins are big, rounded and bronze coulour, wich fits a lot with green and pink pale colours from the flower.
via 
artofart.net
Wow! this is really amazing! They have used String Art to decorate a building and made the neighbourhood more beautiful. Purely Street Art. Such a lovely idea!
via
AleCoras
on Flickr
If you want to make a
String Art
,
Star of David
shaped, here you have a
free pattern
to download. Have a good craft!
via Agota on
stringart.ro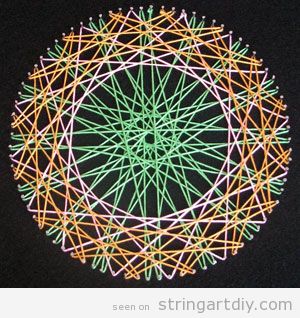 Hi! Here you have a tutorial to learn how to make a geometric String Ar step by step tutorial.
via
Monster Patterns