String Art Ideas
Ideas to make your own String Art craft.
As we see on the pic above, String Art crafts are a lovely project to do with kids and teenagers. We can make, for example, a simple piece star shaped pinned on wood, previously painted. After that, they are able to decorate their own space with their lovely DIY piece.
Via
Paradise54
on Flickr.
We bring us today a free pattern to make a wonderful String Art, windmill shaped. We hope it makes you the craft easier.
via Agota on
stringart.ro
What a lovely wall String Art with a simple tree on wood painted in turqupise… perfect to decorate a living room, a reception or a hall .
via
Etsy
Here you have a extremely beautiful mandala string art, circle shaped, made with thousand of threads and colours… I've just fell in love!
Via @ José L. Rodríguez on  
topologia.wordpress.com
Here you have a free pattern to make a wonderful String Art, flower and drop shaped.
via Agota on
stringart.ro
We know that are two months left to Christmas but we feel the need to start it with some ideas, for example, this String Art Christmas Tree. More ecologic than the original one and a nice craft to do with your kids and make christmas cards!
Wow! We really love this round shaped String Art, made with plenty of colorful treads. It's a lovely craft, perfet to decorate a wall!
via
Monster Patterns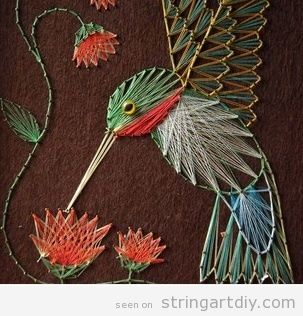 Sometines, String Art crafts are masterpieces, like they were paintings, as we see on this image with a bird placed on a flower. Extremely beautifil.
Via
2 Rown Tree
No matter what's your name, you can write it with treads, using String Art techniques. Look at this one, that was used to decorate a wedding… You can also give it to your girlfriend or mum… it's lovely!
via
ruffledblog.com