Patterns and Templates
Free String Art patterns and templates to download.
Here you have a free pattern to free download. As you can see, it's a grape bunch, and you can make this String Art using dark purple or green, as you like the most.
This pattern it's kind of vintage DIY. We thinkg that is a good handmade craft to decorate an ecologic shop, a veggie restaurant, a winery or a wine cellar that maybe you have at your kitchen or garage.
Do you like it? We hope yes!
Hi everyone! Here you have a flower pattern to make a complex String Art, advanced level and kind of 70's style.
As always, you can download it for free.
We hope that this pattern could help you in order yo make easier the craft.
Source: Profilib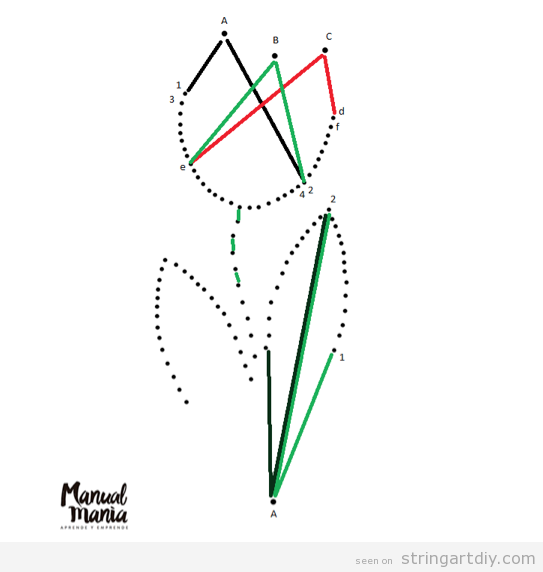 Here you have a flowers pattern that you can download for free. As you see, the shape is simple, so it's perfect for String Art beginners and kids. And even more, you can see numbers and letters to follow the thread sequence and make it simplier.
Doy ou like it?
Come on! 6 days left until Valentine's Day and wer are sure that you haven't started yet yout handmade gift!
If you are not fancy doing a heart shaped thing, you can try this XO (kisses) String Art . You wil need these materials:
You can see trhe pattern and the full tutorial by visiting Hoosier homemade.
Enjoy it! We hope your Valentines will love this handmade gift!
Here you have a free String Art pattern to download. As you can see, it's a bride and groom shape, a perfect DIY for decorating a wedding or to give a handmade gift to the married. Do you like it? I think it¡s simple, but beautiful and elegant.
Panduro Hobby Webtube
show us how to make a String Art using our pet shape, using a photo of him or her as a pattern.
In this case, it's a lovely teckel. We encourage you to make the same with your dog, cat, bird or whatever you like. It's easy and a a great handmade gift or decoration. Go ahead!
First of all, you have to sand the wood and varnish it. Then, draw the shape on a paper and fix it to the wood. The next step is to clue the nails all over the shape. When you finish it, move away the paper and start to pass the thread the and knot it to the pins. Then, you have finished, congrats!
We hope that this tutorial by
eleFANTASIAndo
is useful to you.
To make this amazing Skull String Art to decorate your place for Halloween, you will need:- Canvas (anysize)
– Paint (your choice)
– Paint Brush
– String (your choice)
– Scissors
You can download the pattern for free in this link: Skull Pencil Drawing
Source: suzaxne
What could we do these cold days that our kids don't have to go to school and it's a better idea stay at home? Well, make easy String Art with them is a good idea. Here you have a nice tutorial to learn how to make birdie String Art step by step.
Bird Patterns
Here you have the patterns, free download!
Source: ¡Hoy no hay cole!