Patterns and Templates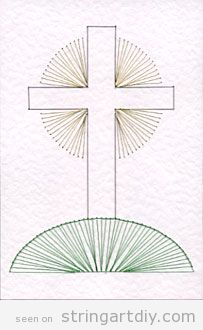 Here you have a pentagone shaped String Art that tries to make the imposible penrose triangle repeatedly… wow! You can alsodownload the pattern for free if you want.
Via Some Things That I've Made on Tumblr
Butterflies String Art are always so wonderful! So you can start to make one with this free pattern even this week-end. Let's go!
via
Hobby Blogo
Follow the instruction and the numbers to learn how to make this String Art with a kind of windmill on it.
You can download this patter for free!
Here you have a stunning and geometrical pattern to make your own String Art project. As usual, you can download it for free. Show us your DIY project!
The point that makes this String Art really special are the wooden tacks because the impression is really beautiful. Follow this tutorial (by
scraparizate
) step by step to make this lovely and simple String Art. You only need a piece of wood or cork, a bounch of tacks and crochet treds. Here you have the free pattern to download.
By Koko90 (Own work) [GFDL (http://www.gnu.org/copyleft/fdl.html) or CC-BY-SA-3.0-2.5-2.0-1.0 (http://creativecommons.org/licenses/by-sa/3.0)], via Wikimedia Commons