Ideas
Kids can also celebrate Valentine's day and declare their love for someone's. The best way to do this is making a nice DIY craft. For exemole, this String Art heart on a cork coaster is a good option, very easy and lovely. You can follow the tutorial and the step by step on this link:
Melissa & Doug String Art Heart
The message is simple and clear: BE HAPPY. This Thread Art is a nice craft to make on your own and decorate your room. Enjoy it and show us the result!
via
cristina alvaga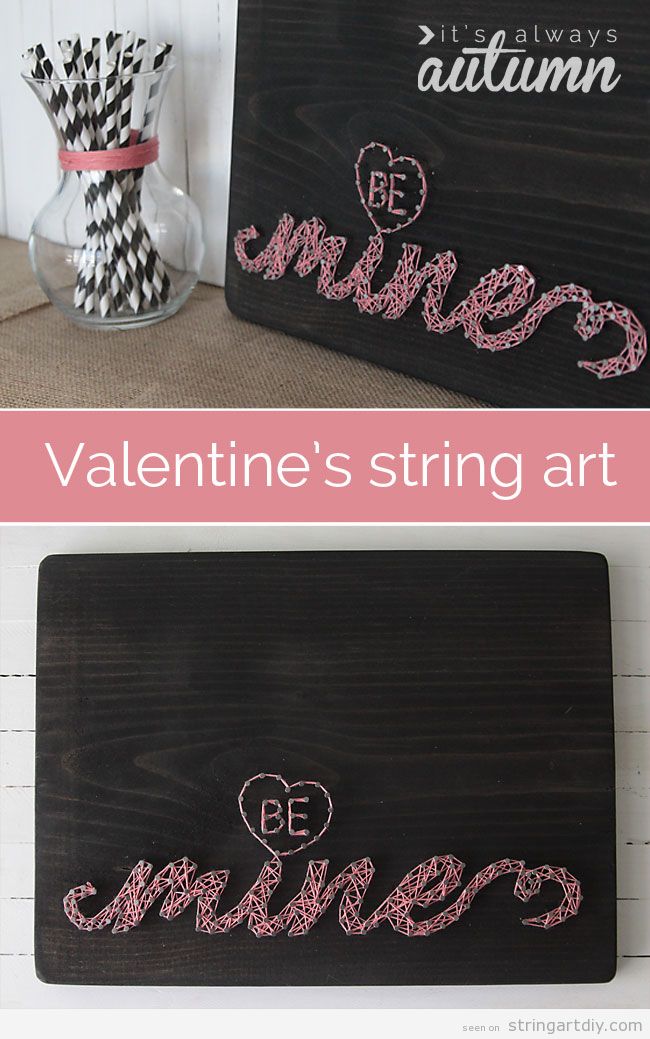 Here you have just another great idea to gave to your girlfriend for Valentine's Day. "Be mine" is the message. Extremely lovely!
You can learn how to make it following the steps here
It's Always Autumn
String Art is always a good idea to give on Valentine's. Love, love is the word.
You can learn how to make it step by step visiting 
Savvy Sugar
Valentie's Day is coming and it's a perfect chance to gave a handmade present like this heart Shaped String Art. You can learn how to make your own String Art DIy watching this video by
SirisLife
Yes, String Art are kind of a 70's craft, but you can make it modern changing the patterns. As we see on this video tutorial, you can make a nice momonogrammed String Art with your baby first inicial in order to decorate his baby nursery. Lovely!
via HGTVCrafternoon
Here you have a nice craft to decorate a summer hourse or even a room in a boat, why not. As you see, is a anchor shaped String Art. What I like the most is the blue navy colour mixed with red! The nails with a big head are lovely too. What do you think?
via
BleulineInteriors
on Etsy.
Here you have a heart or mask shaped String Art pattern for free.
You can learn how to make your own String Art pattern with Adobe Illustrator and you can follow the instructions thanks to
Jacob Bugge
on Adobe Forums.
This waal String Art is a lovely idea to decorate a summer house like this!
via
Vintage Revivals
That's one of the most influential and inspirational quote ever, very simple and straight to the point: BE FREE. It's a really good craft to hang on a wall because it makes you remember it every day. Thanks to this video tutorial we can learn how to make String Art with the message Be Free. Great!
via
Claudio Camilo Ignacio Sepúlveda Villalobos
on Youtube.