Easy
To make this wonderful gradient name String Art, first of all, you have to paint the wooden board with alcohol ink. After that, cut out the name pattern, previosly printed on a paper, and put all the letter on the board and encircle the shape of every letter with nails. Right after, start to put all the threads, from red to orange, from orange to yellow… after, blue – purpple – pink – coral. Oh! Don'f forget to remove the letters one you have finished.
The result is amazing! isn't it? It turns out a great craft to decorate a wall!
Source:
Loo
Here you have a tutorial by
Better Homes and Gardens
where they show us an easy way to make letter "M" String Art.
It is a perfect customized gift so think about making it for a friend or relative!
To create this String Art, you just need:
Block wood
Letter pattern
Small nails
Crochet string
Hammer
Scissors
Painter's tape
We hope you enjoy it!
Here you have a wonderful and easy String Art DIY perfect to a wedding decoration. As you see, Mr & Mr are hammed, threaded and painted on a dark brown board and we think that is placed on the altar, but it's also a good idea to place it avobe the groom and the bride at the dinning table.
What do you think about this String Art? You can adapt it to the main colours of your wedding to have a ideal and suited decoration.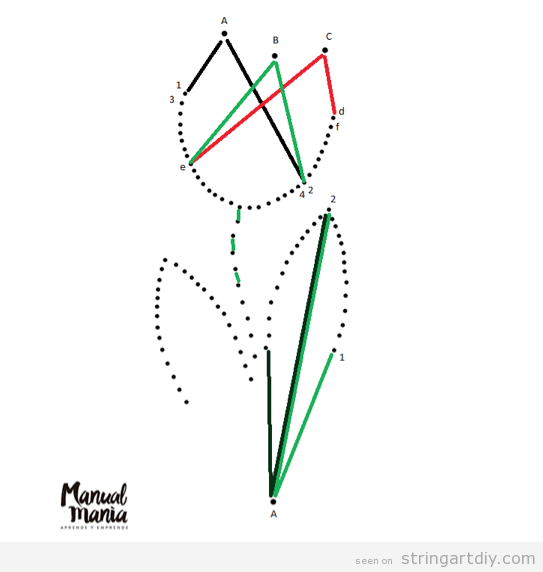 Here you have a flowers pattern that you can download for free. As you see, the shape is simple, so it's perfect for String Art beginners and kids. And even more, you can see numbers and letters to follow the thread sequence and make it simplier.
Doy ou like it?
HelloKids-us show us in this video a great way to make a Geometric String Art, even to make with kids. Look how they use clothespin in order to not to get damage in the fingers when you hammer the nail.
At the same thime they are having a great time making a craft, they learn geometry and maths. Just a perfect work to make with kids!
Do you like this wonderful String Art Christmas Tree on a wall that also could be used as a card display? It's a lovely idea to decorate your home at Christmas and your kids will love it!
To work with wood and nails could be a little bit dangerous for kids, that's why we suggest you to make a string art with cardboard, a round pointed needle and threads instead of wood and pins. Don't use paper, is too thin and it can't bear the weight of the thread.
This is a really cool craft to make with kdis and you can choose the shape, word or name you like the most.
Maria 28
shou us in this video tutorial an easy way to make a Pumpink Sting Art, perfect as a craft to make today with your kids and for decorate your place for Halloweens night (is tomorrow!!)
I hope you enjoy it.
¡Hoy no hay cole!
show us in this tutorial an easy way to make a String Art projects with kids. In this case, it's a wonderful dandelion made on  green painted a board. Just beautiful!
What could we do these cold days that our kids don't have to go to school and it's a better idea stay at home? Well, make easy String Art with them is a good idea. Here you have a nice tutorial to learn how to make birdie String Art step by step.
Bird Patterns
Here you have the patterns, free download!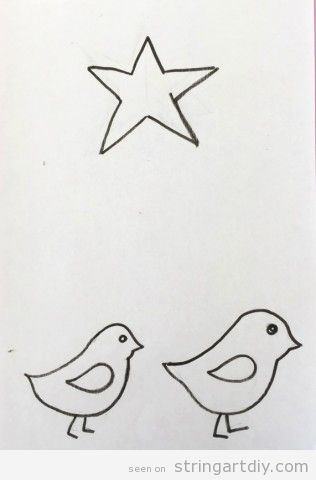 Source: ¡Hoy no hay cole!