Oh! What a cute String Art! A nice craft to give to a biclycle lover and a very lovely piece of decoration to your living room or studio.
Via
ideasmag.co.za
What a lovely String Art! Love Birds are really beautiful and the red color on wood it's awesome. I take note to make it for my bedroom!
via
Kaboodle
Here you have a videotutorial by
Karenliz H
where you can learn how to make and easy flower String Art, step by step. It's suitable also to do withs kids.
String Art projects are very innovative to decorate a wall, even if it's a bedroom wall. I'm loving it so much!
Via
ninered.blogspot.com
That's another very easy String Art project to make with kids. Instead to nails on wood, you can also use cardboard and make holes in it. As we see in the images above, you put the string through the hole and tha'ts it all. Suitable to beginners! Do you like it? Share!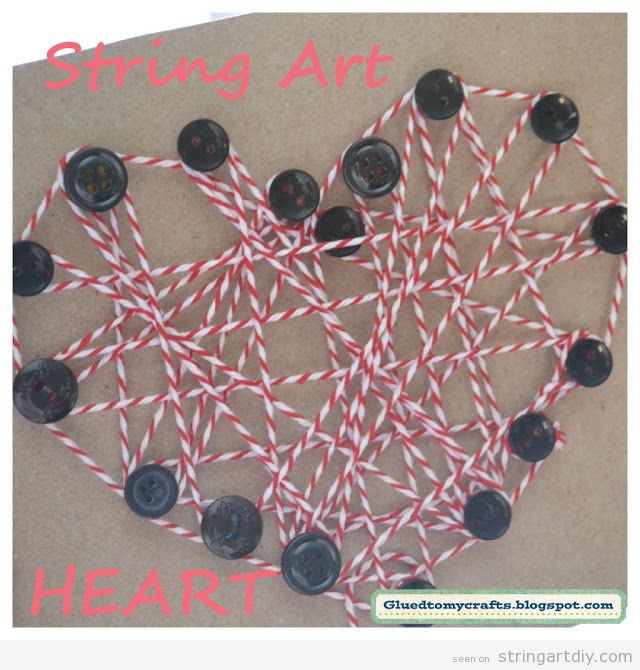 Due to the fact that nails are a little bit dangerous for kids, we propose on this String Art to replace them for buttons or to glue a button on the top and then, you can start with the strings. The heart shape is easy and a great craft to make with kids. Enjoy it!
If you want to decorate a wall with a 70's style DIY String Art, here you have a great tutorial where they explain us how to make it. It's lovely and easy! Beginner level!
via ThreadBange
That's an easy DIY Strin Art. You only have to cut your state or country from a map and leave heart cut in the middle. Then, you pin all the nails and, finally, you do all the string job. A bit patriotic but still lovely!
Seen on
myparisianheart.tumblr.com