We really need a sunshine… for real! This String Art claim us to meet our love in the shunshine… here we go! Seriously: pay attention to de drgradate from red to yellow with this scale of warm colours… I can feel the heat.
via
Dominique Falla
Here you have a tutorial to learn how to make a String Art DIY with the word "Dream" written on a board using threads.
via
Desde el probador Blog
This group of teens made this craft and this tutorial as a project for their Math class. Absolutely awesome and very fun!
via juan raygoza on Youtube
Here tou have a link to learn what a polytope is: http://en.wikipedia.org/wiki/Polytope_families and you can use these images as a pattern to make your own string art. And even more: that's a nice craft to make with your math class.
via
topología
"&" symbol is a subtle way to say that you want to stay with her or him forever! For that reason is a beautiful craft DIY to make and offer on Valentine's Day. You can learn how to make the "&" symbol with nails and strings following this tutorial made by How.Do
Kids can also celebrate Valentine's day and declare their love for someone's. The best way to do this is making a nice DIY craft. For exemole, this String Art heart on a cork coaster is a good option, very easy and lovely. You can follow the tutorial and the step by step on this link:
Melissa & Doug String Art Heart
The message is simple and clear: BE HAPPY. This Thread Art is a nice craft to make on your own and decorate your room. Enjoy it and show us the result!
via
cristina alvaga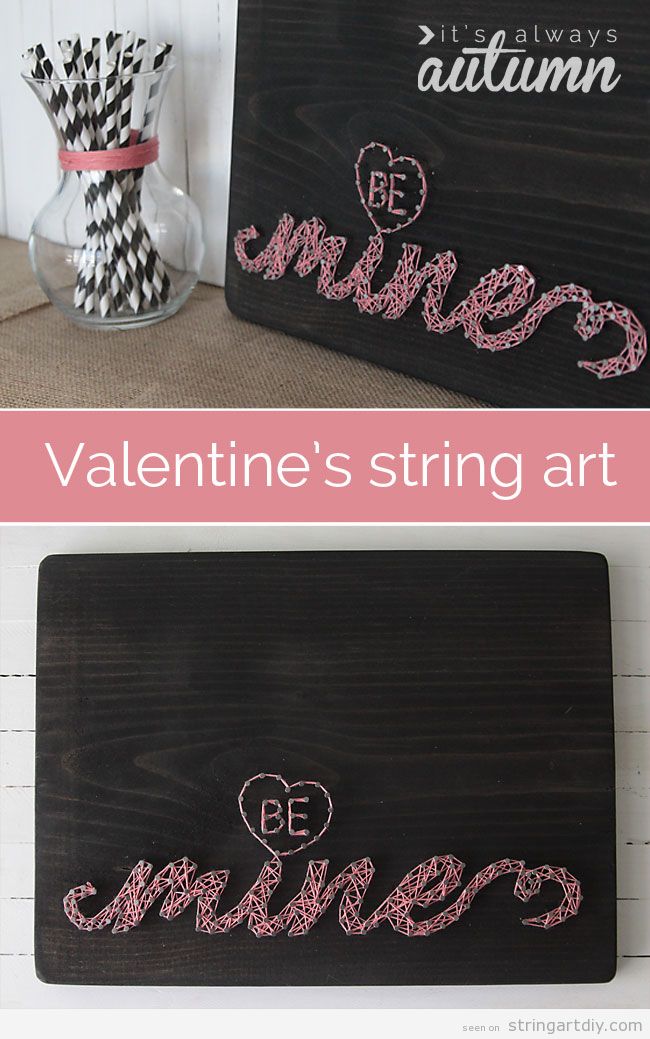 Here you have just another great idea to gave to your girlfriend for Valentine's Day. "Be mine" is the message. Extremely lovely!
You can learn how to make it following the steps here
It's Always Autumn