If you don't want to have the classical Xmas Tree at your place, you can do this one. It's a String Art Christmas tree on the wall. You can decorate it as you want. Love it!
via
ThreadBanger
As you can see on the video, you just need a piece of paper, a wood or even foam block, a hammer, scissor, pencil, strings and nails. Follow the steps to make by your own this wonderful heart shaped and small string art.
via
ColourfulCreativity
on Youtube.
Look at this wonderful Star String Art on a wood board; the thread is thicker than usual and the pins have a big head. I really love this one and it's a nice cfrat to decorate a wall!
You can pick some ideas of this video that show us a Ying Yang Strign Art and more!
Daniel Stamenkoski
Here you have another wonderful and easy idea to mkake your own String Art, bird shaped this time,
via
Bobbie Bettes
on Pinterest.
Just another wonderful String Art idea to DIY. I really love these rainbow colours. That's great!
Via
Something That I've Made
Here you have a video where they explain us how to make a drop or tear shaped String Art, step by step. Simple and nice.
via
Artesanias Ari
on Youtube.
I have the Christmas spirit on my body! Here you have six ideas to make your own String Art project on Christmas.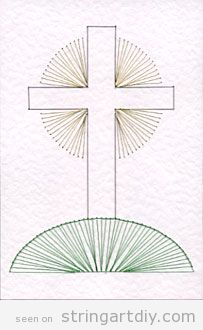 Hey, guys! Here you ahve just another video tutorial to learn how to make a String Art on wood board. Tis time, the word chosen is "Dream". I hope you enjoy it. Via
Lully Mel
on Youtube.