String Art Ideas
Ideas to make your own String Art craft.
Lately, I've noticed that the bakeries near me are beautifully decorated. They are full of colors and details that make them wonderful and, actually, it's feels nice to be surrounded by such beauty while you are buying, having a coffee or eating a sweet piece of cake. The environment is very important in an establishment, both in the entrance sign, as in the furniture, in the counters, in the tables or in the wall decorations.
Every detail counts to make the customer feel special so today we are going to propose you some String Arts projects to decorate a bakery shop in case you own one inspired by its characteristic elements, such as welcome signs, cupcakes, coffees, and more. Of course, you can do it yourself or buy the String Art at a craft store, as you want, but it's important that it looks like a craft to create a traditional atmosphere in the bakery shop. That will send the message that your cakes and pastries are also handmade and traditional, as the furniture or the decoration.
WELCOME SIGNS

We can start by putting a nice String Art sign on the front door to welcome the customers. A sign that says "Bakery", "Welcome", "Hello", "Aloha", "Hola", "We are open" or whatever you want. The important thing is to choose well the color, the lettering and the message to give a warm welcome message.
CUPCAKE STRING ART

To decorate the bakery shop walls, it is great to put String Arts bakery products, such as cupcakes or muffins. They are very easy to make and their colors are very attractive for the eyes. We are sure that customers will want to eat one of them!
DONUT STRING ART
Another bakeries star product are the donuts or doughnuts. Its attractive appearance full of colors (especially pink for the base and rainbow sprinkles for the topping) makes it perfect to decorate the walls. In addition, its round shape can be an "O" letter as in the word "Love".
COFFEE OR TEA MUGS STRING ART

Sometimes, when we are in a bakery shop, we also feel like drinking a cup of coffee or tea, so we think that these Mug String Arts decorated with hearts can also be a good idea as wall decor.
KITCHEN STRING ART

It can also be an original idea to put on the tables small String Arts with forks, knives or spoons and messages like "enjoy" or "bon appétit".
SOME NICE DESSIGNS
Eventually, we would also like to recommend you some String Art that have nothing to do with the bakery, but that could be nice as a wall decoration. Choose colors and elements that combine well with the theme and style of the bakery, such as animals, bicycles, rainbows, flowers, stars, geometric shapes, moustaches, beards, bows… no matter what, but has to be as cute as you can!
We hope you like these String Art ideas and that they inspire you to create your own projects to decorate your bakery shop. Thanks for reading us and see you soon!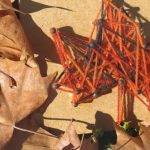 Hello everyone! Today we bring you a new String Art that is very easy to make, perfect to make it at fall season. Since it is very simple, it's suitable to make with children, but always with adult supervision, due to the fact that we are using nails and hammers. As you can see on the frame, it's a fall leaft String Art. Let's take a look to this video tutorial by regalamanualidades.
The best thing about this project is that you do not even need a leaf tree template, you can directly use a sycamore leaf, a maple leaf, a tulip tree leaf or no matter what leaf found at the woods in autumn as a template. Put it on the wooden board and put the nails around it, as you usually do with paper templates.
It would be perfect if you can buy a gradient yarn or gradient thread from orange to black or brown, as the used in the tutorial. If you cannot,  then buy orange, dark orange, ocher and dark brown threads and make several layers to get the gradient effect. Pay attention to the end of the video, where we see how to tie the last thread, creating a special knot to fix the thread and be sure that it will not untie.
We hope that you liked this Sting Art and that you fell fancy going the forest to find a few dry leaves to use as a template and make projects as beautiful as this one to decorate your house in the fall season.
If you enjoyed this tutorial, please, share it with your friends so that they can also do this beautiful craft with their kids or their art students. We hope to see you soon! Until then, have a happy autumn.
Halloween is coming and now it's the perfect time to start to make Halloween themed crafts and projects. Previously, we have posted Three Halloween animals: bat, spider and cat String Art and some Pumpking String Art, but today we are inspired by the quote "You say witch like it's a bad thing" and we are fancy focusing on witch String Art projects. So let's go!
WITCH OF OZ STRING ART
Our favorite project is this one by Strings by Samantha. As you can see by the shape and the colour, it's a Wizard of Oz String Art and it's absolutely perfect to decorate a Halloween party or to put in your home, café or shop to create this terrific and classical atmosphere.
WITCH OF OZ STRING ART TEMPLATE
To make yourself this wonderful String Art, maybe it's a good idea to download this template for free. Print it, put it on the wooden board and hammer the nails around the silhouette. Then, cross the green Strings as you see on the image.
WITCH HAT STRING ART IN PURPLE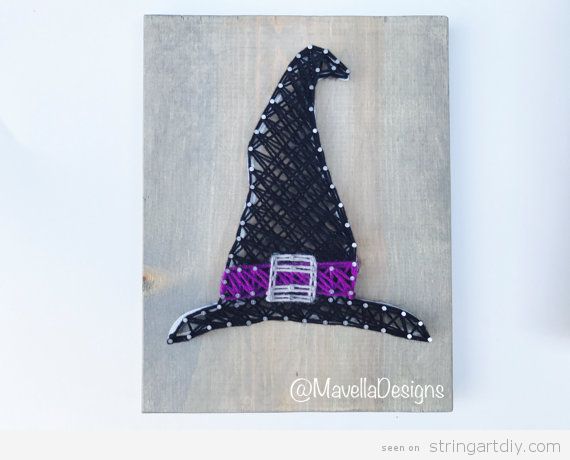 The second idea that we suggest is this Witch Hat String art with the belt in purple made by MavellaDesigns. This one it's easy to make and you only need a wooden board, nails and purple, black and white strings.
WITCH HAT STRING ART TEMPLATE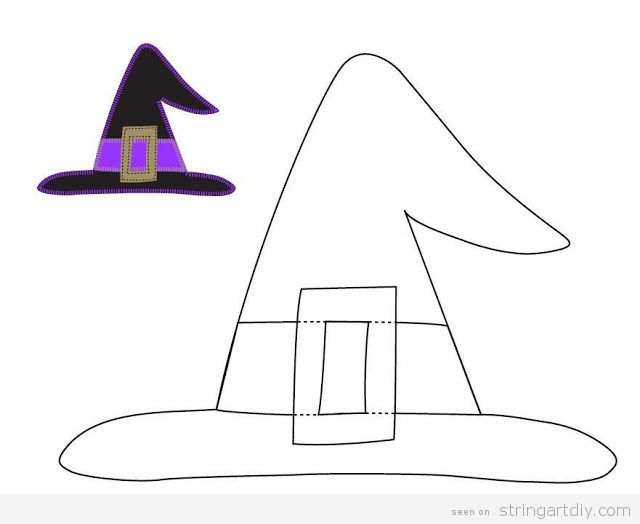 If you feel like doing this Witch Hat String Art yourself, here you have this printable free template. Its shape it's very similar to the previous String Art.
WITCH HAT STRING ART IN ORANGE
If you prefer the orange colour to suit with the pumpkins, maybe you can change the designs and put the witch hat belt in orange, like MBWoodenCreations has done in this creation. Really lovely, don't you think so?
As always, we hope that you have loved these witch String Art and that, now, you feel like making it right now! See you soon!
Hi, guys! How are you doing? Today we want to bring some magic to this blog and we are show you how to make an unicorn String Art step by step with this wonderful tutorial made by Jorge de la tierra.
Isn't it lovely? We miss just one thing. It would be even more lovely if you write the quote "I don't believe in humans". This sentence will make the String Art more funny and clever.
MATERIALS YOU NEED
Pattern
Wood Board
Round Headed Nails
Hammer
White, yellow, purple, blue and pink strings.
FREE PATTERN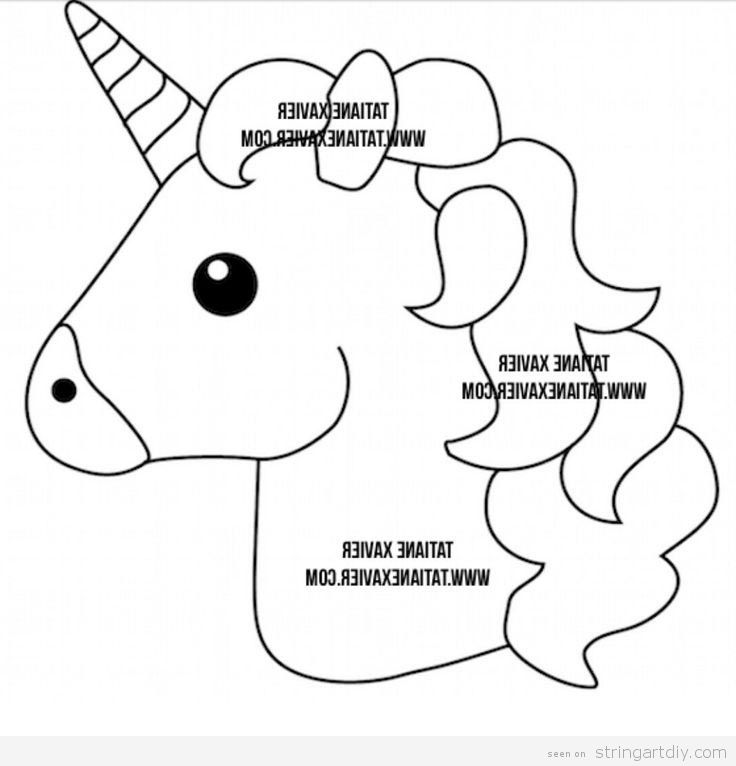 We haven't found exactly the same pattern as Jorge de la Tierra uses in this video. But we have searched for a similar one and we offer you this one by Tatiane Xavier. We have fllipped it like a mirror to try to be more similar. Obviously, you can download this unicorn free pattern for free. Print it and use like a patter.
INSTRUCIONS
As you can see in the step by step, the process is just the same as always. First of all, you have to paint the wooden board in black or in a dark colour. This way, the unicorn shape will shine out and the colours of his hair will stand out.
Then, you have to hold the pattern and hammer the nails following the unicorn shape and the most important lines, like his mouht, eyes, strips and hair waves.
After that, you have to start filling with white threads the unicorn head. The following step is to fill the air and the corn using yellow, purple, blue and pink strings. The last step is to make the blue eye.
We hope that you have enjoyed this post with the template and instructions to make an unicorn String Art. If so, please, share it on your social networks. See you soon!
Ooh, Game of Thrones Season 7 is over! We heard through the grapevine that maybe we have to wait 2 years until the season 8 comes, so… hard times are coming! To cheer ourselves up, maybe we can make some Game of Thrones String Art to be surrounded of its emblems and symbols, so let's pick up some ideas.
HOUSE STARK STRING ART
This House Stark Wolf String Art is just perfect. Made by Christine Alice, she has chosen the white strings for the direwolf shape and a black chalkboard as background. She has added also the popular quote "Winter is coming" painted with white chalk.
This House Stark emblem String Art made by RealArtCraft is really awesome and it has a lot of details thanks to the fact of adding some black treads to draw the face and the fur of the direwolf.
GeneticPotentialArt has created a very nice String Art by joining the Stark direwolf with the Weirwood , the white tree with red leaves where Bran Stark has their visions in Winterfell. In addition, we could see also the "House Stark's ancestral sword, Ice.
HOUSE TARGARYEN STRING ART
Maybe you prefer the House Targaryen and its dragons! If so, here you have this wonderful Targaryen House Emblem String Art with a red dragon made by Steller Made Creations. Impressive!
In case you don't know it, "Fire and Blood" is the tenth and final episode of the first season of Game of Thrones when the dragons are born, but also the name of unpublished book where George R. R. Martin where explains the complete history of House Targaryen. In this Strin Art made by BasementArtDesign we can see these two words and the dragon emblem of this house.
HOUSE LANNISTER STRING ART
In case you prefer the dark side and you really enjoy the evil plans of the Lannister, specially Cersei, we are sure that you would love this House Lannister String Art with it's symbol, the golden lion. You can elarn how to make it step by step thanks to this tutorial on Imgur.
WESTEROS MAP STRING ART
If you can decide what house you love the most, maybe it's a good idea just make a Westeros Map String Art. All the Seven Kingdoms in your home! This String Art is made by BeauGrandMonde and is awesome.
Have you liked these Game of Thrones String Art? If so, make on and send us a picture or leave us a comment. Thanks for reading and have a nice waiting!
Yeees, we are in summer we live next to the ocean (but we are not on holiday, sniff). Whatever, we enjoy very much going to the beach, having walks and see and smell the salty air. As usual, we see many boats and they inspire us to create new projects and write new posts like this one. Today we are going to show us a special selection of Boat String Art DIY projects to decorate a coastal home, a nursery, a beach restaurant or café.
FREE STRING ART BOAT PATTERN
The first thing is to get a free printable pattern to make a Boat String Art like this one. You can download it free, as usual, and we think that this will be very useful for you.
BOAT STRING ART PROJECTS
This vintage Boat String Art is just perfect and was made by HammerAndTwine using the previously pattern or template. As you can see, it's a good choice the wooden board and the white threads. Lovely!
Monique Hansen has created this Boat String Art also using the template provided but she has decided to use a black wooden board and thre colourful threads: yellow, pink and mint. Very nice choice.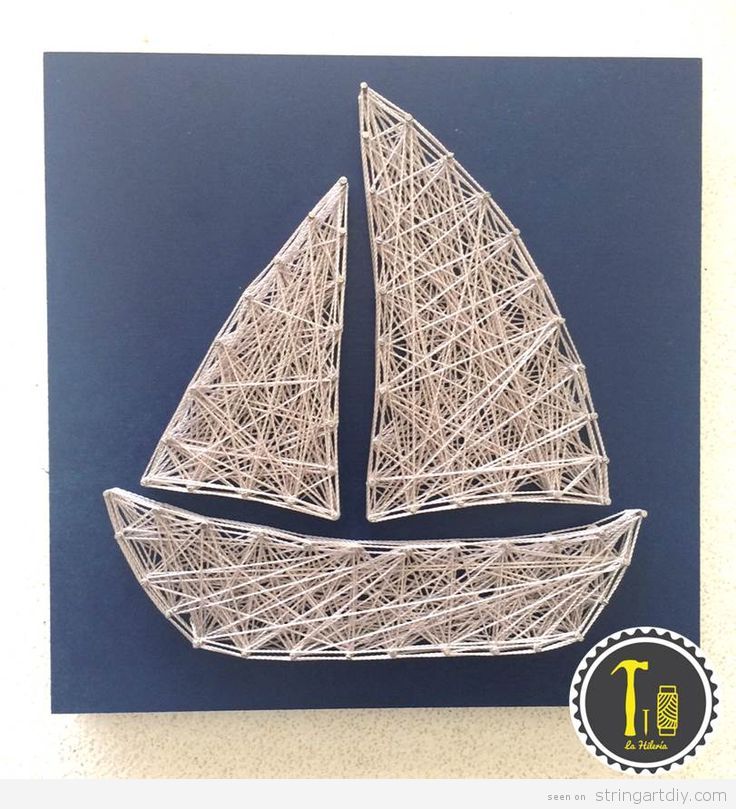 Obviously, you can use also another pattern or template to create different Boat String Art like this one made by La Hilería. In our opinion, it's also a wise choice to paint the board in navy blue, so this blue remember to the sea and, the boat sails tend to be white, so the white threads are just perfect.
Here you have another Boat String Art design, more traditional because of the colors used by VeesVintage. Indeed, it's a vintage one! Pay attention to the seagulls because they look nice on this project.
UrbanHoot has impressed us with this lovely Boat String Art design, suitable for a nursery wall decoration, don't you think so?
Have you enjoyed this post? If so, please, share it and comment your impressions. Thanks!
One of the most amazing female artists and one of our favorites is the mexican Frida Kahlo. Her protraits are very famous and his physical appearance too, is for that reason that today we have thought about making some Frida Kahlo String Art and we have searched some ideas to inspire you.
FRIDA KAHLO STRING ART TEMPLATES
As a template four can use an image or her or maybe a drawing or one of her portraits paintings, but there are two elements that are basic to represent Frida and they must be in the String Art: the two eyebrows joined and flowers over her head. Here you have two templates that maybe they have used to create these artworks:
FRIDA KAHLO STRING ART: DISTINCTIVE TRAITS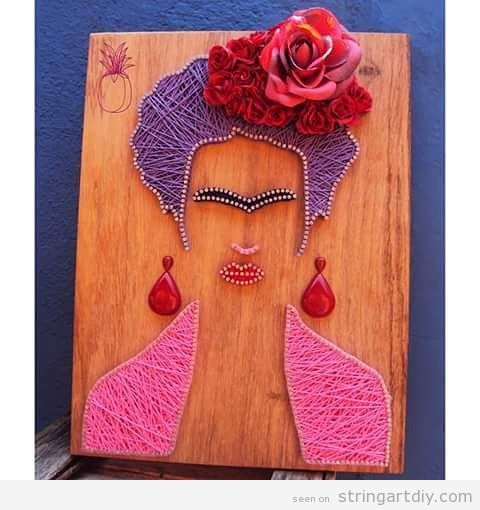 As you can see in this String Art (sorry, we haven't found the credits, if it yours, please let us know), Frida Kahlo is represented with distinctive traits, as real flower on her head, eyebrows joined, big red lips and two big earrings. We really love the purple hair and the pink pashmina.
In this one, we have less distinctive traits but we are able to recognize her: hair updo with flowers, eyebrows joined and red lips.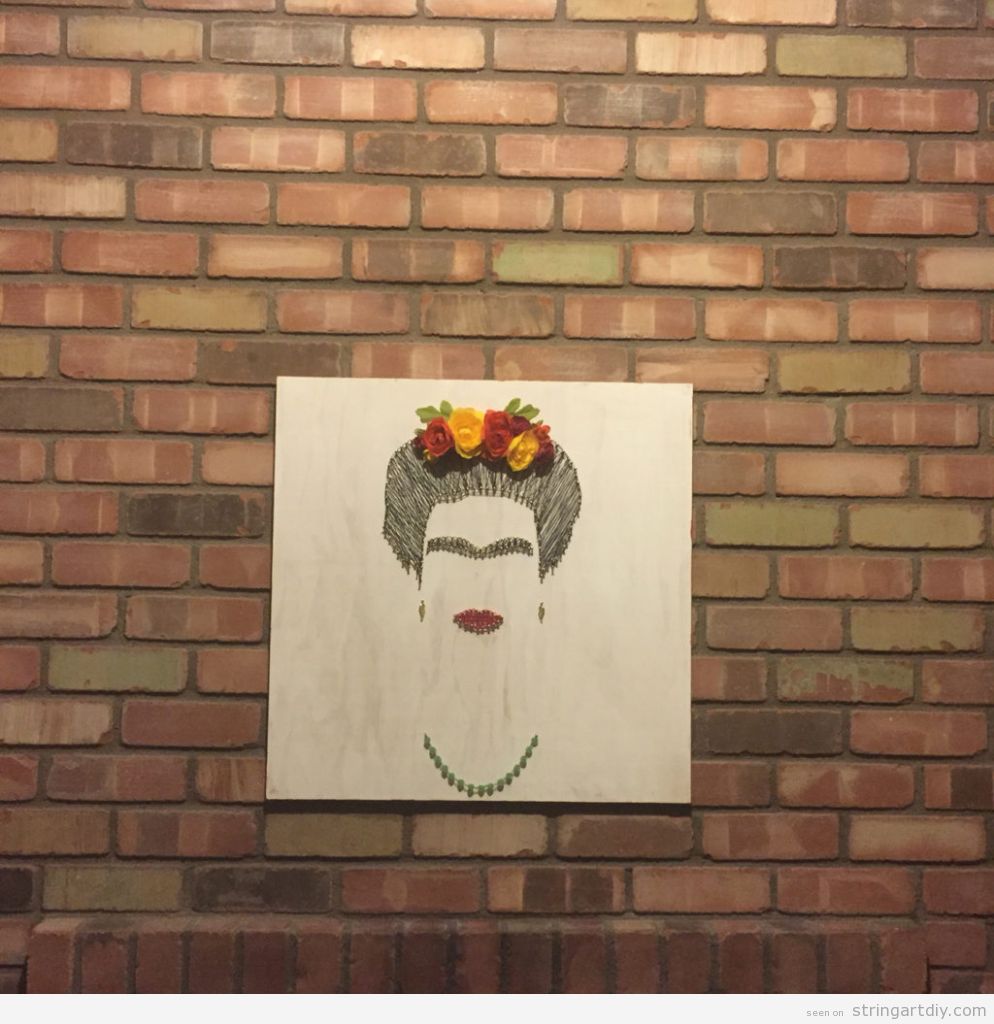 Another one very similar Frida Kahlo String Art made by Kimerly Marie but she adds the element of a big necklace that she usually wore. Pay attention to the fact the flowers are real too.
FRIDA KAHLO STRING ART: FULL FACE
If you prefer make a Frida Kahlo String Art with her full face, here you have a wonderful one made by @yovsgh and based on a geometric drawing shown above. It's really beautiful and we can see another time flowers over this head and big earrins.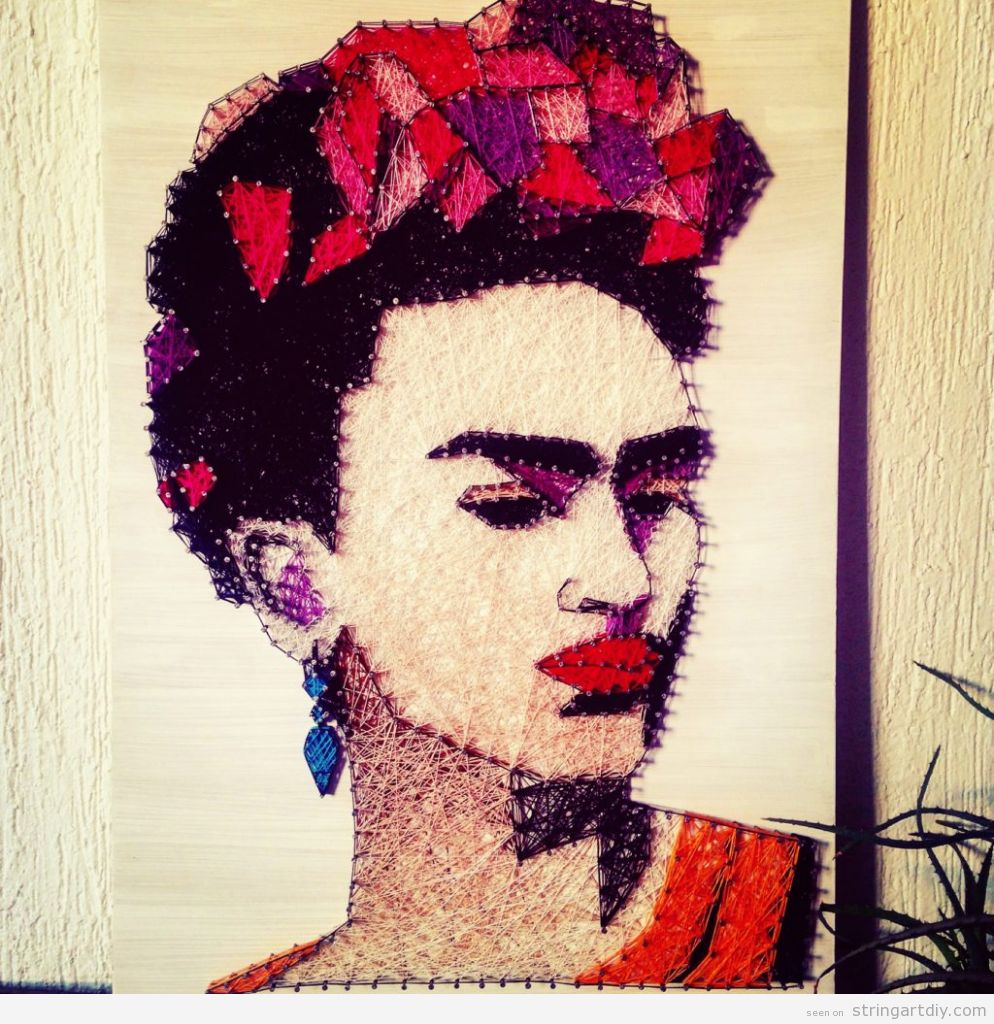 @mialazoqro has chosen the same drawing but she has used brighter threads and the contrast is higher. Spectacular!
We hope that you have enjoyed these Frida Kahlo String Art and that know you are fancy making one similar. Enjoy it!
If you have not tested it yet, try it: making String Art projects is one of the most relaxing things in the world! Now that the summer is coming and maybe you'll have a little extra free time to make your DIY projects, take a look to this one because it's gorgeous!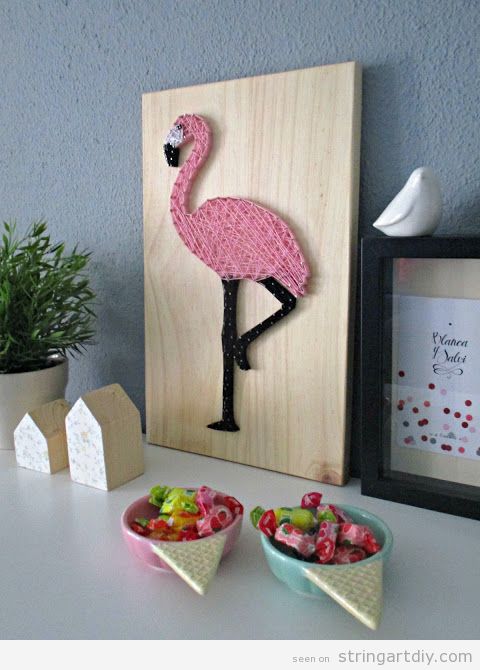 As you can see, it's a flamingo, one of the most extraordinay and curios and strange animal. Its look is perfect for the summer. You can see flamingo prints everywhere because its image it's refreshing and cooling. This flamingo String Art seen on La Buhardilla would be a perfect DIY piece of art to decorate your living room, office or even your studio, shop or café.
MATERIALS YOU NEED
To make this wonderful Flamingo String Art you will need these materials on the image above:
Wooden board
Flamingo template
Tracing paper or scissors
Hammer
Nails
White, black and flamingo pink thread
FLAMINGO TEMPLATE
As you will need a flamingo template, you can download this one for free.
FLAMINGO STRING ART STEP BY STEP
It would be useful to draw the flamingo shape on the board. You can cut the shape and fix it on the board or maybe you can use a tracing paper to draw it.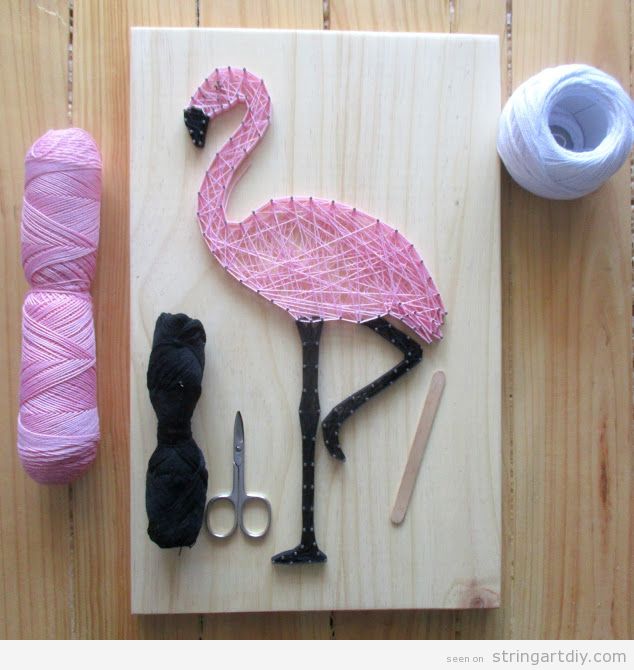 The next step, as you maybe already know, it's hammer the nails around the flamingo shape. It's very important to hammer them marking the most important points in the shape and trying to keep an equidistant distance between them. Then, you have to be patient and start to interwave or interwine the threads. Enjoy this process, it would take a little bit because you have to pass the threads a lot of times, but it worth it.
Do you have any question about the process? If you do, write us in "Comments" o send us a message via Twitter or Facebook and we'll try to answer it as soon as possible. Thanks for reading us!
Hey, guys! How are you doing? We are great and, as always, searching for new and original ideas to make new String Art projects. Today we want to show you this idea because we think that it's perfect to give as a present to a gentleman: a Bow tie String Art. The shape is funny and easy to make.
First of all, here you have the bow tie template. Free download, as usual!

Once you have printed the template, maybe you already know that you have to put it on a board (wood or cardboard) and pin nails following the shape. Remove the paper template and the next step is to tie the threads over the pins and make this kind of net.
Let's take a look to these designs!
This one i'ts a cute bowtie String Art made by HeartlandHomes. It's a good idea to use a black wooden board and white string. It's nice also to paint the initials of the name using acrylic paint. Try to use a fancy and elegant calligraphy.
This bowtie String Art made by OneRoots has a vintage style (because of the natural wood colour and the yellow string) and it's perfect for the modern gentlemen. We could image this String Art as a shop or barbershop wall decoration. Very nice one!
Maybe if you want to give a bowtie String Art as a present for a nebowrn child it's better to make it on a pale wooden board and use baby blue colour strings or threads. Pay attention to the "little gentleman" painted on thew because it's very cute! This piece was made by Naileditartbydian. It's no longer avaliable on her Etsy Shop but maybe you can make it youself or ask her to make another customized one.
Finally, we have this amazing composition made by beat-it2. As you can see it's a top hat, moustache and bowtie String Art and it's great as a handmade gift to a father, boyfriend or brother, specially if they love this style and they consider themselves as a gentelmen.
As always, we hope you have loved these String Art projects and we encourage you to try similar ideas. See you soon!
In the United States, Mother's Day is celebrated the second Sunday of May, so this year, 2017, will take place on Sunday, May 14. (In the UK, Mother's Day 2017 was celebrated on Sunday, March 26).
So in USA it rests less than a month, it's the final countdown! Let's take a look to some beautiful and lovely handmade String Art that your mother will love as a gift.
MOTHER'S DAY STRING ART BOARDS
This Mom String Art made by Carven Design Studio is one of our favourites. Pay attention, because the inside of the letter "O" is heart shaped. We also think that the combination of dark wooden board and this pink or purple thread is perfect.
This heart shaped String Art made by Debbie McLauchlin is easy to make and very very sweet. As you can see, there are two hearts, a little one inside one another and the word "Mum" it's also written with strings and nails. It's a handmade craft suitable to make with kids, so go ahead. Moms will love this handmade gift.
This one is another very very sweet design because we can see two handprints, one from the eldest son and one of the  yougest son with their names written on the side. You can make this String Art by yourself or buy one customized at  LivandEmma Etsy Shop.
MOTHER'S DAY STRING ART CARDS
Embroidery paper crafts or String Art on paper it's a very easy and lovely idea to make as a Mother's Day Gits. As you can see on the picture above and  on the video below, the process is simple and the result is great. You can make a String Art heart just using tissue paper, pencil, cardboard, punch, thread and needle. Once you finish, write down some nice quote like "I love you, mum" or something special for you two.
This craft has been creaded by Jar of Threads.
Another simple String Art Card for Mother's Day is this one that blog.michaels.com has shared with us. We really love the way that threads write the word "MOM" like if it eas a piece of classic embroidery.
We hope that these ideas encourage you to DIY some similar String Art crafts to offer to your mom. See you!