Kitchen
The kitchen is a place in our home where nowadays we spend more and more time with our family. It is no longer a lonely spot in the house only reserved for the person who cooks, but it is a space of coexistence and that is why we have to pay maximum attention to all aspects, and that includes decoration.
It is also a place where a lot of waste is produced and, to properly manage this waste and in order to take care of the environment, we have to take into account the waste sorting and to have low profile garbage disposals installed for organic waste, thus reduce the carbon footprint since we are reducing CO2 emissions from heavy-duty vehicles such as garbage truck, according to Garbage Disposal Mag.
In this post we will see how to decorate the kitchen with String Art DIY to make it a more nice, creative and familiar place. A spot in our home to feel comfortable while we are cooking, eating or just hanging out with our family.
COOK, EAT, DRINK
We love these three String Art that summarize or offer an overview about what is done in a kitchen: cooking, eating and drinking. The symbols they have chosen, such as the chef hat, the cutlery or the coffee cup, are great.
THE SECRET INGREDIENT
Maybe the quote "The secret ingredient is always love" is a little bit cheesy but it's also true and cute, even more because its design is very cool and modern and the lettering it's great.
BON APPETIT!
What do we say when we sit at the table? Enjoy your meal! or Bon appetit! Maybe it's a French expression but it's very used and very nice, so it's welcome in our kitchen.
ENJOY
As we have just said, enjoy your meal! is one of the most used expressions before eating, so this String Art with cutlery and the word "Enjoy" composed with a nice lettering is a good kitchen decorating idea.
CUTLERY
Cutlery is very present in the kitchen, so making a fork, spoon or knife String Art with is a good option, even better if the String Art is created on a slice of wood, perfect for decorating a rustic kitchen.
DRINKS
Do you feel like Homer Simpson and what you like most in the kitchen is that there are cold beers? So this is your ultimate String Art where the threads and the bottle caps are combined.
"Sherry, Niles?" We are sure that this Frasier quote sounds familiar to you. The kitchen is a nice place to enjoy a good wine before dinner or while cooking, so this String Art made with corks and threads it's just excellent.
We are literaly nobody until we have a coffee in the morning in the kitchen, that's why this steaming cup of coffee String Art is so appropriate.
FOOD
Are you a big fan burger? Or maybe the homemade burger is your specialty in the kitchen? So come on and decore it with this funny String Art.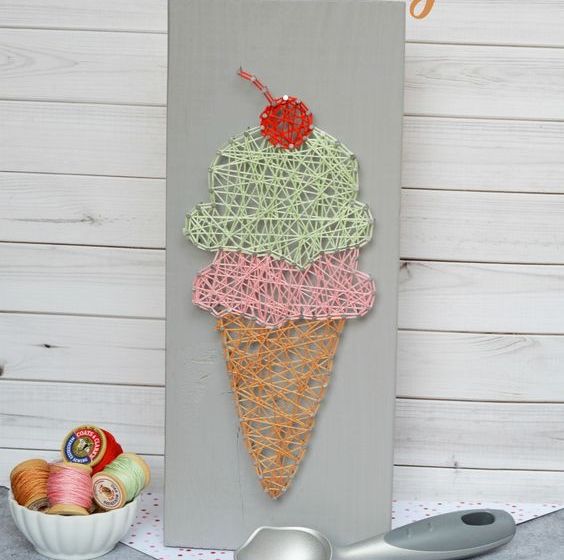 Maybe your weakness are desserts or ice creams… this String Art is perfect for decorating a vintage or shabby chic kitchen.
We hope you enjoyed these String Art and that you are fancy giving a special touch to your kitchen with these beautiful handmade projects. See you soon!
Lately, I've noticed that the bakeries near me are beautifully decorated. They are full of colors and details that make them wonderful and, actually, it's feels nice to be surrounded by such beauty while you are buying, having a coffee or eating a sweet piece of cake. The environment is very important in an establishment, both in the entrance sign, as in the furniture, in the counters, in the tables or in the wall decorations.
Every detail counts to make the customer feel special so today we are going to propose you some String Arts projects to decorate a bakery shop in case you own one inspired by its characteristic elements, such as welcome signs, cupcakes, coffees, and more. Of course, you can do it yourself or buy the String Art at a craft store, as you want, but it's important that it looks like a craft to create a traditional atmosphere in the bakery shop. That will send the message that your cakes and pastries are also handmade and traditional, as the furniture or the decoration.
WELCOME SIGNS

We can start by putting a nice String Art sign on the front door to welcome the customers. A sign that says "Bakery", "Welcome", "Hello", "Aloha", "Hola", "We are open" or whatever you want. The important thing is to choose well the color, the lettering and the message to give a warm welcome message.
CUPCAKE STRING ART

To decorate the bakery shop walls, it is great to put String Arts bakery products, such as cupcakes or muffins. They are very easy to make and their colors are very attractive for the eyes. We are sure that customers will want to eat one of them!
DONUT STRING ART
Another bakeries star product are the donuts or doughnuts. Its attractive appearance full of colors (especially pink for the base and rainbow sprinkles for the topping) makes it perfect to decorate the walls. In addition, its round shape can be an "O" letter as in the word "Love".
COFFEE OR TEA MUGS STRING ART

Sometimes, when we are in a bakery shop, we also feel like drinking a cup of coffee or tea, so we think that these Mug String Arts decorated with hearts can also be a good idea as wall decor.
KITCHEN STRING ART

It can also be an original idea to put on the tables small String Arts with forks, knives or spoons and messages like "enjoy" or "bon appétit".
SOME NICE DESSIGNS
Eventually, we would also like to recommend you some String Art that have nothing to do with the bakery, but that could be nice as a wall decoration. Choose colors and elements that combine well with the theme and style of the bakery, such as animals, bicycles, rainbows, flowers, stars, geometric shapes, moustaches, beards, bows… no matter what, but has to be as cute as you can!
We hope you like these String Art ideas and that they inspire you to create your own projects to decorate your bakery shop. Thanks for reading us and see you soon!
This Fork and spoon String Art made on a trunk slice it's a good handmade idea to decorate a restaurant or a kitchen. Don't you think so? As you know, is a very easy craft do DIY.
You can buy slice trunks on Amazon:
Tree Trunk Slices Large – Wood Slices for Sale 3 per order
Seen on
DIY Enciclopedia