String Art for Kids
Easy ideas, tutorials and patterns to make String Art crafts for kids.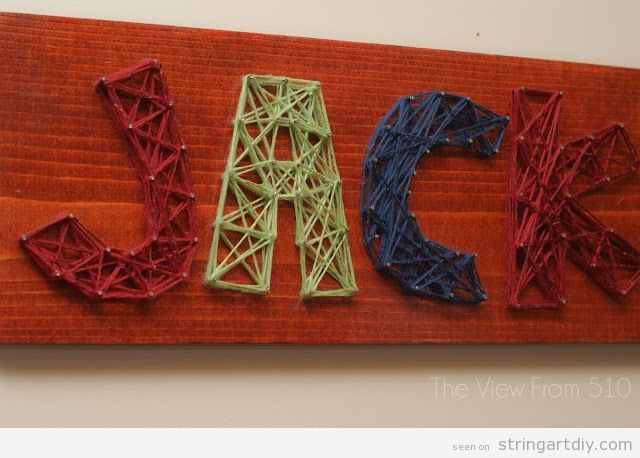 Definitely, that's a great idea to decorate a nursery or a kids bedoom, or even a play zone. You can learn how to make a custom name String art following the steps in: Custom Name String Art Tutorial
Hi! How long! I've been missing for a few weeks but I'm back now! Here you have a nice tutorial to learn how to create a String Art Flower. It's a very easy cfratd, perfect to make with kids on summmer.
Via
Cassidy Erin
This one is a an easy art project for Kids and a nice cfrat to give on Mother's day. Btterfiles, love and gratitude. Lovely.
Via
EasyMeWorld
Here you have a video to learn how to make a geometrical String Art on paper, very easy to make, even with kids at home or school. Nice one by
CNagissa
That's a nice way to practise before make the string art on a board, a kind of mockup using pins and thread on a paper. Good!
y¡-yeah! That's a super nice idea to make as a math project. It's a Geometrical String Art made with thumbtacks and tights threads. Very easy! After making it you can decorate the classrom with them.
vía
tutorialumnos.blogspot.com
here you have a star of David String Art on a board, very very easy to make. Enjoy it!
Vía
La Ventana Azul
Here you have a nice piece of craft to make with kids at school: It's a nice ship… I really like the mix of colours in the sails. Congrats!
Via
cole1138florencia.blogspot.com
Basically, String Art are geometric figures and the patterns are geometrical drawings. Here you have these stars that you can use as a pattern to make an String Art creaft. Download it for free!
This easy Sun String Art DIY may be a good math project because of his geometrical basis. That's easy and great!
via
El Blog de Hipatia