String Art for Kids
Easy ideas, tutorials and patterns to make String Art crafts for kids.
You will need these supplies to make this snowflake String Art
– Wooden board
– Nails
– Hammer
– White string
– Scissor
– Template
Here you have the template for free download:
Created by Muhaiminah Faiz on Guidecentral English channel.
To work with wood and nails could be a little bit dangerous for kids, that's why we suggest you to make a string art with cardboard, a round pointed needle and threads instead of wood and pins. Don't use paper, is too thin and it can't bear the weight of the thread.
This is a really cool craft to make with kdis and you can choose the shape, word or name you like the most.
Maria 28
shou us in this video tutorial an easy way to make a Pumpink Sting Art, perfect as a craft to make today with your kids and for decorate your place for Halloweens night (is tomorrow!!)
I hope you enjoy it.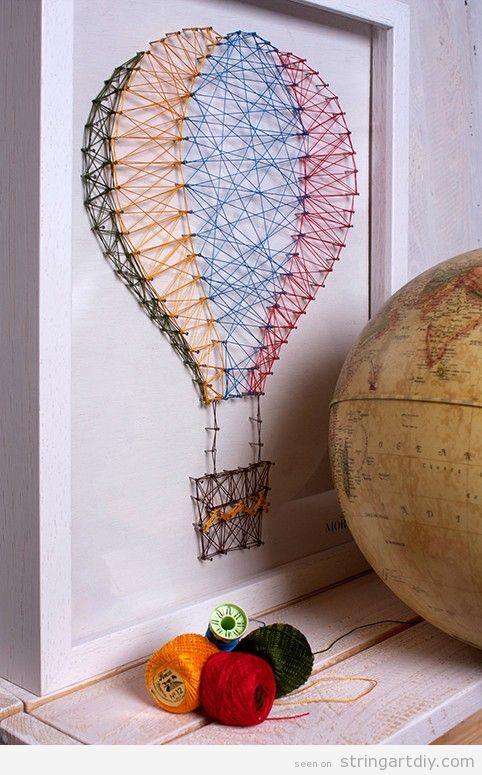 We really love this DIy craft in order to decorate a nursery, child bedroom or even a cafe or a shop.
Let's do this!
¡Hoy no hay cole!
show us in this tutorial an easy way to make a String Art projects with kids. In this case, it's a wonderful dandelion made on  green painted a board. Just beautiful!
Thanks to
Mandy Beyeler
for showing us in this video tutorial how to make an easy and colourful DIY eart String Art!
It's so doable and lovely! We're going to make it right now!
Today we brign to you a cute boat String Art. Pay attention to the fact that she is using thumbtacks instead of pins. It's a better idea use them if we are going to make the crats with kids. It'ss less dangerous and easier.Source:
ekunji
Peace Sign String Art  is an easy craft to make with kids. Don't you think so?
Remember that it's a good idea decorate their rooms with teheir own handmade projects. They will be proud of them!
Source: The String Art Co
So, so lovely this birdie love string art! That's a cute, easy and nice craft to make with kids. Once it is finished, they can decorate their rooms with this piece.
Come on!
Source: The String Art Co