String Art
Here you haver a lovely sunflower String Art made by All Strung Up.
We need a little bit un sun after this long winter… but brace yourselves, spring is coming!!
Here you have a video to learn two String Art techniques step-by-step. As you can see, it's perfect to give as a Valentine's present. One of them is the word "Love" written with pita fibre, but you can also use cotton or wool thread.Obviously, you have to use nails too, as well as wood or thick cardboard for the base and a pattern.
The other one is just a heart shaped String Art, but still different and lovely.
Enjoy it!
Source: Andrea Vlogger Gt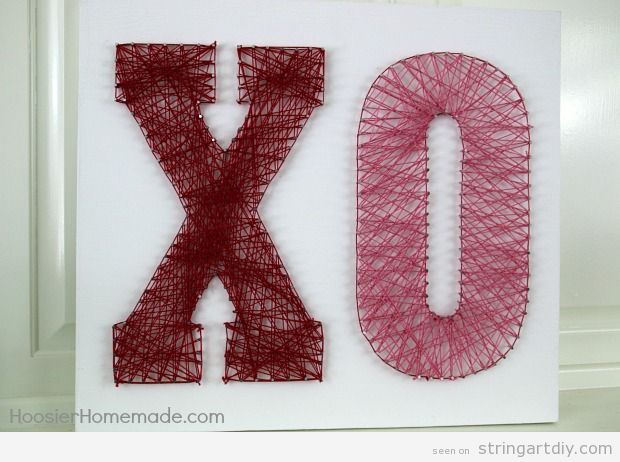 Come on! 6 days left until Valentine's Day and wer are sure that you haven't started yet yout handmade gift!
If you are not fancy doing a heart shaped thing, you can try this XO (kisses) String Art . You wil need these materials:
You can see trhe pattern and the full tutorial by visiting Hoosier homemade.
Enjoy it! We hope your Valentines will love this handmade gift!
Denise Wild
show us in this video an amazing and big string art wall mural perfect to make to Valentine's Day.
Follow this step-by-step guide to learn how to make it. As you can see, you can write your name and your couple's name and add a heart figure if you like it. If don't, the name and the threads in red and gradient to pink it's just perfect.
I hope you love it!
To make this wonderful heart shaped String Art you will need:
– Hammer
– Red String
– Heart Pattern (made by felt, foam or cardboard)
– Tree or trunk slice
– Nails
– Scissors
After that, you need to put the felt heart shaped pattern on the slice and clue the nails all over it.
Then, you just need to pass or cross the thread and fix it on the nails in multiples directions and you will have this wonderful piece to decorate a room, a cafe, a wedding or whatever you want.
Source:_ Salacadula
Here you have a free String Art pattern to download. As you can see, it's a bride and groom shape, a perfect DIY for decorating a wedding or to give a handmade gift to the married. Do you like it? I think it¡s simple, but beautiful and elegant.
These tags say in Catalan "Desitjo que t'agradi", what means "I hope you like it". There star shaped String Art is a wonderful idea to package your Christmas gifts.Source:
Papel y cola
Panduro Hobby Webtube
show us how to make a String Art using our pet shape, using a photo of him or her as a pattern.
In this case, it's a lovely teckel. We encourage you to make the same with your dog, cat, bird or whatever you like. It's easy and a a great handmade gift or decoration. Go ahead!
Pleaee, don't buy fresh Christmas tree, save the planet! There are many options to have a wonderful Christmas tree at home, like this one, made just using pins and threads.
You can learn how to make it on a wall by watching this tutorial by
Michaels Stores